On February 11, the world celebrates the International Day of Women and Girls in Science. This day, an occasion to recognize the invaluable contributions that women and girls make to myriad fields of science, provides a perfect backdrop to celebrate the work of globally renowned Bangladeshi scientist Dr. Firdausi Qadri and the work she and her team have conducted to prevent and control typhoid.
Decades of research experience in infectious diseases
Dr. Qadri is the Acting Senior Director of the Infectious Diseases Division of the International Centre for Diarrhoeal Disease Research, Bangladesh (icddr,b). She has worked on typhoid for nearly fifteen years, although her storied career is much longer. Her work during the past decades has contributed to our knowledge of typhoid prevention and control, including data on typhoid conjugate vaccine (TCV). Dr. Qadri has won several awards for her work on global vaccination, advocacy for early detection, and research to understand and treat infectious diseases. During a recent conversation, we asked Dr. Qadri how we could stop the spread of typhoid. In reply?  "Typhoid is a waterborne disease. We need to drink clean water, wash hands, maintain proper hygiene, and conduct rigorous surveillance work to detect typhoid. To prevent and control typhoid, we need vaccines. With improvements in WASH, vaccination is a complementary approach to preventing typhoid."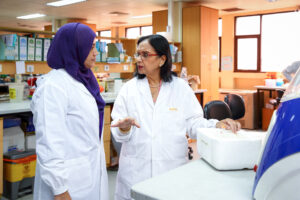 Evidence-based advocacy
Dr. Qadri and her team at icddr,b have been instrumental in gathering  typhoid burden and vaccine efficacy data in Bangladesh. They have conducted rigorous community-based passive surveillance work in the Mirpur areas of Dhaka. Blood cultures, currently the most accurate way to diagnose typhoid,  showed that the burden is very high in Bangladesh among all age groups and is highest in children aged 5–9 years.
The team also conducted a cluster randomized control study with a WHO-prequalified TCV and found that TCV has an efficacy of 85% against blood culture-confirmed typhoid in Bangladesh. This research has been a crucial part of the data shared with decision-makers in the region considering TCV introduction. Additionally, Dr. Qadri and the icddr,b team showed that an integrated approach of TCV and WASH achieved the most significant reduction in typhoid risk.
A trusted champion among policymakers
Dr. Qadri said, "Hard data, like the burden of typhoid and the efficacy rate of TCV, are required to get the National Immunization Technical Advisory Groups (NITAGs) recommendations and to generate demand for vaccination." Given her experience with typhoid and other enteric pathogens and her decades of experience engaging with partners and government officials, Dr. Qadri is a trusted champion among policymakers who need data to weigh important decisions such as vaccine introduction. The ability to balance deep technical knowledge while also communicating with decision-makers requires an adept understanding of the information that drives decisions. Dr. Qadri's decades of experience have helped her to hone this skill to precision. She is an influential advocate in Bangladesh – and the region.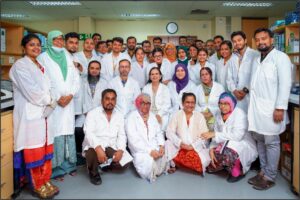 An inspiration for women to participate in science
Globally, women have historically been underrepresented in the sciences. On the International Day of Women and Girls in Science, when the world celebrates progress toward full and equal participation of women in science and recognizes the work still left to be done, we celebrate Dr. Qadri as a role model to inspire and encourage young girls to pursue careers in these fields. Her dedication to rigorous scientific research and her success as an advocate and leader serve as an inspiration for young girls all over the world. With hard work, grit, and determination, women and girls continue to make a significant and indelible impact on the world of science.
Photos: icddr,b/GMB Akash; Sabin Vaccine Institute