Improvements in water, sanitation, and hygiene (WASH) are key to preventing the spread of typhoid where sanitation infrastructure is insufficient. For further reduction in the typhoid burden, typhoid conjugate vaccine (TCV) can add extra protection alongside efforts to improve WASH. A recent study in Mirpur, Bangladesh examined the effects of combined WASH and TCV interventions on reducing the risk of typhoid.
A focus on Bangladesh
In a recent study, a team in Bangladesh used data from a cluster-randomized study in Mirpur, Dhaka, Bangladesh to examine the combined effects of TCV and preexisting household WASH infrastructure. Mirpur is a densely populated urban slum. Many people experience unsafe drinking water, open sewage, unhygienic food handling, and lack of sanitary facilities. These factors put them at increased risk of typhoid.
The study team conducted a baseline census to collect household-level demographic, socioeconomic, and WASH data. The team then randomized the study area in Mirpur into clusters. Eligible children in each cluster received either Typbar TCV® or a control (Japanese encephalitis vaccine). Of the 61,654 eligible children identified within the census, 41,344 received either TCV or the control vaccine. The team then carried out passive surveillance for culture-confirmed typhoid in eight health facilities in the area.
Additionally, the study team conducted three catch-up vaccination campaigns at six-month intervals. Through these campaigns, the team vaccinated the children who didn't receive a vaccine in the study. The campaigns also helped maintain vaccine coverage due to high migration in the area.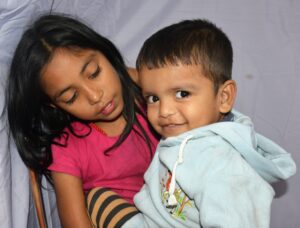 WASH makes a difference
To assess household WASH status, the study team derived the variables "Better" versus "Not Better." These variables were based on a previously defined analysis. Households identified as "Better" WASH had a private toilet plus a water filter in the house, or access to a safe drinking water source. The study team then evaluated the level of typhoid protection for individuals according to whether they lived in TCV versus JE vaccine clusters, and whether they lived in "Better" versus "Not Better" WASH households.
Results from the study showed that participants in "Better" WASH households had a 37% reduction in risk of contracting blood culture-confirmed typhoid, regardless of TCV status. This effect was strongest in children younger than 10 years of age. The study found the highest risk of typhoid among participants with "Not Better" WASH who received the control JE vaccine. The lowest risk—a 71% reduction—was among those who lived in "Better" WASH households and received TCV. These findings suggest that WASH improvements – when integrated with TCVs – have the potential to reduce the most risk of typhoid in areas where infrastructure improvements have not been fully implemented.
An optimistic outlook for WASH improvements
The variable for "Better WASH" referred to behaviors and practices already in use in the study site; this analysis did not add any external interventions. For this reason, the study team is optimistic that affordable, culturally acceptable WASH improvements can make a significant difference in typhoid risk. Such improvements may include the installation of private toilets, water filters, and access to safe water. These improvements are attainable and require minimal external interventions. To reduce the burden of typhoid, local communities should continue the use of existing WASH improvement efforts. In addition, communities should accept TCV when it is introduced and made available.
Findings from this study suggest that simple and inexpensive improvements in water and sanitation, especially when integrated with vaccination, can effectively reduce the risk of typhoid. A combination of WASH improvements and TCVs achieved the most significant reduction in typhoid risk among children in Mirpur, Bangladesh.
Photo: A woman in Mirpur, Bangladesh holds her child, who is holding a vaccination card. Standing water – which can carry pathogens such as typhoid – is visible in the background. Credit: CVD/Dilruba Nasrin