Results from a historic study—the first typhoid conjugate vaccine (TCV) study in Africa—are in. The verdict? TCVs work in Malawian children, with an impressive 84% efficacy.
As the Regional New Vaccines Medical Officer at the World Health Organization (WHO) Africa Regional Office (AFRO), I am overjoyed by this news.
Malawi knows, too well, the burden of typhoid. With more than 6,600 estimated typhoid cases in 2019 and alarming rates of emerging drug-resistant typhoid strains, families in Malawi—and many other countries in the African region—are ready for protection from this life-threatening illness with often-serious complications.
TCVs provide 84% protection for children in Blantyre
Published in The New England Journal of Medicine, this study was conducted by the Typhoid Vaccine Acceleration Consortium (TyVAC) in partnership with the Malawi-Liverpool-Wellcome Trust in Blantyre, Malawi. It found a strong vaccine safety profile and an estimated 84% efficacy in preventing blood culture-confirmed typhoid fever in children 9 months to 12 years of age. A total of 27,882 children were randomized (1:1) to receive either the TCV or a serogroup A meningococcal conjugate vaccine and were followed for 18 to 24 months after vaccination. Those children who had received TCV were 84% less likely to contract typhoid during that time.
This is the first TCV efficacy study ever conducted in an African setting. The findings are consistent with similar randomized controlled studies in Nepal and Bangladesh and a post-introduction impact study in India. The comparable results underscore the potential for TCV to prevent typhoid illness and death if introduced in routine childhood immunization programs throughout the world.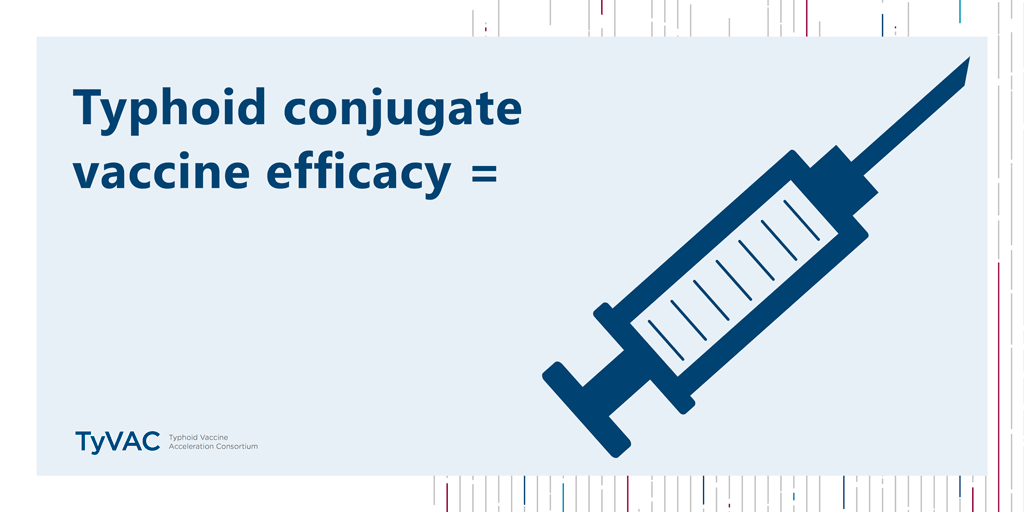 TCVs will help stop drug-resistant typhoid
Multidrug-resistant (MDR) typhoid, which is resistant to all three first-line antibiotics recommended to treat typhoid, is rising in Asia and sub-Saharan Africa. Previous studies in Malawi have found a rapid increase in MDR typhoid since 2011. The prevalence of MDR strains rose from 7% to 97% between 2011 and 2014.
This study emphasizes this threat with a finding of 100% resistance to first-line antibiotics in all cases tested. Additionally, four participants enrolled in this trial had typhoid strains with reduced susceptibility to fluoroquinolones, a class of second-line antibiotics.
The emergence of drug-resistant typhoid strains in the African region adds urgency to efforts to introduce TCV in Malawi, across the African continent, and globally. WHO recommends vaccines as one of the best ways to stop antimicrobial resistance (AMR). In fact, WHO lists TCVs as a priority vaccine for AMR in its new action framework.
Preparing to introduce TCV in Malawi – and across Africa
The burden of typhoid across Africa has been underestimated for too long. Despite a lack of surveillance in some countries, we know typhoid is endemic in many African countries. We also know that TCVs are the best way to reduce the burden of typhoid.
Unlike older typhoid vaccines, TCVs are well-tolerated in children as young as 6 months of age and provide longer-lasting protection. This makes them ideal for introduction in routine immunization systems. WHO prequalified the first TCV in 2018 and a second in late 2020. Gavi, the Vaccine Alliance offers support to eligible countries for TCV introduction.
Malawi applied to Gavi for TCV introduction support and is provisionally approved for campaign and routine assistance. The evidence from this efficacy study highlights the potential of TCVs to save lives, prevent illness, control seasonal typhoid outbreaks, and slow the spread of drug resistance in Malawi.
These promising results from the study in Malawi add to the existing data on TCV safety, immunogenicity, and efficacy in African countries. Importantly, the data show immense potential to reduce typhoid burden in Africa. This would be a great step for keeping our children and communities safe and healthy.