Typhoid is a significant public health problem in Nepal. With 1,062 cases per 100,000 residents in Kathmandu, typhoid conjugate vaccines (TCVs) could have a significant and lifesaving impact. Excitingly, the Government of Nepal ran a three-week campaign introducing TCV into its routine immunization program from April 8 to May 1, 2022: a monumental step to take on typhoid.
However, deciding to introduce a vaccine and getting the vaccine into the country is just the first step. Individuals and communities must also be educated and motivated to access the new vaccine. Our experience with community engagement during a large-scale TCV study in Nepal offers lessons for ongoing community engagement during introduction and beyond.
Community engagement in vaccine research
Our team conducted a phase 3 TCV efficacy study in Lalitpur, Nepal, as part of the Typhoid Vaccine Acceleration Consortium (TyVAC) project. The study demonstrated that TCV provided 79% protection against blood-culture-confirmed typhoid in children in Nepal. These critical data added to an existing body of evidence that continues to inform country TCV introductions around the world.
In order to conduct the study, we had to engage with the local community and convince families to enroll their child (or children) to receive either TCV or the control vaccine. Throughout the study, our team encountered several challenges during vaccination and surveillance stemming from misinformation, misconception, and fear of clinical trials in the Lalitpur community. By partnering with communities to develop effective engagement strategies, we overcame many of these challenges. Community engagement repeatedly demonstrated its importance in building community trust, generating awareness, and helping our team ensure the study procedures were acceptable in the local setting.
Best practices for community engagement
We continuously organized engagement activities before, during, and after vaccination in three groups: decision-makers in the community; elected local representatives; and parents/guardians of the children. Activities included information sharing, consultation, and collaboration to make decisions,  empower, form community partnerships, and seek guidance from community leaders. These tailored interactions with different groups within the community helped us achieve our goal for the number of children enrolled.
Here are six lessons and best practices we learnt while implementing community engagement activities during the TCV study in Lalitpur, Nepal: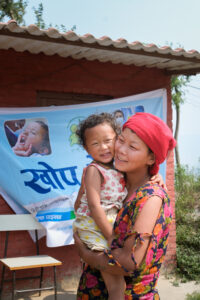 1. Community engagement activities should always be specific to the local context; activities must be nuanced to provide information and clarity for a specific audience, community, or region.
2. Engaging members of the local community as decision-makers during the vaccination phase of this study—and through periodic home-visits by community health promoters—helped gain community confidence. Networking with locally active community groups and community workers resulted in decreased vaccine refusals.
3. To help parents understand the importance of vaccinating their children, our engagement team partnered with mothers' and women's groups, schoolteachers, and administrators in all wards. Community volunteers answered questions about study vaccines, shared information about typhoid, and emphasized the importance of vaccinating children against it.
4. Over time, our team learnt lessons that helped evolve our strategy for engaging the community. Terms like "trial" or "experiment" were often misinterpreted. Instead, to avoid any project-related misinformation in the community, we started using the term "study."
5. When misinformation from a previous health campaign arose and a negative news article about our study was published, doubt from the community grew. However, staying connected with the community stakeholders helped gain and maintain trust despite these obstacles. This trust proved essential to ultimately meet our goal for number of children reached.
6. Engagement is an ever-evolving process as you get to know and understand your intended population. There will be differences in how you engage an audience based on societal norms, timing of activities, participant gender and age, and more. Effective community engagement approaches acknowledge and make room for new strategies.
Preparing for a new chapter for typhoid prevention in Nepal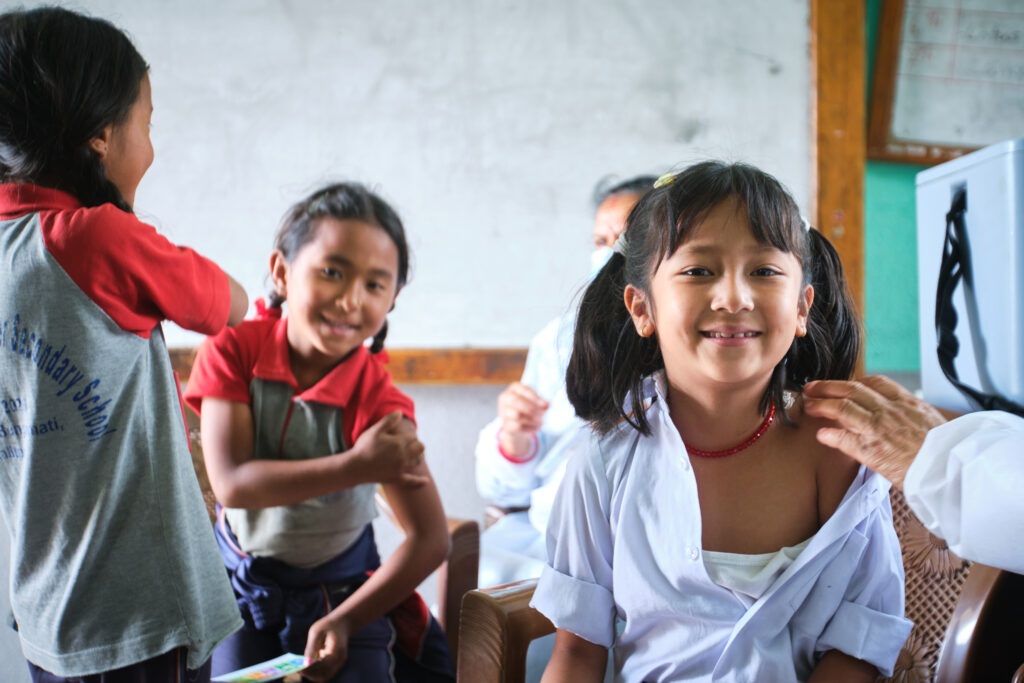 Public engagement has been a key achievement of the TyVAC-Nepal study. Our continuous, direct interactions with parents and community stakeholders throughout the study helped our team gain and maintain community trust.
Now, as Nepal introduces TCV nationwide, these experiences offer key lessons. By adapting engagement approaches to fit the needs of communities, public health officials can help ensure every child receives a lifesaving vaccine.
Cover photo: Children prepare to receive TCV during Nepal's introduction campaign. PATH/Rocky Prajapati.