November 19th is a day set aside to honor public health's most humble hero: the toilet! World Toilet Day is about raising awareness and tackling the global sanitation crisis. Around 2.3 billion people do not have access to any basic sanitation facilities, and 892 million people still defecate in the open. Everyone deserves a safe place to go, not only for the privacy and dignity it provides but also for the health of our communities.
When poo gets loose and contaminates water, food, hands, or objects that can make their way into people's mouths, it spreads deadly enteric illnesses like diarrhea and typhoid. All enteric illnesses are spread via the fecal-oral route, so improvements in water, sanitation, and hygiene can dramatically decrease the risk of both diarrhea and typhoid. In Jakarta, Indonesia, one study found that households with a toilet were half as likely to get typhoid as households without a toilet.
But toilets themselves are only half the equation.
A family with a toilet can still be at risk of contracting diseases like typhoid if the water they use for drinking, cooking, bathing, or washing is contaminated by fecal matter from elsewhere in the community—open drains, lakes and rivers, surface or floodwaters, public latrines, or fecal sludge in the soil. Poo and its pathogens spread easily without a safe sanitation system, so we also need to make sure that the waste is properly captured, stored, transported, treated, and disposed or recycled. This is a process called the sanitation value chain, as highlighted in a new report from our partners at PATH's Defeat Diarrheal Disease (DefeatDD) initiative.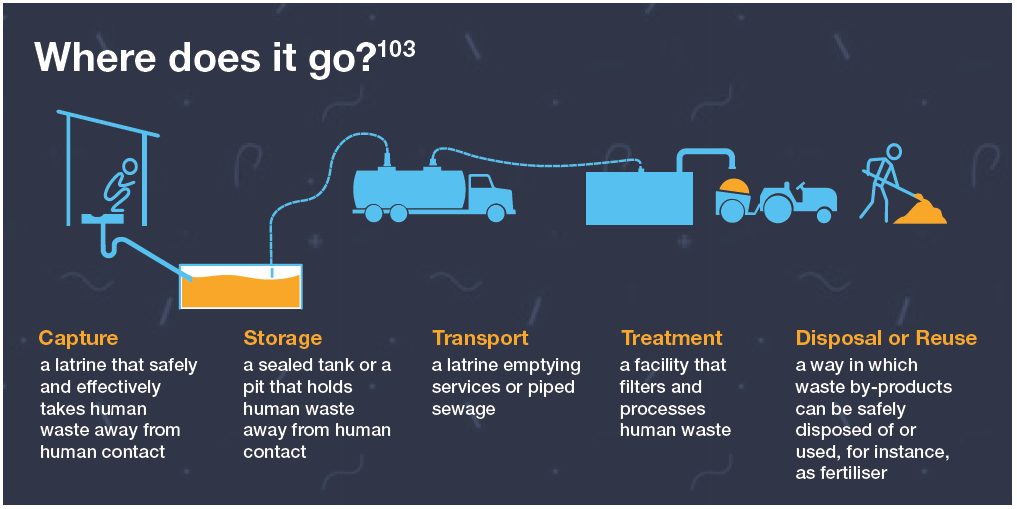 The SaniPath study is helping to add evidence behind the sanitation crisis by tracking exposure pathways of fecal contamination. In Vellore, India, investigators found widespread contamination in both public and private domains. In fact, 49 percent of household toilets discharged directly into open drains, and children in households whose toilets drained openly had 3.78 times higher prevalence of enteric infection compared with children in other households, even those without toilets. In rapidly growing urban areas with inadequate and overcrowded sanitation facilities, this problem tends to escalate, leading to a significantly elevated risk of typhoid.
So what can we do about this? The good news is that the world is making some progress—more people have access to sanitation today than 20 years ago. The bad news is that inequity in coverage of sanitation, lack of community behavior change education on toilets and hygiene, water scarcity due to climate change, and rapidly increasing urbanization are impeding the world's advances. We desperately need to accelerate our efforts, and Sustainable Development Goal (SDG) 6 aims to do just that by targeting access to adequate and equitable sanitation and hygiene for all and an end to open defecation by 2030.
Other good news is that, while improved sanitation is an essential way to limit exposure to diseases like typhoid, it's not the only way. While we work to meet SDG 6 and improve access to safe water, hygiene, and sanitation systems, we can still prevent typhoid infection through vaccination. We need both vaccines and sanitation infrastructure improvements in order to save lives and improve the health of communities now and in the future.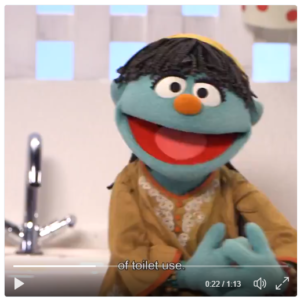 But on World Toilet Day, the most important thing is to just keep talking about toilets. To raise awareness of the global sanitation crisis, celebrate our accomplishments, ask questions like "Where does our poo go?", and challenge each other to continue doing more. DefeatDD is leading a "Toilet Talks" campaign on Twitter to do just this, and one of our favorites is from Raya, Sesame Street's sanitation advocate, who has some great tips for toilet use.
Until everyone has access to safely managed sanitation systems, let's keep talking.
Photo Credit: PATH/Minzayar