Photo: A laboratory worker operates a machine at the Institut de Recherche en Santé de Surveillance Epidemiologique et de Formation, Senegal (IRESSEF). Credit: IRESSEF
Thanks to the hard work of our teams and partners, a Phase 3 trial of a new typhoid conjugate vaccine (TCV) candidate called EuTCV recently launched in Sandiara, Senegal. As principal investigators at the Institut de Recherche en Santé de Surveillance Epidemiologique et de Formation, Senegal (IRESSEF), we are enthusiastic about this study. We designed the trial to confirm EuTCV's safety and immune response profiles. Previous studies have already shown the vaccine candidate's safety and immunogenicity in adults, children, and infants.
Two other TCVs are already approved by the World Health Organization (WHO) and have been introduced into routine immunization. The development of additional vaccine products such as EuTCV has the potential to increase supply, reduce costs, and improve availability of these lifesaving vaccines. This will prove especially important in low-income countries where the burden of typhoid morbidity and mortality are highest.
A diversifying market to fill an urgent need
With the rise of drug-resistant typhoid strains during the last few decades, typhoid vaccination is an increasingly urgent global priority. In 2018, WHO published the position paper that formally recommends TCVs.. Compared to older typhoid vaccines, TCVs have longer-lasting protection, require only one dose, and are suitable for children younger than two years of age. This allows for inclusion of TCVs in routine childhood immunization programs. Expanded use of TCVs through routine immunization has the potential to reduce the need for antibiotics, slow further emergence of drug-resistant typhoid strains, and save lives. WHO recommends use of TCVs in countries with a high typhoid burden or where drug-resistant typhoid is a significant threat.
Two TCVs—Typbar TCV® (Bharat Biotech, India) and TYPHIBEV® (Biological E. Limited, India) —have already been prequalified by WHO. Typbar TCV has been introduced in the routine immunization programs of Liberia, Pakistan, Samoa, and Zimbabwe and has an efficacy of 80-85%. TYPHIBEV is in use in Nepal. Several other TCVs, including EuTCV, are in various stages of development. Manufactured by EuBiologics Co., Ltd in Chuncheon, Korea, EuTCV was shown to be safe and generate a strong immune response in a Phase 1 trial and a Phase 2/3 trial in adults and children in the Philippines.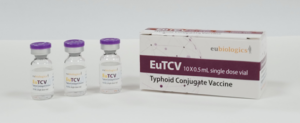 Confirming safety and immune response of EuTCV
PATH is working with IRESSEF and EuBiologics to assess the safety and immune response of EuTCV in a Phase 3 trial in Sandiara, Senegal. Launched on May 6, 2022, this is part of a multicenter trial that will last two years. A second site in Kericho, Kenya—in partnership with the Kenya Medical Research Institute-Kericho (KEMRI) and Walter Reed Army Institute for Research (WRAIR)—is expected to begin in the coming months. Between the two sites, the study aims to enroll 3,255 participants between 6 months and 45 years of age.
This study's purpose is to confirm that vaccination with EuTCV is safe among children 6 months of age and older in typhoid-endemic settings in sub-Saharan Africa. Additionally, the study will confirm that EuTCV does not interfere with the immune response to other routine vaccines (measles-rubella, yellow fever) when co-administered at 9 months of age. Finally, the study will compare the safety and immune response of EuTCV when administered from single-dose or multi-dose vials. The study team will use this data to analyze the consistency of EuTCV from different manufacturing lots. Participants in this study will receive EuTCV from a single-dose vial, EuTCV from a multi-dose vial, or Typbar TCV as a comparator.
Data for decision-making
EuBiologics will seek to have EuTCV WHO-prequalified so it may be acquired for subsidized use in low-income countries. The results from this study will help meet post-prequalification data requirements from WHO, ultimately—if supported by the data—enabling EuTCV to join the list of TCVs that are already globally available. The results will add to evidence already available to inform TCV decision-making in endemic countries in Africa and around the world.
Critically, the trial taking place in Senegal also offers an opportunity to highlight the potential of TCVs for Senegal. A typhoid-endemic country, Senegal sees more than 15,000 typhoid cases and nearly 300 typhoid deaths annually. Further, economic analyses have estimated that TCV introduction would be a cost-effective solution for the country. However, Senegal has not yet introduced TCV into the national immunization program. While this study will provide further data on the safety and protection of a new TCV that can help increase supply and market diversity in the future, other TCVs are available for Senegal to introduce any time. We hope this study may help raise awareness of Senegal's typhoid burden and the availability of existing and future lifesaving TCVs.