Earlier this year, 1537 pediatricians attended a session organized by Abbott Vaccines, India on the "Need of vaccination & hygiene for the prevention of rotavirus gastroenteritis & typhoid". Speakers from the University of Maryland School of Medicine, WaterAid, and Santokba Durlabji Memorial Hospital Cum Medical Research Institute discussed the role of clean water and sanitation in the prevention of enteric disease, rotavirus vaccination strategies, and the need for typhoid vaccination.
After this session, the organizers distributed a synopsis of the discussion to more than 21,000 pediatricians across India. This dissemination has potential for a positive impact on physicians' viewpoints on typhoid conjugate vaccines (TCVs). In turn, this potential impact highlights the importance of advocacy and dissemination to this critical population.
A focus on TCVs
As one of the speakers, I focused my presentation on the need for typhoid vaccination and the specific advantages of TCVs. I explained how vaccination and improvements in water, sanitation, and hygiene (WASH) are key components of an integrated strategy to prevent typhoid.
Due in part to drug-resistant typhoid, India accounts for 30% of the global typhoid burden. I emphasized that TCVs are highly effective at preventing typhoid disease —including illness caused by multidrug-resistant and extensively drug-resistant strains—in low- and middle-income countries.
After the session, organizers summarized all presentations in a synopsis and distributed it to over 21,000 pediatricians across India.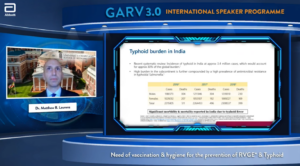 The role of pediatricians
Pediatricians are often the first or only source of information for parents and caregivers regarding their children's vaccinations. If a pediatrician recommends a vaccine, a caregiver is more likely to accept it. To increase demand for and acceptance of new vaccines, it is critical to first educate and equip pediatricians with knowledge. Pediatricians can then pass this knowledge on to parents and caregivers.
TCVs are relatively new. They are the first typhoid vaccines available for children under 2 years of age. Recent data on TCV safety, tolerability, and efficacy are important to share with pediatricians. These doctors educate and vaccinate children and families living in high-burden communities. By equipping these primary care providers with the results of recently completed TCV studies, we can help them become frontline advocates for TCVs.
On the other hand, if a physician lacks awareness of the importance of a new vaccine, this can negatively impact community acceptance. Pediatricians are trusted messengers. Therefore, we need them as essential partners in the fight to take on typhoid.
Disseminating data to this primary healthcare provider population is an important approach to increase education and awareness of TCVs. In turn, awareness will lead to increased vaccine uptake by communities.
Cover photo: A healthcare worker prepares to vaccinate a child with TCV in Nepal. Credit: PATH/Rocky Prajapati