This week, Zimbabwe began to fulfil its promise to protect children from typhoid. As this large integrated national vaccination campaign begins, typhoid conjugate vaccine (TCV) will be newly introduced, and human papillomavirus vaccine and inactivated polio vaccine, which were introduced previously, will aim to reach children who have not yet been vaccinated. The campaign intends to reach approximately 6.2 million children 9 months to younger than 15 years of age across Zimbabwe's eleven counties. Following completion of the campaign, TCV will become available to all 9-month-old infants, given alongside the first dose of measles containing vaccine, through Zimbabwe's Expanded Programme on Immunization at health centers across the country.
Typhoid is endemic in Zimbabwe and outbreaks have long plagued the country, particularly around the capital city of Harare. Beginning in late 2016, annual outbreaks have significantly increased Zimbabwe's typhoid burden. Furthermore, drug-resistant typhoid is a major problem in Zimbabwe, with up to 73 percent of cases in Harare resistant to the first-line antibiotic treatment. Drug-resistant typhoid is more difficult and costly to treat, increasing the urgency for prevention. In late 2018, a large drug-resistant typhoid outbreak in Harare and surrounding suburbs led to a response campaign with TCV as part of the outbreak control strategy.
Water, sanitation, and hygiene improvements are the long-term solution for typhoid prevention and control; however, these infrastructure improvements are costly and can take decades to implement. Zimbabwe has poor water quality and lacks sanitation infrastructure, all raising the risks of typhoid among our citizens, with children disproportionately impacted. Zimbabwe has become the third country globally to take the step forward to control typhoid and protect children by introducing TCV into routine immunization.
Vaccine introduction during a pandemic
As COVID-19 quickly spread globally, attention appropriately pivoted to focus on this new disease and how to prevent it. Activities for TCV introduction were paused as countries worldwide, including Zimbabwe, grappled with how to reduce the spread of COVID-19 in communities not easily able to socially distance and maintain lockdowns. The world has adapted rapidly since the early days of the pandemic, including adjusting to new policies and procedures to conduct vaccine introductions safely, from physical distancing strategies to appropriate personal protective equipment and outdoor vaccination sites. The world learned quickly that childhood diseases such as typhoid do not disappear during the pandemic, and children remain vulnerable to these illnesses, making routine immunization services even more urgent.
Throughout the past year, preparations for TCV introduction activities started, stopped, and restarted again as the pandemic ebbed and flowed. But Zimbabwe adapted to these challenges and pivoted to continue TCV introduction planning safely and to comply with local distancing guidelines. The MoH has worked diligently to keep up the momentum in the fight against typhoid, all culminating in this TCV campaign being carried out safely.
A time to celebrate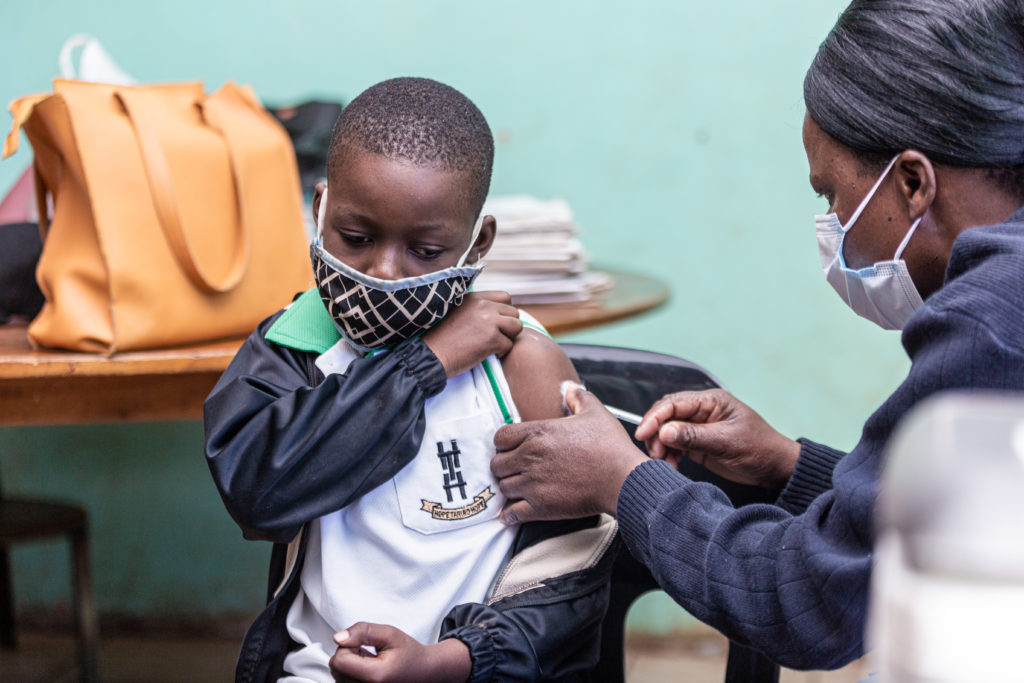 We must now take a moment to celebrate this milestone for Zimbabwe—and the world. This TCV introduction is a major achievement. With this vaccine introduction, the Zimbabwean government has taken strong action to reinforce the routine immunization system and enhance its ability to protect children from vaccine-preventable diseases including typhoid.
Cover photo: A young boy smiles while holding his vaccination card after receiving TCV in Zimbabwe. Photo: PATH/Kundzai Tinago.