If this year has a theme so far, it is vaccinations. For the past 14 months, the world's attention has been on COVID-19 and the corresponding vaccinations that will help us put an end to the current pandemic. However, as the world celebrates World Immunization Week amid this once-in-a-century public health crisis, we must remember that there is so much to be gained from vaccines beyond the reach of COVID-19.
For example, routine immunization has significantly decreased child morbidity and mortality rates in every region of the world—protecting billions of children from vaccine-preventable diseases such as polio, measles, and most recently typhoid. However, on the sidelines of the pandemic, routine immunization has suffered in many countries, now resulting in increasing outbreaks of vaccine preventable diseases.
In honor of this year's World Immunization Week, during a most unprecedented time in our collective history, we must remember what the far-reaching benefits of vaccines. For many of us, our thoughts are dominated by COVID-19, and the potential for vaccines to bring us closer to an end of the pandemic. But vaccines bring us closer to much more. Closer to an end of preventable childhood illnesses, closer to reduced infant and child mortality, and closer to a world where our children thrive, the worst days of the COVID-19 pandemic behind them.
Under the theme of "Vaccines bring us closer," we turned to a few of our colleagues to find out what vaccinations mean for them and their communities beyond COVID-19.
Vaccines bring us closer to:
"… elimination and eventual eradication of diseases that sometimes make us, and our children, miserable, that keep us in hospital instead of at home, and that take away the joy of a parent if a child does not survive."
Patti Dapaah, PATH, Ghana
"… equity for the world's most disadvantaged."
Cherry Kang, Christian Medical College Vellore, India
"… world where no-one suffers needlessly from preventable diseases."
Ngina Nampota, Blantyre Malaria Project, Malawi
"… help in the fight against vaccine preventable diseases."
Priya Patel, Malawi-Liverpool-Wellcome Trust, Malawi
"… life. They protect us from many deadly diseases and their life-threatening complications."
Farah Naz Qamar, Aga Khan University, Pakistan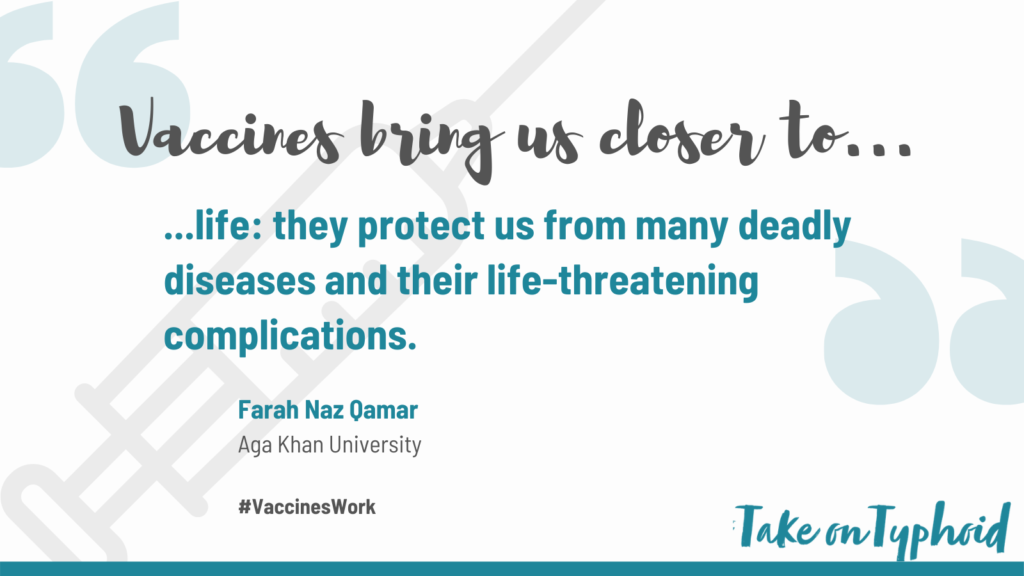 From researchers and health care workers to program managers and advocates, one thing is clear: vaccines bring us closer to a world of equitable health. This week we celebrate our progress and look to the work that we have yet to do to reach all children and families with vaccines. Whether we think of vaccines for COVID-19, typhoid, measles, polio, or any other vaccine preventable disease, one message remains consistent and clear: vaccines are one of our greatest tools to get closer to the future we all desire.
Cover photo courtesy of ©PATH/Nurudeen Sanni.