Earlier this year, Punjab province, Pakistan, introduced typhoid conjugate vaccine (TCV) with a campaign in 12 districts and Islamabad. As this was the first campaign where I was in the field, my experience was a rather emotional one. While we speak of "millions of children" being vaccinated, each child has a story; each smile has a history. I visited slums as well as more affluent areas in Lahore district. One of my personal observations was that the children from low-resource communities were more confident and open to the idea of being vaccinated without any elder's presence, whereas children from affluent neighborhoods were more likely to search for a known face to comfort them. While visiting these sites, I interacted with many of the children to learn their stories. Some of those stories and faces had a lasting impact.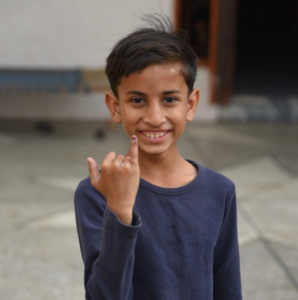 Farhan: Mini mobilizer
Farhan, age nine, saw vaccinators coming and vaccinating children in his mohallah (neighborhood). He had a lot of questions about typhoid and the activities, so he went and asked one of the mobilizers to explain more to him. By sharing information with Farhan, the mobilizer equipped him with such an in-depth understanding that he not only got vaccinated, but also became a mobilizer himself. Farhan had such a joyful smile post-vaccination and was so excited that many children who initially feared the process instead felt more comfortable and lined up to get vaccinated as well. His positivity was so contagious that other children also started volunteering to share their enthusiasm for TCV.
Amna, at the age of five, from Malakpur, Lahore, soaked up all the information she could about typhoid and TCV, and she kept coming back to share a new story or a new fact about the vaccination. The best update—and the one she was most adamant about—was that this vaccination not only protected her against typhoid, but also made her strong enough to fight all evils of the society. Her smile gave nothing but hope and aspiration.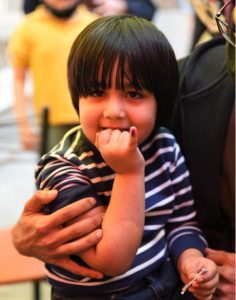 Mekaiel: Fearless finger flaunter
Four-year-old Mekaiel's school was one of the fixed sites for vaccination during the TCV campaign in DHA Phase 8, Lahore. Unlike the rest of his fellow classmates, Mekaiel did not seem afraid of the vaccinators or the vaccine. He smiled and chatted with the vaccinators and social mobilizers, making the vaccination process quite easy. He was more than enthusiastic to have his picture taken—he posed with a beautiful smile while flaunting his finger vaccination mark.