In this issue:
Continuing to take on typhoid
The Typhoid Vaccine Acceleration Consortium (TyVAC) is pleased to announce continued funding to build upon efforts in the typhoid field. Thanks to the efforts of global partners, we now have typhoid conjugate vaccine (TCV) efficacy/effectiveness and co-administration data from Bangladesh, Burkina Faso, India, Malawi, Nepal, and Pakistan, as well as TCV introductions in Liberia, Pakistan, Samoa, and Zimbabwe. TyVAC will continue to foster country and regional collaboration for introduction of TCV. We will broaden engagement with the typhoid community; generate additional data on the impact and effectiveness of TCV; support local governments to make the most strategic TCV introduction decisions; increase TCV coverage; and continue to raise awareness of typhoid on the global agenda.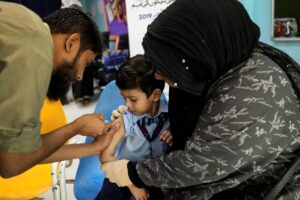 9th World Water Forum catalyzes action to accelerate WASH goals
Today is World Water Day, an annual global recognition of safe water as essential for health, security, and prosperity. This week also marks the 9th World Water Forum, held for the first time in sub-Saharan Africa (Dakar, Senegal, March 21-26, 2022). The Forum seeks to catalyze action to accelerate universal access to water and sanitation integrated with the achievements of global and regional goals such as the Sustainable Development Goals, the Paris Climate Agreement, and the African Union's Agenda 2063.
Safe water, sanitation, and hygiene (WASH) interventions are critical to preventing the spread of typhoid and other waterborne diseases. The World Water Forum is helping raise the urgency and spur sustainable action for improving water safety, quality, and access in sub-Saharan Africa, and around the world. Cathy Ndiaye, Senior Program Officer with PATH Senegal, discusses her hopes for the 9th World Water Forum.
First TCV effectiveness study in Central Africa launches
TyVECO, a mass-vaccination study in Kisantu, Democratic Republic of Congo (DRC), launched in February. The project will generate additional data on effectiveness and feasibility of a mass vaccination campaign using Typbar TCV®, making it the first TCV effectiveness study in Central Africa. The study team plans to vaccinate 48,000 children aged 9 months to 16 years. TyVECO will follow participants for three years to assess effectiveness of TCV in an African population. The additional data will add to the large body of existing safety, efficacy, and cost-effectiveness data on TCV from typhoid-endemic countries that will help inform decision-makers about priorities for new vaccine introduction. For the communities of Kisantu, this is hopeful progress in the battle against typhoid.
Outbreak reports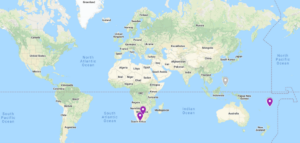 According to National Institute for Communicable Diseases (NICD), South Africa confirmed four typhoid outbreaks. Three clusters were identified in the Western Cape region including Cape Town, the Cape Winelands and Garden Route, and one outbreak in Kerksdorp in the Northwest.
The Health Ministry in Fiji has confirmed 44 cases of typhoid this year in the Western, Central, and Northern Divisions of the country. The Ministry of Health and Medical Services Communicable Disease Committee has been activated to assist in training medical professionals for diagnosis and treatment in divisional command centers.