In this issue:
Evidence to Action supplement now available
The Coalition against Typhoid is pleased to announce that the journal supplement, Evidence to Action: Research and Developments on Typhoid and Other Invasive Salmonelloses, is now available online in Clinical Infectious Diseases. Born out of conversations at the 10th International Conference on Typhoid and Other Invasive Salmonelloses, held in April 2017 in Kampala, Uganda, the supplement features nine articles focused on the most pressing issues discussed including disease burden, diagnosis and detection, drug resistance, and typhoid prevention and control methods. We invite you to refresh your memory and get excited to rejoin the typhoid conversation in just a few short weeks.
Read all about it!
In early March, kick back, relax, and read all about typhoid and the introduction of the typhoid conjugate vaccine (TCV) in sub-Saharan Africa and Asia. The upcoming Clinical Infectious Diseases supplement features 19 articles including protocol papers on the TyVAC studies in Nepal, Malawi, Bangladesh, and Burkina Faso as well as articles on health economics, disease burden, drug resistance, and modelling to inform decision-making and vaccine introduction. Other topics include an overall discussion of typhoid in the context of prior vaccine introductions and lessons learned from the trials on public engagement and community mobilization. Many of these topics will also be presented at the 11th International Conference on Typhoid and Other Invasive Salmonelloses in March. With authors hailing from 13 countries and work conducted across five continents, the supplement truly embodies TyVAC's approach to collaboration, partnership, and a coordinated, global effort to Take on Typhoid.
New resource: Typhoid education slide set
Students, researchers, scientists, doctors, nurses, vaccinators, and policymakers all have a crucial role to play when it comes to taking on typhoid. The Coalition against Typhoid is excited to share the recently published education slide set―and corresponding facilitator's guide―about typhoid. The set is intended for universities, hospitals, health organizations, and other interested audiences to learn―or teach others―about typhoid and its global impact. Importantly, the set is designed to ensure that all readers understand the basic tenants of typhoid epidemiology, diagnostics, prevention, and treatment, and the role that we each must play to make typhoid a disease of the past. We hope you will use the slide set, and employ the facilitators guide to help lead discussions, learn, raise awareness, and become a vocal champion to Take on Typhoid. Together, we have the resources, tools, and dedication to make typhoid a disease of the past.
11th International Conference on Typhoid and Other Invasive Salmonelloses
We are looking forward to the 11th International Conference on Typhoid and Other Invasive Salmonelloses taking place March 26-28 in Hanoi, Vietnam. With the theme "Global Action for Local Impact," the conference aims to invigorate and coordinate the global response to typhoid and other invasive salmonelloses. The conference will include three days of new research, presentations from advocates and policymakers, and ample opportunities to connect with others in the typhoid field. Be sure to join the conversation on social media by using the #TakeonTyphoid and #Typhoid2019 hashtags. The full agenda includes more details on all of the oral abstracts presentations, plenary sessions, and symposia.
TyVAC in Vietnam
Interested in what TyVAC is doing at the typhoid conference in Vietnam? Dr. Kathleen Neuzil, TyVAC Director, will kick off the conference as the keynote speaker on day one. On March 27, the joint Strategic Typhoid alliance across Africa and Asia (STRATAA)/TyVAC symposium will cover topics including burden, surveillance, and the first safety, immunogenicity, and efficacy data from the TyVAC studies in Malawi, Nepal, and Bangladesh. In addition to the symposium, oral presentations, and posters, TyVAC is leading workshops on vaccine introduction decision-making and talking about typhoid: a crash course in advocacy. We hope to see you there!
WHO reviews new typhoid conjugate vaccine safety data
Recently, the World Health Organization Global Advisory Committee on Vaccine Safety (GACVS) reviewed newly available safety data on Typbar TCV®, which is currently the only licensed, prequalified, and recommended TCV available internationally and for children as young as 6 months of age. The new data were comprised of safety findings from three ongoing effectiveness studies conducted by TyVAC in Malawi, Bangladesh, and Nepal, as well as data from early public sector use of the vaccine in India and Pakistan, and from additional private sector use in India. After review of this larger set of data, GACVS confirmed the safety of this vaccine. As recommended by WHO, countries with endemic typhoid, or those facing drug-resistant strains, should prioritize TCV introduction as a proven prevention and control tool.
Outbreak reports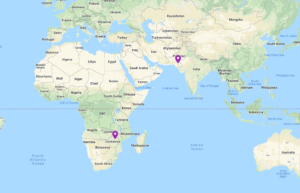 Pakistan Health Authorities have reported an ongoing outbreak of extensively drug-resistant (XDR) typhoid that began in the Hyderabad district of Sindh province in November 2016. An increasing trend of typhoid cases caused by drug-resistant strains of Salmonella enterica serovar Typhi poses a notable public health concern. From 1 November 2016 through 9 December 2018, 5,274 cases of XDR typhoid out of 8,188 typhoid cases were reported by the Provincial Disease Surveillance and Response Unit in Sindh province, Pakistan. Sixty-nine percent of cases were reported in Karachi, 27% in Hyderabad district, and 4% in other districts in the province. The circulating XDR strain of S. Typhi haplotype 58 was resistant to first- and second-line antibiotics as well as third generation cephalosporins.
Scientific publications
Blogs
The burden of typhoid fever in South Africa: The potential impact of selected interventions

Longitudinal typhoid fever trends in India from 2000 to 2015

Outbreak investigations of ceftriaxone-resistant Salmonella enterica serotype Typhi and its risk factors among the general population in Hyderabad, Pakistan: A matched case-control study

Multi-drug resistant Salmonella enterica serovar Typhi isolates with reduced susceptibility to ciprofloxacin in Kenya

The phylogeography and incidence of multi-drug resistant typhoid fever in sub-Saharan Africa

Notes from the field: Typhoid fever outbreak – Harare, Zimbabwe, October 2017-February 2018

Multidrug resistant enteric fever in South Asia: Unmet medical needs and opportunities

Visit our publications page for more recent research
We've come a long way: Supplement from the 10th International Conference on Typhoid and Other Invasive Salmonelloses

How Pakistan's new generation of disease hunters helped expose XDR typhoid

New resource – Education slideset and facilitator's guide

We know what works: In 2019, we must do it

Global Action-Local Impact: Typhoid conference agenda

This vaccine is too cold! This vaccine is too hot! This vaccine is just right! The importance of cold chain management

'Tis the season to talk typhoid

All posts available on the blog