In this issue:
Welcome to our first newsletter of 2020! This year promises to keep up the great momentum of 2019, with more countries set to introduce typhoid conjugate vaccine (TCV) into their routine childhood immunization programs, new countries applying to Gavi, the Vaccine Alliance, for funding support for TCV introduction, and additional data to enhance our understanding of typhoid burden and vaccine efficacy. We look forward to sharing with you progress throughout the year in typhoid prevention and control.
A typhoid-free future for Pakistan with TCV
In November 2019, Pakistan became the first country in the world to introduce TCV into routine immunization, beginning with a three-week campaign in Sindh Province that vaccinated more than 9.8 million children. As Pakistan prepares to further deploy TCV across all four provinces, beginning with Punjab later this year, researchers gathered at Aga Khan University in January for "A typhoid-free future in the making: The journey of typhoid fever outbreak." Promising results were presented from an early emergency vaccination campaign in Sindh that found TCV to be 89 percent effective in preventing new cases of the disease. The event also allowed local officials and experts an opportunity to revisit the successes and lessons learned from the Sindh launch and strategize on how to continue to move Pakistan towards a typhoid-free future.
New interactive tool allows countries to explore projected TCV impact and cost-effectiveness
Take on Typhoid launched a tool on its website intended to make information about the potential impact and cost-effectiveness of TCVs more accessible to policymakers and stakeholders. The tool allows users to dive into the detailed results from an analysis modeling TCV cost-effectiveness in Gavi-eligible countries published by TyVAC researchers earlier this year in The Lancet Infectious Diseases. The analysis identifies the most cost-effective vaccination strategy for each country, a factor that will help policymakers decide if it is strategic to apply for support from Gavi, the Vaccine Alliance to introduce TCV into routine vaccination in their country, with or without catch-up campaigns.
Users can view both global and country-specific projected estimates with the option to customize certain inputs to see how the results may vary under different circumstances, such as an increased or decreased disease burden or a change in vaccination delivery costs. By making this information more accessible, the research team hopes to create a pathway that will accelerate the decision-making process for TCV introduction and facilitate access for children most in need.
TyVAC attends the ASCODD conference
In late January, TyVAC joined other investigators, advocates, and public health officials at the 15th Asian Conference on Diarrhoeal Disease and Nutrition (ASCODD) hosted by icddr,b in Dhaka, Bangladesh. This year's theme focused on typhoid, cholera, other enteric diseases, and their relationship to nutritional disorders. Although major strides have been made in cholera and typhoid prevention, there is still much work to be done to curb malnutrition and to limit the worrying threat of drug resistance.
The conference brought together policy makers, researchers, government officials, and representatives from multilateral institutions, allowing experts to share their work, while also giving attendees the opportunity to network and identify ways to collaborate going forward.
TyVAC representatives were part of crucial discussions about typhoid and TCVs in the region and met with key stakeholders working in Southeast Asia to take on typhoid. The importance of this conference – and these issues – are highlighted in a piece by Dr. Firdausi Qadri of icddr,b. After the conference, TyVAC continued conversations with decision-makers in the region who are considering introducing TCV in their countries.
Outbreak reports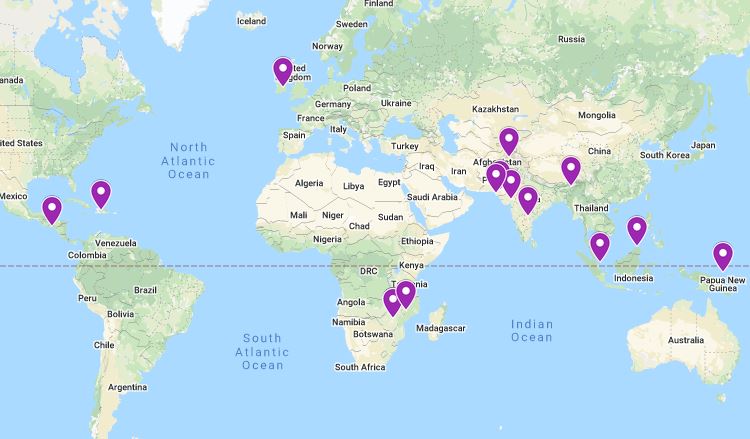 Throughout 2019, Zimbabwe battled frequent outbreaks of typhoid as the result of an acute water crisis due to drought, which fosters disease transmission. In late December, 13 suspected new cases were recorded in Glen View, a high-density suburb of Harare, where typhoid has affected more than 10,000 people and claimed an estimated 49 lives during the most recent outbreak. This protracted outbreak has, in part, motivated Zimbabwe to become one of the first countries in sub-Saharan Africa—along with Liberia—to introduce TCV into routine immunization later this year. While investments in water, sanitation, and hygiene infrastructure are crucial to break the cycle of transmission in the long term, TCVs will offer long-lasting protection to the most vulnerable.
Haiti was declared one year cholera-free last month. However, access to clean and safe water remains a concern as the country continues to battle a myriad of waterborne illnesses, including typhoid. On February 17,  the Mayor of Mont-Organisé declared a typhoid epidemic. With only one health center and limited resources to accommodate the community, rapid interventions are needed to contain the outbreak.