In this issue:
TCV advocacy efforts turn to country introductions
Following the World Health Organization (WHO) recommendation for typhoid conjugate vaccine (TCV) use in routine immunization programs in March, Take on Typhoid advocacy efforts have turned from global policy changes to country-specific advocacy and preparedness for Gavi, the Vaccine Alliance applications.
Now that all global policy recommendations are in place and applications for TCV support from Gavi are open, countries can begin applying for Gavi support or introducing the vaccines on their own. The government of Pakistan, which is dealing with the first-ever outbreak of extensively drug-resistant typhoid, took the lead with their decision to apply for Gavi support for nationwide TCV introduction. Other countries with a high burden of typhoid or high percentage of drug-resistant typhoid may soon follow suit.
To support evidence-based country decision-making for TCV introduction, Take on Typhoid has developed a variety of new resources and tools for country use. These include country-specific and general fact sheets, a decision-maker fact card, and other resources available at takeontyphoid.org.
More than 20,000 children vaccinated in Nepal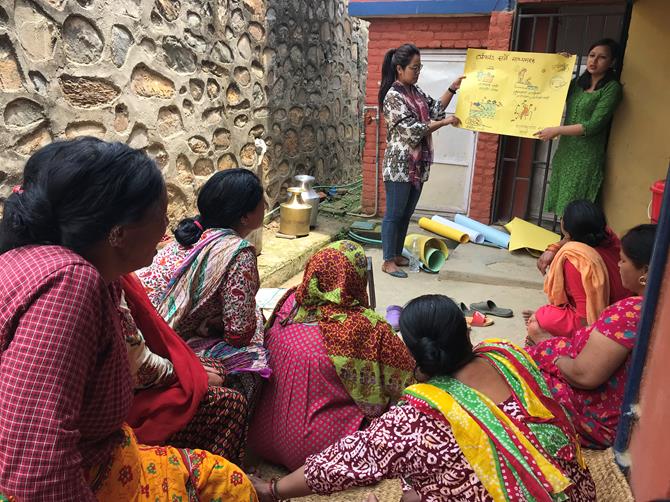 TyVAC-Nepal accomplished an amazing feat by enrolling and vaccinating 20,015 children in a typhoid conjugate vaccine trial in under four months. In a recent blog, public engagement officer Ashata Dahal details how the team successfully worked with the community to efficiently and effectively complete the vaccination campaign. Nepal was the first of the TyVAC effectiveness studies to finish vaccinating the target number of participants with the WHO-recommended TCV.
Public engagement was critical to completion of the vaccination campaign. TyVAC-Nepal developed a unique strategy to involve the community that proved to be very effective. Outreach and interaction occurred at multiple levels before enrollment, during enrollment/vaccination, and post-vaccination. The team informed national-level officials; locally elected representatives from Lalitpur Metropolitan City; and members of the community to include community health volunteers, mothers' groups, women's groups, and teachers.
The engagement activities actively addressed queries and concerns of the stakeholders, which played a key role in spreading a positive message about the study. Extensive education and training on using simple language to communicate information about the study was key to helping parents and caregivers understand the importance of participating. Notable personnel had their own children vaccinated to help encourage others to participate. We are excited and encouraged by the community participation in the Nepal trial and look forward to continued engagement for country introduction.
Wealth of data emerge as SEAP enrollment surpasses 14,000
Enrollment for the Sabin Vaccine Institute's Surveillance for Enteric Fever in Asia Project (SEAP) recently surpassed 14,000 people, giving researchers a wealth of data on enteric fever—typhoid and paratyphoid—in Bangladesh, Pakistan, and Nepal. From these enrolled patients, SEAP has identified more than 4,000 cases of enteric fever, the most of any enteric fever surveillance project. Using data collected from these cases, SEAP researchers are calculating crude and adjusted incidence rates for the catchment areas at the three sites. Researchers are also using these data to characterize the distribution of enteric fever by age. Preliminary findings show that children under five years of age have the highest burden in Bangladesh and Pakistan, while young adults in Nepal are most affected. Additionally, SEAP is tracking patterns of drug resistance, which makes enteric fever much more difficult to treat. In Bangladesh and Nepal, SEAP found 24 percent of enteric fever cases are resistant to one or more antibiotic commonly used to treat the diseases. In Pakistan, this number is higher with 62 percent enteric fever cases resistant to one or more antibiotic commonly used to treat the diseases. Typhoid's growing drug resistance raises the urgency for preventive measures such as new TCVs and improved water, sanitation and hygiene.
SEAP is continuing surveillance in Bangladesh, Pakistan, and Nepal and expects to publish comprehensive findings in early 2019. These data, collected in close collaboration with local partners, may prove crucial for targeting future prevention and control interventions in these countries.
Bienvenue Burkina Faso!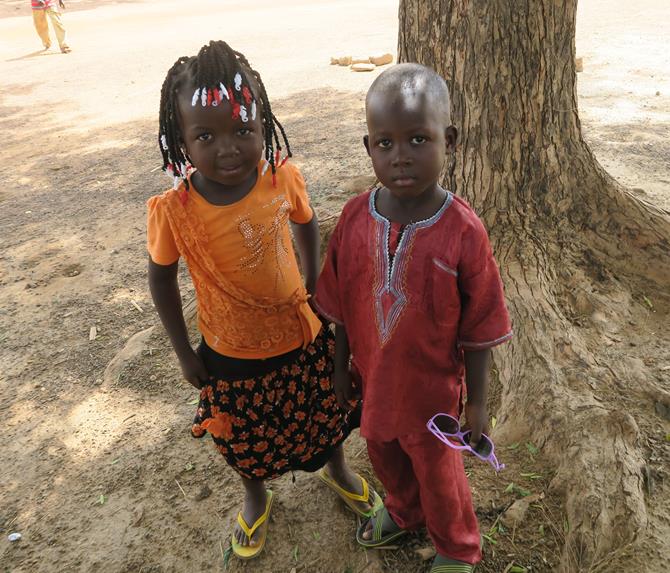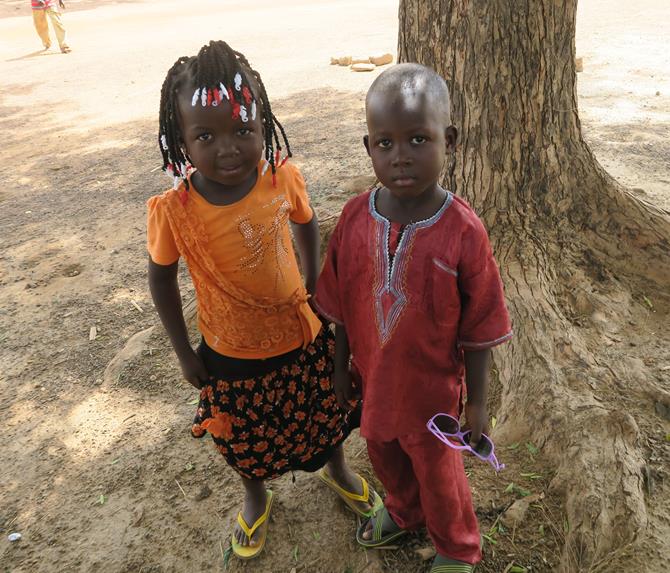 TyVAC is pleased to welcome our newest partner, Dr. Sodiomon Bienvenu Sirima and the Burkina Faso team from Groupe de Recherche Action en Sante (Health Action Research Group, GRAS). Burkina Faso is the second TyVAC site in sub-Saharan Africa and the first francophone site.
TyVAC plans to conduct a study of TCV in children under two in Ouagadougou, Burkina Faso. The objectives of the trial are to assess the safety and immunogenicity of the TCV when co-administered with Expanded Programme on Immunization vaccines—yellow fever and meningitis A—in children 9 through 11 months and 15 through 23 months of age.
The data collected will complement the Malawi trial and increase generalizability in sub-Saharan Africa, given the differences in population characteristics, typhoid epidemiology, and vaccination schedule. In addition, the trial will generate data on co-administration of TCV with routine childhood vaccines in typhoid-endemic countries, as recommended by WHO SAGE. These data will help drive large-scale uptake in sub-Saharan Africa. Stay tuned for additional details.
A meeting of the minds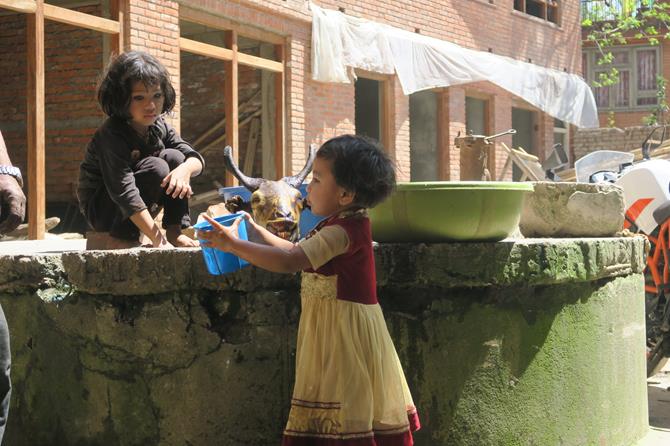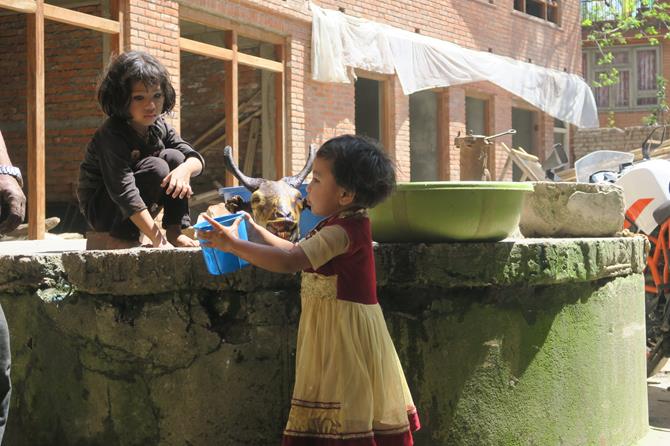 TyVAC's annual meeting in April 2018 was a joint initiative with the Strategic Typhoid Alliance across Africa and Asia (STRATAA) and provided a unique opportunity to network within and between organizations; share relevant information; evaluate progress on project activities, global policy, and the introduction of TCV; and ensure alignment of ongoing activities with project goals and data needs.
The meeting celebrated accomplishments and growth since TyVAC's inception. The breadth and depth of presentations exemplified collaboration, coordination, and partnerships that have developed or evolved out of TyVAC. The dynamic speakers, discussions, and break-out sessions facilitated sharing, engaging, and meeting the broader teams. Presentations included a rich mix of global perspectives on TCV introduction policy and progress, STRATAA results and analysis, updates on TyVAC trials, as well as challenges and initiatives across organizations and countries. The meeting culminated with site visits to vaccination/fever clinics and the Patan Hospital where we were welcomed with unparalleled hospitality. As the first TyVAC site to complete the vaccination component of the trial, the Nepal team shared challenges, lessons learned, and ongoing community-based public engagement efforts.
In addition to the TyVAC and STRATAA teams, we were joined by representatives from the Bill & Melinda Gates Foundation, WHO, and the Coalition against Typhoid. We were honored by the presence of local participants including Dr. Bikash Lamichhane, Director of the Child Health Division, Department of Health Services, Ministry of Health, Government of Nepal. By continuing to collaborate with partners, and generate and share evidence of the TCV's safety, efficacy, and cost-effectiveness in the countries that need them most, TyVAC can help decision-makers determine the best strategies for introduction and reduce the burden of typhoid.
Outbreak reports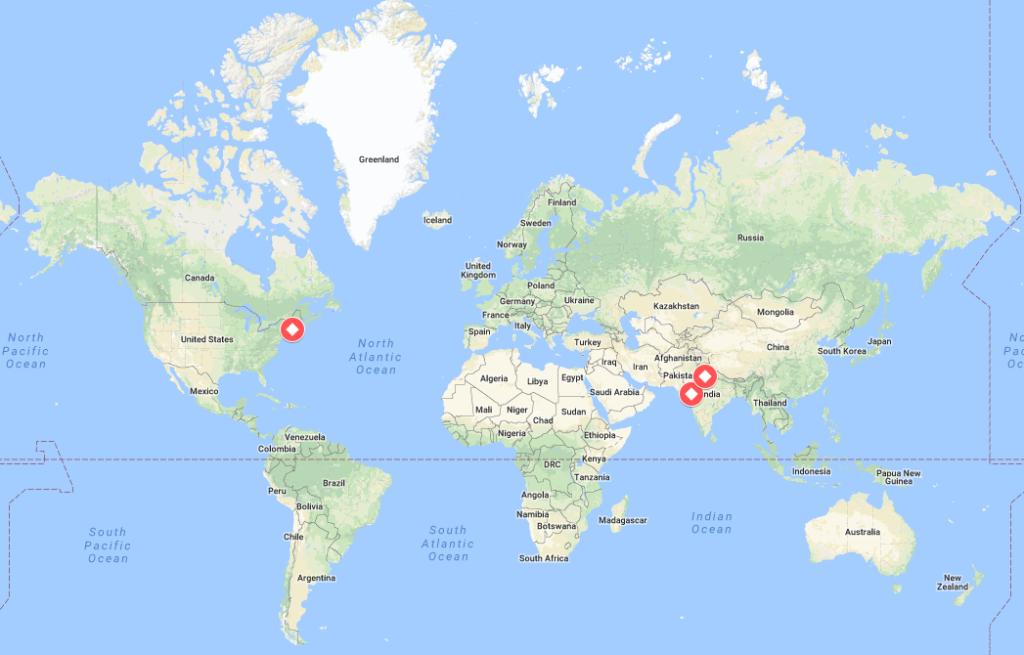 The city of Ahmedabad, India, reported 72 cases of typhoid in the first week of April. Health officials say that this is part of a spike in overall waterborne infections in the city.
A heat wave across much of South Asia is linked with an increase in typhoid casesand other waterborne diseases in India.
In the United States, a daycare near Boston closed temporarily after a child who had recently travelled abroad was diagnosed with typhoid. Although typhoid is not endemic in the United States, international travel makes it relatively easy for pathogens to cross borders. The daycare has since reopened, and no further cases have been reported.
EU General Data Protection Regulation
The new European Union (EU) General Data Protection Regulation (GDPR) is now in effect. While this only impacts persons living in the EU, TyVAC is committed to safeguarding the privacy of all personal data in its care.
The Take on Typhoid newsletter is a mechanism by which TyVAC shares typhoid-related information with the typhoid community.
The University of Maryland, Baltimore and the Sabin Vaccine Institute maintain the distribution list from a location within the United States. The distribution list is solely to provide members of the typhoid community with information about TyVAC, the Coalition against Typhoid, and other associated programs and activities as well as to respond to specific questions or requests submitted by the community recipient.
You may unsubscribe from the TyVAC and Sabin email lists at any time by clicking "unsubscribe" link at the bottom of our emails.
If you have questions or would like to review/correct any data, please contact us at TyVAC@som.umaryland.edu or (410) 706 3987
.