In this issue:
On the ground in Malawi, a story from the field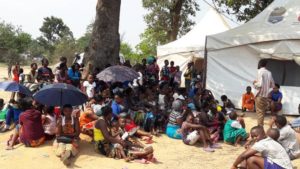 The Malawi Liverpool Wellcome (MLW) Trust team share their efforts leading a large vaccine efficacy study in Blantyre, Malawi, via a story from the field and blog. MLW vaccinated children at schools and community sites using innovative engagement strategies that included a van playing a typhoid jingle. The community-based approach required mobile vaccination stations at each location, so vaccines were transported daily from the MLW pharmacy with strict procedures to ensure temperature control. The team set an ambitious target of vaccinating 200 children per day. After months of hard work, the team successfully vaccinated more than 28,000 children with either the World Health Organization's (WHO) prequalified typhoid conjugate vaccine (TCV) or the control vaccine.
Vaccines are key to addressing the significant morbidity and mortality caused by typhoid in Malawi. TyVAC-Malawi hopes their work will provide additional data to assist other countries considering TCV introduction.
Surveillance and vaccine introduction in the DRC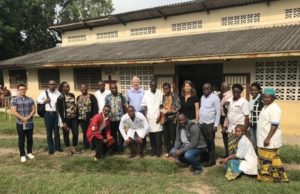 THECA, a new project led by the University of Cambridge, funded by the EDCTP, focuses on introduction of TCV in Africa. THECA project partners (below) are in support of the common project goals, which include accelerating TCV introduction in Africa. TyVAC team members Drs. Kathleen Neuzil and Gordon Dougan joined THECA principal investigator Dr. Florian Marks and co-investigator Mr. Justin Im, as well as in-country partners, including Dr. Octavie Lunguya from the Institut National de Recherche Biomédicale (INRB) and Dr. Jan Jacobs of the Institute of Tropical Medicine Antwerp on a site visit to Kinshasa and Kisantu in the Democratic Republic of the Congo from June 9-12, 2019. The team met with leadership from the Kisantu Health Zone, St. Luc Hospital and the Kavuaya and Nkandu health centers to discuss typhoid surveillance and typhoid vaccine introduction activities.
THECA consortium: University of Cambridge (United Kingdom), Kwame Nkrumah University of Science and Technology (Ghana), University of Antananarivo (Madagascar), University of Ouagadougou (Burkina Faso), Institut National de Recherche Biomédicale (Democratic Republic of the Congo), International Vaccine Institute (Republic of Korea), Foundation Merieux (France), Institute of Tropical Medicine Antwerp (Belgium), International Centre for Diarrhoeal Research (Bangladesh), and University of Maryland (USA).
TCV cost-effectiveness study published
A new study published in The Lancet Infectious Diseases evaluated the cost-effectiveness of routine and campaign use of Typbar TCV® in low- and middle-income countries with varying typhoid burdens. Led by TyVAC researchers at the Yale School of Public Health and the University of Antwerp, the analysis identified the most cost-effective vaccine strategy for each country, a factor that will help policymakers decide whether to apply for support from Gavi, the Vaccine Alliance to introduce TCV into the vaccination program in their country. The study found that, in general, vaccination is likely to be cost-effective in countries with high typhoid incidence, high cost of typhoid treatment, and/or high mortality rates from typhoid. The results also indicate that it is always cost-effective to include a catch-up campaign when introducing routine typhoid vaccination. Following on from this study, the team is developing a tool that will allow interested users to explore the cost-effectiveness inputs and results for individual countries, launching on the Take on Typhoid website later this summer.
TyVAC hosts knowledge sharing meeting in Nepal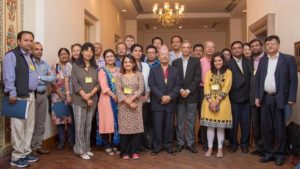 The TyVAC team was pleased to convene government officials and other stakeholders in Nepal at the end of May for a knowledge sharing dinner about typhoid and the potential of TCV in Nepal. Attendees heard presentations on a variety of topics including data on TCV safety, efficacy, and immunogenicity from Phase 3 studies underway in Nepal, the processes involved in applying to Gavi, the Vaccine Alliance for TCV introduction support, and ways TyVAC can offer support, should they decide to introduce the vaccine. Participants had fruitful discussions about disease burden in the country and the role TCVs can play in curbing Nepal's typhoid burden. They also had the opportunity to ask additional questions to aid them in their decision-making process with TCV introduction in the country.
Typhoid at WHA
WHO member states agreed to a new water, sanitation and hygiene (WASH) resolution aimed at improving these services in healthcare facilities. Typhoid transmission and the quality of WASH services are inextricably linked, and the discussion among global public health leaders on how to improve these services is an important step in bringing safer conditions to communities burdened by typhoid. Drug resistance was another major topic throughout WHA, and discussions focused on ways to tackle this issue including continued research and surveillance, optimizing antibiotic use, and reducing incidence of disease through improving WASH services and access to vaccination. This is particularly relevant for typhoid, where the rate of cases showing resistance to available antibiotics is growing. Finally, delegations discussed the vision of universal health coverage, which promotes equitable, accessible health care. Empowering communities and developing health systems that reach everyone regardless of economic or environmental determinants of health is crucial to reduce the burden of typhoid. Improving access to vaccines and developing routine immunization programs have a role to play in working toward universal health coverage, and TCVs are no exception.
New resources for TCV introduction
Take on Typhoid recently added new resources to the website and all materials are updated to reflect the latest disease burden estimates. There is a new resource for national decision-makers and advocates with TCV costing information in English, French, and Portuguese. Additionally, the country tools page has been updated with new materials and translations. You will also find a new TyVAC menu that outlines the details on what support TyVAC offers for country introduction of TCV―from initial scoping conversations through to post introduction activities. Please check out these new resources―plus new blogs, updates, and highlights, on the website. If you have ideas or suggestions for materials and messages, please email tyvac@path.org.
Outbreak reports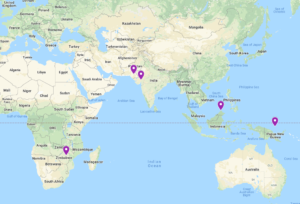 Health officials in Sindh, Pakistan, continue to battle an ongoing outbreak of extensively drug-resistant typhoid. A mass vaccination campaign with TCV has helped manage the outbreak in Hyderabad, but case numbers continue to grow in Karachi. Nearly 3,000 cases have been recorded in Karachi in 2019, almost half of which are ceftriaxone resistant. Aga Khan University and the Sindh government have kicked off a vaccination campaign in Lyari, a densely populated area of Karachi, in an effort to control the outbreak.
Typhoid cases have spiked this month in Ahmedabad, India. An estimated 537 cases of typhoid were logged this May, compared to 359 cases last year. A parallel spike in cholera, another waterborne disease, is being seen simultaneously.
The Philippines Department of Health is running an awareness campaign urging residents to prepare for rainy season diseases, including typhoid fever. Key recommendations include practicing personal hygiene and environmental sanitation, drinking water from clean sources and washing and cooking food before consumption.