Meet Osward Nyirenda, a public health researcher and clinician with the Blantyre Malaria Project in Malawi. Typhoid is one of many diseases that impact his community of Ndirande, a heavily populated township about three kilometers outside the city of Blantyre. According to the Malawi Ministry of Health, more than 100 of every 100,000 people in Blantyre suffer from typhoid annually. As in many places where typhoid is endemic, Ndirande lacks quality sanitation infrastructure, and households often share toilets and sources of water.
Knowing that these conditions put his community at risk of typhoid transmission, Osward chose to pursue a career where he could actively improve the health of his community and prevent suffering from disease. Since 2001, Osward has been providing routine clinical care with the goal of reducing the "unacceptably high" burden of preventable infectious diseases, including malaria, tuberculosis, HIV/AIDS, rotavirus, and typhoid.
Osward will always remember one specific moment that happened early in his career. Though he's seen hundreds of patients recover from typhoid, he says, "I can never forget seeing two children die due to typhoid. The first child had meningitis as a complication of the disease and the other child died due to perforated bowels." Experiences such as these, of children's lives lost to typhoid, have pushed Osward to continue searching for ways to prevent the disease from causing more suffering in Ndirande.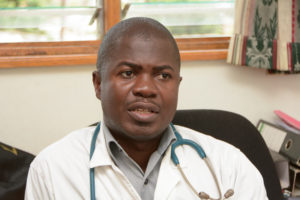 After seeing firsthand the impact of diseases including typhoid, Osward realized that many of the solutions to the public health challenges facing his community lie in clinical research. In 2004, he joined the Blantyre Malaria Project (BMP), a center of clinical research excellence affiliated with the University of Malawi, the University of Maryland, and Michigan State University. Through BMP, Osward currently works as a researcher and clinician at Ndirande Health Centre, where he both treats patients suffering from typhoid as well as researches public health measures which could reduce the disease burden in his community. A local partner of TyVAC, BMP has played a large role in preparing hospitals in the Ndirande and Zingwangwa townships for the typhoid conjugate vaccine (TCV) effectiveness study in Malawi.
Malawi made history in February 2018 as the first children in Africa were vaccinated with the WHO-recommended and pre-qualified Typbar TCV®. Typbar TCV is the world's first typhoid vaccine approved for use in children younger than two years of age, and is longer-lasting and more effective than previous typhoid vaccines, a promising development in typhoid-endemic countries such as Malawi, where TCVs can be incorporated into routine vaccination schedules.
As part of the BMP study team at Ndirande Health Centre, Osward says trial participants are excited to receive the vaccine and the number of interested enrollees is much more than the hospital expected. He says that after bringing one child to receive the typhoid vaccination, many guardians asked if they can bring more of their children to the hospital to receive the vaccine as well. After years of working in public health, Osward is excited that his efforts, and those of his colleagues, are helping to advance typhoid control and prevention not only in Malawi, but around the world.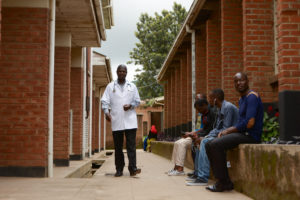 Hopefully the enthusiasm seen in the Blantyre community for TCV points to future success for widespread introduction of Typbar TCV to communities globally. Vaccines have the power to reduce the burden of typhoid in communities such as Osward's, and increasing access is a critical step to take on typhoid. Paired with efforts to improve water and sanitation infrastructure, the impact of typhoid on communities such as the Ndirande township can be reduced. The continued dedication of frontline health workers and local public health researchers such as Osward will remain important to the fight against typhoid in Malawi and in other typhoid-endemic countries.
Reporting and photos by Thoko Chikondi. This post is part of Stories of Typhoid, a series sharing the impact of typhoid on communities in endemic countries.