Typhoid is a common bacterial infection that can have an outsized impact on young kids and their families, particularly for moms who are the primary caregivers. Symptoms such as prolonged fever, fatigue and nausea can be debilitating and last for days on end, forcing mothers to upend their lives to care for their children. Unfortunately, this is a shared experience among many moms in Kenya, where typhoid is endemic and multi-drug resistance is on the rise.
In Mukuru, Kenya, an informal settlement just outside Nairobi, typhoid is common enough that stories of typhoid – and the disease's burden on mothers, in particular – are easy to find. In addition to the emotional burden having to watch a child go through such a dangerous illness, typhoid can impose important economic hardships on mothers, as Judith discovered when her son Jackson became sick last year.
Judith works washing clothes in Mukuru. Her husband travels for work, often leaving Judith to care for the children alone.  When Jackson contracted typhoid last year, initially she didn't know what was wrong, only that he was sicker than she had ever seen him.
"I used to hear about typhoid," said Judith. "I never thought that the baby would get it. He had diarrhea and was vomiting. I had not seen him that sick before."
It took nearly a month from when Jackson first fell sick until he was finally diagnosed and treated for typhoid. During that time, Judith wasn't sure how she'd be able to provide or care for her family.
"I had a lot of stress. When he was sick I couldn't go out and look for work. Even eating was difficult because I didn't have money," she said.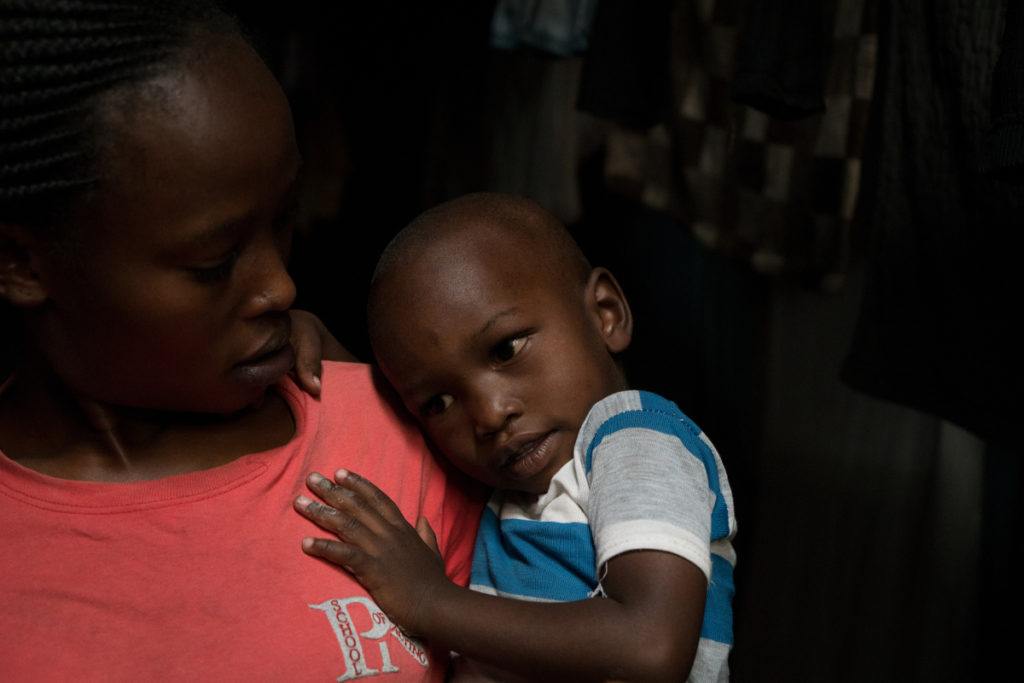 The financial stress Judith experienced due to typhoid is familiar to many families around the world, particularly those in sub-Saharan Africa and South Asia. Recent estimates suggest that there are nearly 12 million cases of typhoid and more than 128,000 deaths due to typhoid worldwide each year.
Anne, another mother in Mukuru who lives with her children in a one room house, is also deeply aware of the danger and challenges of typhoid. A couple of years ago, Anne's young daughter Mutua became sick with a fever and stomach aches. After a week, Anne took Mutua to the hospital, where the doctors diagnosed her with typhoid.
The disease impacted Anne and her family economically, just as it had with Judith's family. As a single mother, she was not able to work while Mutua was sick. "It was very tough not to work. We had no money to buy food," she said. It was almost a month before Anne could return to work.
But economic hardship is not the only negative impact that mothers and children face with typhoid. Sick kids also have to miss days and sometimes weeks of school. In the same neighborhood as Judith and Anne, Benta is raising her six-year-old daughter, Portia. Like the others, Benta is caring for her child alone, working as a housekeeper for five dollars a day to support Portia. After several weeks of Portia complaining of stomach pains, Benta took her to a clinic where she was diagnosed with typhoid.
"Portia missed nearly two weeks of school. She missed so many lessons," Benta said. When Portia was sick, Benta had to ask the neighbor to stay with her because she could not afford to stay home and care for her daughter.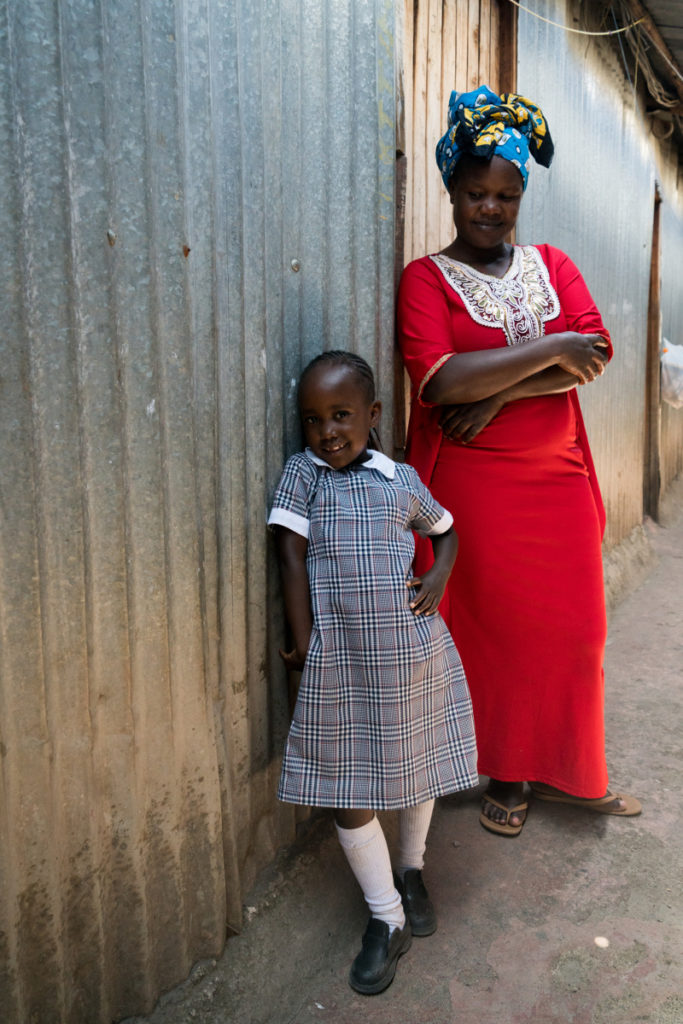 Thankfully for Judith, Anne, Benta and other mothers in Mukuru, things are changing. Community health workers have travelled through Mukuru talking with residents about how to prevent typhoid infections by taking measures such as purifying water. Since typhoid is a food- and water-borne disease, simple measures to improve water, sanitation and hygiene can help protect young children from contracting the disease.
This is a step in the right direction, but mothers across Mukuru want their children to be further protected against typhoid.  If a vaccine to prevent typhoid is available in the community, the mothers stressed, then they would get it for both themselves and their children.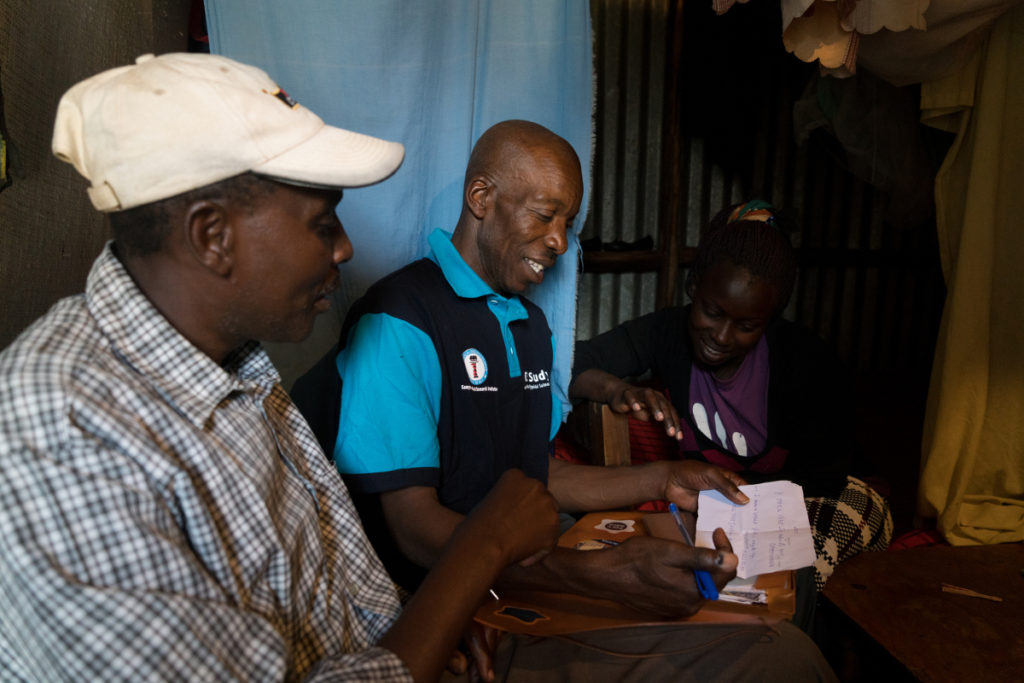 Hope may be around the corner. The World Health Organization recently recommended the introduction of a new typhoid conjugate vaccine (TCV) for infants and children over six months of age in typhoid-endemic countries like Kenya. With this recommendation, country policymakers are now deciding when, where, and how to get this vaccine to the places that need them most, such as Mukuru.
As Judith, Anne, and Benta can attest, mothers in typhoid-endemic countries around the world need the TCV to protect their children, keep them in school and to be able to work to support their families.  Alongside improvements to water, sanitation and hygiene, the rollout of the new TCV will play an important role in keeping families healthy.
Photos and reporting by Adriane O'Hanesian/Sabin Vaccine Institute. This post is part of Stories of Typhoid, a series sharing the impact of typhoid on families in endemic countries.