"We didn't know about typhoid," Mercy said in her one-room home in Mukuru, an informal settlement east of Nairobi, Kenya. That changed quickly for Mercy, her husband Mbuvi, and their two daughters. Earlier this year, one of their daughters, seven-year-old Mary, woke her parents in the middle of the night to tell them she felt sick.
"She was hot, she had a headache and was very weak," Mercy said. Mary's condition continued to deteriorate, and soon she started to vomit and have diarrhea. Mercy's children had been sick many times before with malaria, but this time she could tell that Mary's illness was different. After two days, Mercy decided to take Mary to the nearby health clinic, which is within walking distance from their home.
After an initial visit to the clinic for blood culture test, Mercy and Mary returned to the clinic a few days later, where the doctors confirmed that Mary had typhoid, a systemic bacterial infection that impacts nearly 11 million people worldwide every year and is endemic to Kenya. With a diagnosis, Mary was able to get the appropriate treatment quickly. The doctor prescribed a two-week course of antibiotics for Mary and after just three days of taking them, she started to feel better. However, her family was still concerned about how this disease previously unknown to them had affected their daughter. "I had never seen her sick like that," Mercy said. "She was not even eating before," added Mbuvi. "Now she is back to eating as normal, but we still don't know how she caught typhoid."
This knowledge gap puts many families like Mercy's and Mbuvi's at risk of typhoid, because they do not know what it is nor how to prevent it. Community health workers (CHWs) can help educate families on the best ways to prevent infectious diseases like typhoid. Two such CHWs, Francis and Meshack, have both worked in Mukuru for more than 10 years. When a patient is diagnosed with typhoid at a local health clinic, Francis and Meshack pay them a follow-up visit soon after.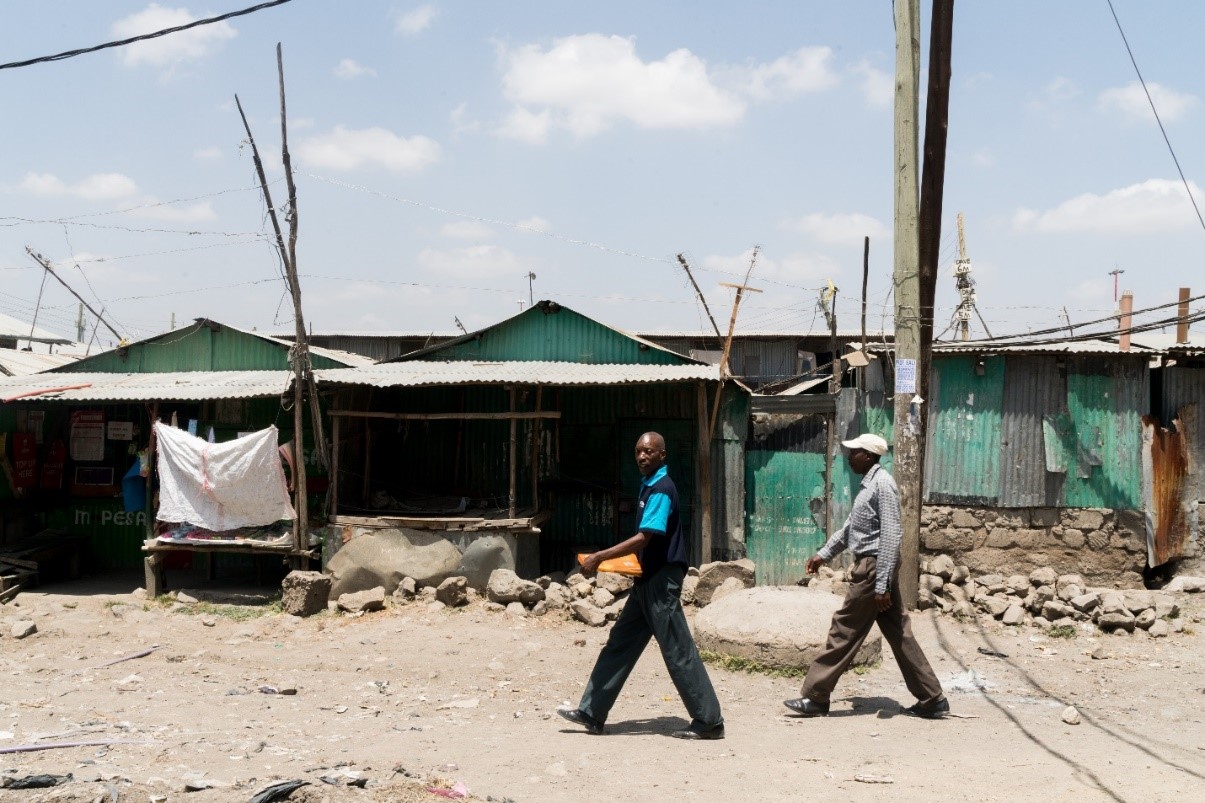 "You find people that don't wash their hands or don't treat the water they drink," Meshack explained. "Some people don't have money to buy the tablets or the charcoal to boil the water, but we continue to educate them so that they understand the importance. When you become sick you realize that it's important."
After Mary's case of typhoid, Francis and Meshak visited the family, instructing them on preventive drinking, cooking and hygiene habits to avoid future typhoid infection. In the past, the family collected their water from a tap on the street. "We don't want to become sick again, that is why we started boiling the water," Mercy said. "Before we were not even washing our hands after the toilet or before having food." Now, thanks to what they learned from Francis and Meshack, they know to wash their hands throughout the day to avoid contacting or spreading the bacteria that causes typhoid.
Beyond changing their water and hygiene habits, other, more long-term and cost-effective solutions to keep their children safe from typhoid may soon be accessible to Mercy and Mbuvi. A new typhoid conjugate vaccine (TCV), which can be administered to children as young as six months of age, requires a single-dose and provides more effective and longer-lasting protection than previous typhoid vaccines. It was recently recommended by the World Health Organization, and while not yet available in Kenya, Gavi, the Vaccine Alliance, has allocated funding to support countries in their efforts to introduce TCV.
Introducing TCV is of particular importance in typhoid-endemic countries such as Kenya, which experiences more than 97,000 cases of typhoid fever annually. It is estimated that more than a third of these cases are multidrug-resistant, meaning first-line antibiotic treatment options are no longer effective. The situation is concerning for many resource-limited settings in Kenya, as the few remaining effective antibiotics are either unavailable or too expensive for the general population. To protect children such as Mary from typhoid and to curb the spread of drug resistance, preventive interventions, including introducing TCVs, investing in water, sanitation, and hygiene, must be prioritized.
Photos and reporting courtesy of ©Sabin Vaccine Institute/Adriane O'Hanesian. This post is part of Stories of Typhoid, a series sharing the impact of typhoid on families in endemic countries.