In this issue:
Navi Mumbai Municipal Corporation launches the world's first public-sector typhoid conjugate vaccine campaign
Typhoid is highly endemic in India and inflicts a significant public health burden, particularly among young children. To protect children from typhoid, the Navi Mumbai Municipal Corporation (NMMC) launched the world's first public-sector introduction of typhoid conjugate vaccine (TCV) in Navi Mumbai. Unlike the previous typhoid vaccines, TCVs can be given to children as young as 6 months and only requires a single dose, providing longer-lasting protection at an earlier age. Typbar TCV®, the TCV prequalified and recommended by the World Health Organization (WHO), has been available in the Indian private market since its licensure in 2013, but is too expensive for many families especially for those at risk of typhoid. The TCV introduction campaign aimed to vaccinate approximately 320,000 children aged 9 months to under 15 years old in two phases. The first phase, completed in August 2018, vaccinated over 113,000 children in 11 urban primary health centers (UPHC); the second vaccination phase will begin in 2019 in the remaining 11 UPHCs.
In preparation for the campaign, NMMC, with support from partners—WHO-India, the United States Centers for Disease Control and Prevention (CDC), the Ministry of Health and Family Welfare – Government of India, Government of Maharashtra, and the private sector in Navi Mumbai (leading pediatricians, general practitioners, clinics and hospitals)—held workshops and trainings that included UPHC staff and private medical practitioners. Social mobilization activities included distribution of pamphlets and information booklets to the community and media briefings and updates. On weekends and public holidays from July 14 through August 25, over 1,200 vaccination booths in hospitals, clinics, schools, and other designated locations were set up to conduct the vaccinations. Partners including WHO-India, CVD, Indian Council of Medical Research, Stanford University International Vaccine Institute and Grant Government Medical College are conducting several monitoring and evaluation activities regarding safety, coverage, cost, effectiveness and impact of the campaign. You can read more about the vaccination campaign here.
New typhoid surveillance standards
The WHO Surveillance Standards for typhoid and other invasive salmonellosis are now available. The purpose of this publication is to provide recommended standards for countries to conduct typhoid surveillance to gather vital information that helps inform vaccine policy and strategy. Please share these standards with colleagues and partners to take on Salmonella surveillance.
A growing portfolio of advocacy materials
As conversations about typhoid prevention and control, including TCVs, continue, the Take on Typhoid team has been busy developing new resources to help advocates and decision-makers stay informed. We have general advocacy resources with information about typhoid and TCVs, the global burden of disease, and prevention and control solutions. We also have a growing portfolio of country tools that provide information about burden, impact, and TCV cost effectiveness specific to one country. These materials have recently been used during NITAG meetings and to present data to decision-makers considering TCV introduction. All materials are available on our website; we will continue to add new resources as they become available. If you would like to inquire about a specific country or developing a new tool, please email TyVAC@path.org.
Call for abstracts: 11th International Conference on Typhoid and Other Invasive Salmonelloses
The Coalition against Typhoid is pleased to open the call for abstracts and symposia for the 11th International Conference on Typhoid and Other Invasive Salmonelloses taking place March 26-28, 2019 in Hanoi, Vietnam. The conference comes at a pivotal time as momentum is building in the fight against typhoid. Following the arrival of new policies on TCVs and other breakthroughs in the field, it's time to focus on realizing the potential of these latest developments. That's why the upcoming conference's theme is "Global Action for Local Impact."
The conference aims to invigorate and coordinate the global response to typhoid and other invasive salmonelloses. To that end, submissions introducing new ideas, research, policy, and understandings to the field, as well as analyses of both successes and failures, are strongly encouraged. The Coalition against Typhoid is calling on a diverse group of experts to contribute innovative thinking to the conference. Researchers, engineers, decision-makers, and advocates from all backgrounds are encouraged to submit their work. Abstract and symposium submissions are open until October 15. Guidelines for the submission are available on the Take on Typhoid website.
Tackling typhoid prevention and control
Typhoid has long been a disease area with more questions than answers. Identifying precise burden data is difficult, and accurate diagnosis is challenging in the settings that often have the heaviest burden. Zulfiqar Bhutta, long time typhoid advocate and physician, spoke about the questions he has been wrestling for thirty years. Dr. Bhutta shared how the Tackling Typhoid consortium worked to address some of the biggest questions about typhoid, bringing together a group of researchers and advisors to review the global epidemiology, trends and risk factors for typhoid, as well conduct in-depth case studies in eight countries with varied levels of progress. The research showed that no single strategy or factor can control typhoid alone. While newly prequalified TCVs are a significant part of the story, economic development, investment in education, environmental improvements, and sanitation all contribute to reductions of typhoid burden in the countries studied, to a varied degree. There is no one size fits all approach; country leaders need to consider their contexts and communities when determining typhoid prevention and control interventions. Dr. Bhutta remains optimistic that typhoid can be eliminated as a public health threat in the next decade, but such progress will take concerted, focused action across many sectors. You can read more about Dr. Bhutta's perspective here.
Take on Typhoid at the ASTMH Annual Meeting
Join us at the upcoming American Society for Tropical Medicine and Hygiene (ASTMH) annual meeting, October 28-November 1, 2018, in New Orleans, Louisiana. The Coalition against Typhoid is organizing a symposium, "Integration for Impact: Preventing typhoid through policy, vaccines and WASH" on Monday, October 29 from 1:45-3:30pm. The symposium will share the impact of new prevention and control methods—including the TCV—on addressing typhoid alongside the policy decisions to make these tools accessible to all that need them. Additionally, the Take on Typhoid partnership will host a side event and reception, "Racing against Resistance: Milestones in the fight to take on typhoid" on Tuesday, October 30 from 4:00 – 6:00 pm. The reception will bring together typhoid researchers from around the world to discuss TCVs and the fight against drug-resistant typhoid in Asia and Africa.
Join TyVAC at the 12th Vaccine Conference
Headed to Budapest this week for the 12th Vaccine Conference, September 16-19, 2018? If so, be sure to attend the roundtable on TCV on Tuesday from 17:00 – 18:00, chaired by TyVAC Director, Kathleen Neuzil. The roundtable features Andy Pollard, TyVAC Deputy Director, discussing a "Time for Typhoid," followed by oral presentations and discussion. We hope to see you there!
The 12th Vaccine Conference includes presentations from leading experts on cutting-edge research in the field of vaccinology. Attendees have the opportunity to share and collaborate on topics such as disease eradication by vaccination, vaccine hesitancy, vaccine safety, clinical trials, and so much more.
Outbreak reports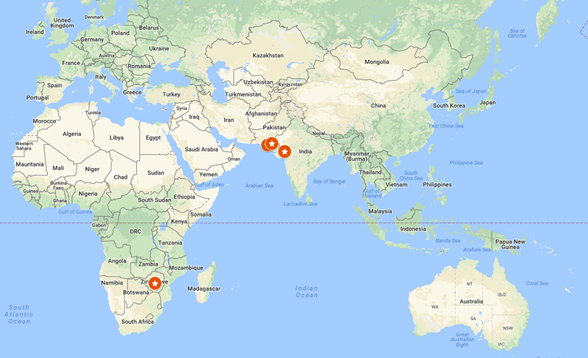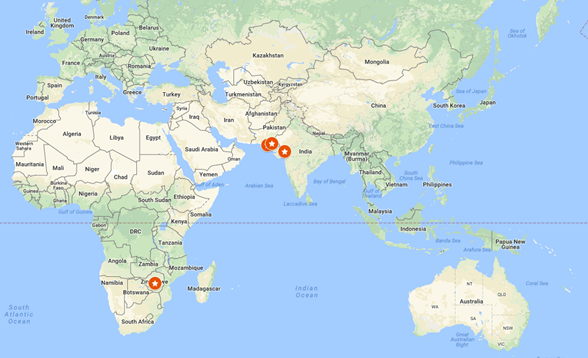 Multi-drug resistant typhoid cases are increasing in both Karachi and Hyderabad, Pakistan. Pakistan's National Institute of Health reports that extensively drug-resistant typhoid has infected more than 2,000 people in the country during the past six months.
A typhoid outbreak is ongoing in Gweru City, Zimbabwe, where the Ministry of Health and Child Care reports a total of 1,460 suspected cases and eight deaths. Retrospective investigations have found that the first case presented to the hospital on July 5. Health officials plan to begin to vaccinate more than 300,000 residents of select typhoid hotspots in September.
Ahmedabad, India, is experiencing a surge of water-borne diseases, with 423 cases of typhoid recorded in July. Health officials are advising residents to use chlorine tables and to avoid eating from outside food vendors.