Imagine rewinding back to only five years ago. Typhoid is responsible for millions of infections and hundreds of thousands of deaths each year. It disproportionately affects a large portion of our globe in countries with poor water quality and lack of improved sanitation. Typhoid vaccines are underutilized in endemic countries.
Back then, typhoid conjugate vaccines (TCVs) held promise as a lifesaving and feasible option, including for children younger than two years of age. However, the World Health Organization (WHO) had not yet issued a policy recommendation for TCVs. In addition, there was no prequalified TCV and no TCV funding from Gavi, the Vaccine Alliance. Data on TCV safety, efficacy, and co-administration were limited. Typhoid was low on the global health radar and dedicated approaches to address the high burden and costs were lacking. And the worst part, children in low-resource settings continued to die unnecessarily from a vaccine-preventable disease.
Now fast forward to today. We have made great strides in the typhoid field, thanks to dedicated partners, innovative research, improved coordination, and a united vision for prevention and control. As a result, we have two WHO-prequalified TCVs and the evidence base has grown tremendously. We now have demonstrated TCV efficacy, effectiveness, and/or co-administration data in Pakistan, Nepal, Bangladesh, Malawi, India, Burkina Faso, Samoa, Liberia, and Zimbabwe. Heightened awareness of typhoid as a global health priority has catalyzed five successful Gavi TCV applications and several countries in various decision-making stages.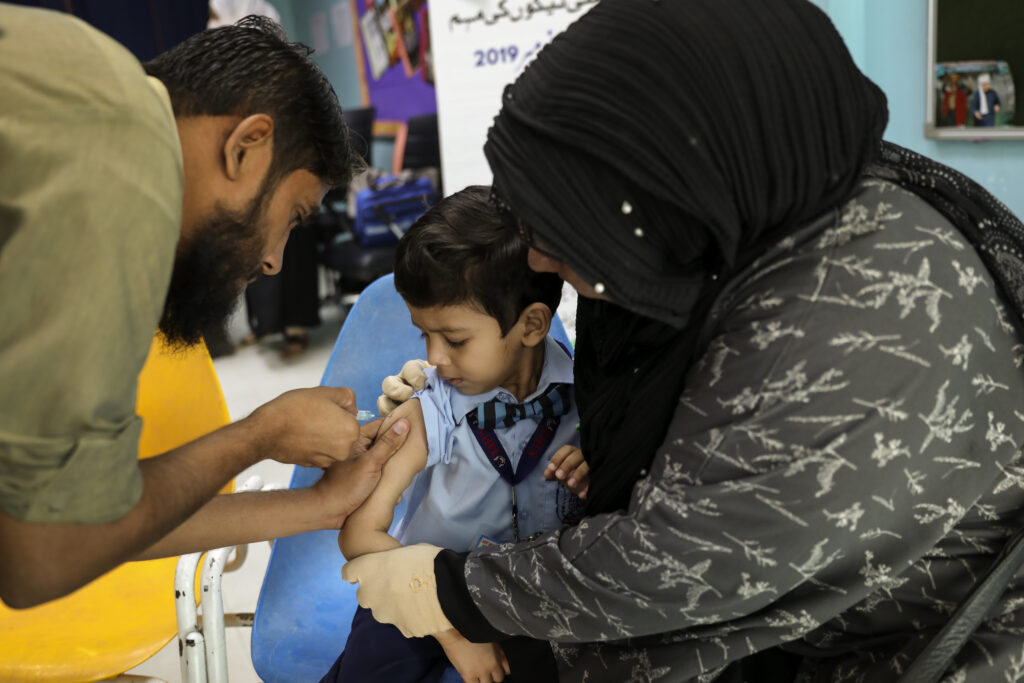 Carrying on despite a global pandemic
Amid these accomplishments, the COVID-19 pandemic erupted. The pandemic continues to take our world by storm, causing delays and disruptions to research, country decision-making, and health system capacity.
Despite the disruptions, the Typhoid Vaccine Acceleration Consortium (TyVAC) and many partners dedicated to typhoid control continue to drive forward. Together, we have helped ensure typhoid and TCV remain on global and national agendas. While the disease continues to cause significant morbidity and mortality in low-resource settings, these accomplishments are remarkable steps forward.
Combatting challenges to increase TCV introduction
Despite these accomplishments, challenges remain. Many countries lack essential data on disease burden and the increasing prevalence of drug-resistant typhoid. Many need support with new vaccine introduction. And as our world continues to evolve, factors such as migration, urbanization, and climate change heighten the risk for infectious diseases such as typhoid. In addition, the pandemic has altered our landscape as COVID-19 vaccines are rolling out and immunization systems are changing.
The good news is TCV is now a proven intervention to combat drug-resistant typhoid and decrease disease burden. We must focus our efforts on improving TCV introduction and global coverage to ensure that where a child lives does not impact their susceptibility to typhoid.
Continuing the momentum to take on typhoid
So, where do we go from here?
Multiple studies under the TyVAC umbrella have demonstrated the efficacy of TCVs in diverse settings in Africa and Asia. We are excited to announce TyVAC 2.0. This next iteration will leverage this momentum and allow us to continue our work for another four years. First and foremost, TyVAC 2.0 will continue to build country and regional collaboration and the sustainable introduction of TCV. While the model remains the same, the partnership, resources, and countries are all expanding to further this effort and ensure global TCV coverage. TyVAC 2.0 will broaden its engagement with the typhoid community; generate additional data on the impact and effectiveness of TCV; support local governments to make the most strategic decisions for their countries; increase TCV coverage; and continue to raise awareness of typhoid on global agendas.