To read this blog in French, please click here
As the urgency for typhoid prevention and control continues into a new year, February 10 marked a step forward with the Typhoid Conjugate Vaccine Introduction in Africa Program (THECA) project launch of TyVECO, a mass-vaccination study in Kisantu, Democratic Republic of Congo (DRC). TyVECO will generate additional data about the effectiveness and feasibility of a mass vaccination campaign using Typbar TCV®. This is a major milestone as the first typhoid conjugate vaccine (TCV) effectiveness study in Central Africa. Today's launch follows in the footsteps of a sister study in Ghana, which started in August 2021 and is the first cluster-randomized, controlled Phase 4 study of Typbar TCV in Africa.
A long-time fight against typhoid in the DRC
A single dose of TCV is proven to offer high efficacy and longer-lasting protection than previous typhoid vaccines and is appropriate for use in children as young as six months of age. To date, more than 36 million children have received TCV. In 2007, the National Institute for Biomedical Research (INRB) in collaboration with the Tropical Medicine Institute, initiated hospital-based microbiological surveillance at the Kisantu referral hospital, Hôpital Saint-Luc de Kisantu. Since 2017, INRB has been involved in the Severe Typhoid in Africa program in collaboration with the International Vaccine Institute to conduct blood culture surveillance in Kisantu, western DRC.
This TCV study will build upon the surveillance work to demonstrate vaccine effectiveness, cost-effectiveness, and feasibility of delivering a single dose of TCV through a mass vaccination campaign in western DRC. The study team plans to vaccinate 48,000 children between the ages of 9 months to 16 years, and a subset of 3,000 participants will be followed to collect additional safety data.
Data estimates suggest that Central Africa has the second highest regional typhoid incidence worldwide, and the ongoing surveillance work in Kisantu reflects this high typhoid burden. High rates of drug- resistant typhoid, including multidrug-resistant and decreased ciprofloxacin susceptibility, complicate accurate diagnosis and treatment. The increasing rate of drug resistance among Salmonella Typhi isolates in DRC is concerning, and highlights the necessity of strengthened microbiological surveillance, improved antibiotic stewardship, and introduction of TCV to prevent the continued emergence and spread of drug resistance.
Turning a corner with typhoid conjugate vaccines
This study launch is a monumental accomplishment on behalf of the local partners and community. The COVID-19 pandemic has disrupted healthcare and access to vaccines around the world and Kisantu is no exception. Preparatory activities such as protocol development and staff training have been more difficult in light of COVID-19 travel restrictions and the need for social distancing. We must also ensure staff and participant safety at vaccination centers, which requires additional space and logistical considerations. Planning for a trial of this size requires extensive social mobilization activities to inform communities about local typhoid burden and the benefits of TCV. Fortunately, we have been able to leverage years of partnership and trust with local health authorities and communities given the ongoing surveillance program.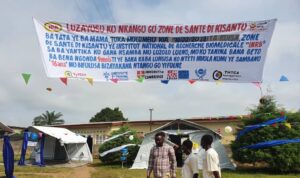 TyVECO plans to follow participants for three years to demonstrate longer-term effectiveness of Typbar TCV in an African population. The additional data will add to the large body of existing safety, efficacy, and cost-effectiveness data on TCV from typhoid-endemic countries that will help inform decision-makers about priorities for new vaccine introduction. For the communities of Kisantu, DRC, this study is a sign of hopeful progress in the battle against typhoid and keeping their children protected.
Photos courtesy of Rolly Mandiangu, INRB