Pacific Island nations including Fiji, Samoa, Nauru, and Papua New Guinea suffer frequent typhoid outbreaks and a substantial number of typhoid cases. Fiji, an archipelago of more than 100 inhabited islands, has a total population of more than 900,000, most of whom reside on the islands of Viti Levu and Vanua Levu. The annual cyclone season brings heavy rainfall; coupled with communities residing in low-altitude coastal areas (vulnerable to flooding), these factors are likely to facilitate typhoid transmission. As such, typhoid is one of three priority communicable diseases of the Fijian health authorities, together with leptospirosis and dengue.
Recent typhoid outbreaks
Last year, in Vanua Levu and neighboring Taveuni, the two largest islands in the northern division of Fiji, there were 78 typhoid cases, including 1 death and 4 severe cases (the annual incidence rate is about 50 per 100,000 people). More than half of the cases were reported in individuals older than 20 years of age, suggesting typhoid is an important public health problem even in adults. Given the high typhoid burden in Fiji and current unimproved water and sanitation infrastructure, introduction of typhoid conjugate vaccine (TCV) was identified as an important tool to control typhoid.
Typhoid conjugate vaccine introduction
Starting July 4, and running for 8 weeks, the Ministry of Health and Medical Services of Fiji (MHMS) will conduct a TCV mass vaccination campaign in the northern division, in partnership with the Typhoid in Fiji – Vaccination towards Elimination (Ty-FIVE) consortium. The Ty-FIVE consortium includes the International Vaccine Institute, the MHMS, Murdoch Children's Research Institute, and the University of Melbourne. TCV will be offered to all individuals from 9 months to 65 years old. In order to reach the older populations, reflecting the local epidemiological context, the campaign will use Typbar TCV®, which is prequalified by the World Health Organization for use in adults up to age 65.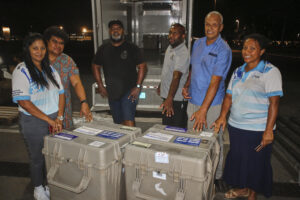 Along with the vaccination campaign, the Ty-FIVE consortium is currently strengthening the typhoid surveillance system in the northern division of Fiji to better understand the underlying epidemiology and geographic distribution of the disease. Health facility-based surveillance identifies patients with fever who visit doctors or their nearest health facility. However, it is possible that infected people shed typhoid in their stool and transmit the disease without experiencing any symptoms and therefore likely wouldn't present to the health system. To improve detection of such asymptomatic shedders and/or carriers, stool sampling and contact tracing activities have been increased in the northern division. In addition, an island-wide environmental surveillance system for typhoid has been established in Vanua Levu to complement clinical surveillance.
Through these ongoing surveillance activities, the Ty-FIVE consortium hopes to paint a comprehensive picture of the typhoid epidemiology in the northern division of Fiji. And with the mass vaccination campaign, the consortium is looking to assess the impact of an island-wide vaccination campaign while effectively reducing the typhoid burden as a step toward local elimination.
Cover photo: The Ty-FIVE project team traveled across Vanua Levu and Taveuni visiting schools and communities to raise awareness about the  vaccination campaign and typhoid prevention. Credit: Ty-FIVE in-country team.