This blog was originally posted on the International Vaccine Institute's website on July 24, 2023.
As we walk through the courtyard, students on their way to class hold up their pinky fingers stained with purple ink. This gesture, usually followed by a smile, has become an island-wide symbol of being vaccinated against typhoid. I show my inked pinky in return.
It is 9:30 AM on a Thursday at St. Mary's Primary School in Labasa. Today is the third day of a mass vaccination campaign in the Northern Division of Fiji, and for the next eight weeks, teams of public health workers will travel across Vanua Levu and surrounding islands to administer the typhoid conjugate vaccine (TCV) to nearly 135,000 people.
St. Mary's is the largest school in the Macuata province and one of the first sites to administer vaccine. At this hour, 8- and 11-year-old students line up outside of two classrooms rendered into temporary clinics. They are restless with nervous energy, but accustomed to receiving injections at school. Sunil Dutt, the school's Head Teacher, says, "Students learn about the benefits of vaccines in school, and we've had a very positive response from parents."
On the first day, the nurses stationed at St. Mary's vaccinated 220 students and reached 77% total coverage by the end of the week. Shivanjali, a sixth grader, says she is happy she got the vaccine: "because I won't get the infection."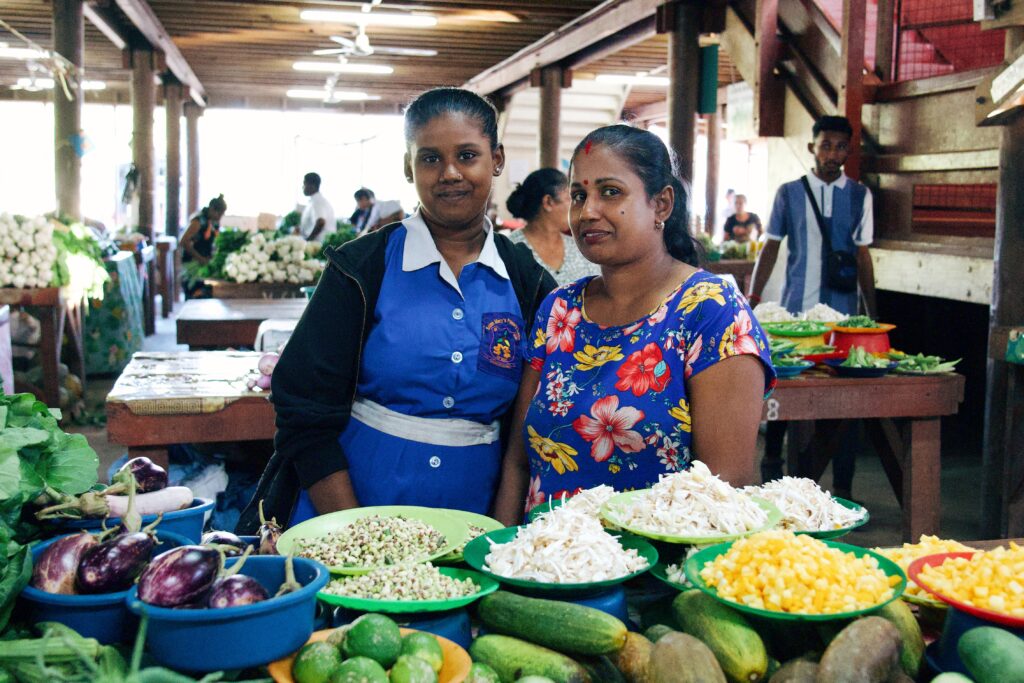 The goal of this vaccination campaign is to reach at least 80% coverage in the Northern Division in an effort to completely eliminate typhoid. The febrile illness is endemic in regions with inadequate access to safe water and sanitation infrastructure—regions such as the Pacific Island nations that experience reoccurring outbreaks of typhoid. Although typhoid is a treatable disease, transmission is ongoing and proper treatment requires timely medical attention at a health care facility to avoid potentially severe complications.
Dr. Alosio Yacalagilagi, the Subdivisional Medical Officer of Bua, says there are outbreaks of typhoid every year in the province, sometimes resulting in deaths. This is particularly harrowing because typhoid is preventable. Without reliable means of getting to a hospital, people often turn to herbal treatments in the early stages of an illness. The challenge, then, for doctors like Alosio, is receiving patients with late presentations of typhoid. "Vaccination is the way to go," he says.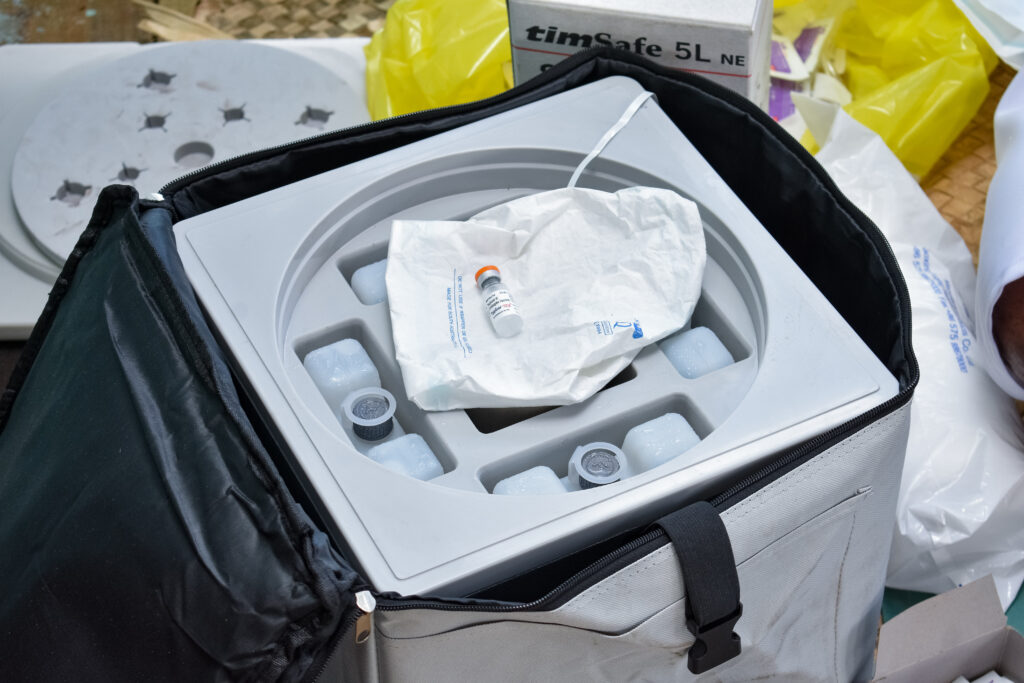 From the point of view of health workers and the Fijian Ministry of Health and Medical Services (MHMS), prevention through vaccination is a safe and potentially more effective and sustainable route to disease control, especially in tandem with improvements to water, sanitation, and hygiene. The Minister of Health, Dr. Ratu Atonio Rabici Lalabalavu, was one of the first people to receive TCV in Fiji: "I am hopeful that the impact of this typhoid vaccine campaign will be far-reaching and broad, not only reducing morbidity and mortality but also having economic and social benefits for the North and the nation as a whole."
This TCV campaign is the core activity of the Typhoid in Fiji – Vaccination towards Elimination (Ty-FIVE) project. Composed of an international team of vaccine researchers, epidemiologists, nurses, microbiologists, laboratory technicians, data analysts and more, the International Vaccine Institute (IVI) formed the Ty-FIVE consortium in 2021 to determine whether typhoid elimination through vaccination is possible. Consortium partners include the Fijian MHMS, Murdoch Children's Research Institute, and the University of Melbourne.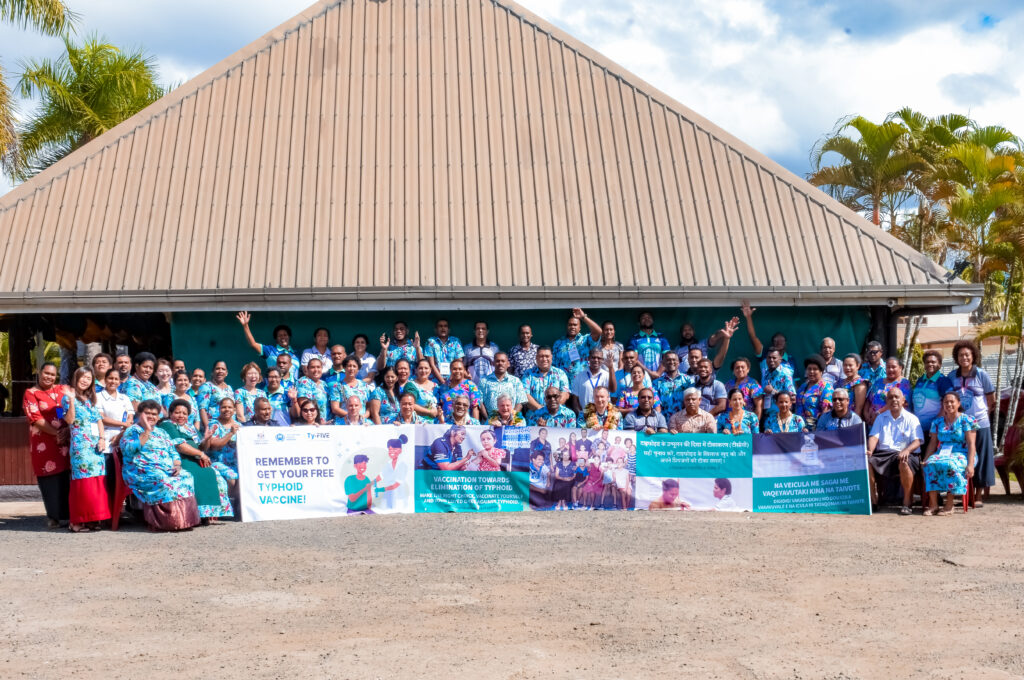 On July 4, 2023, the Fijian government began vaccinating all consenting individuals ages 9 months to 65 years using a single dose of Vi-TT TCV (brand name Typbar TCV®, manufactured by Bharat Biotech), which has been prequalified by the World Health Organization for this age group.
While it is more common to prioritize vaccinating children in large-scale TCV campaigns like this one, the Ty-FIVE team has collected data that suggests typhoid is a public health problem in adults as well as children in Fiji. "The median age of typhoid is older than other places, so we decided to vaccinate everyone to reflect the local epidemiology," says Dr. Raphaël Zellweger, the Technical Lead of the Ty-FIVE project.
Teams of 3-4 MHMS health workers are deploying to schools, clinics, businesses, and other public areas to offer free vaccination in addition to traveling to more remote villages and settlements. Ashweeni Lata Kumar, Ty-FIVE's Head Vaccination Nurse, explains, "On every team, there is one vaccinating nurse and two or three health workers of differing specialties, such as dental health, nutrition, or physiotherapy. Such teams routinely make house calls in rural communities to conduct health check-ups, inspect sanitation, and make updates to population data."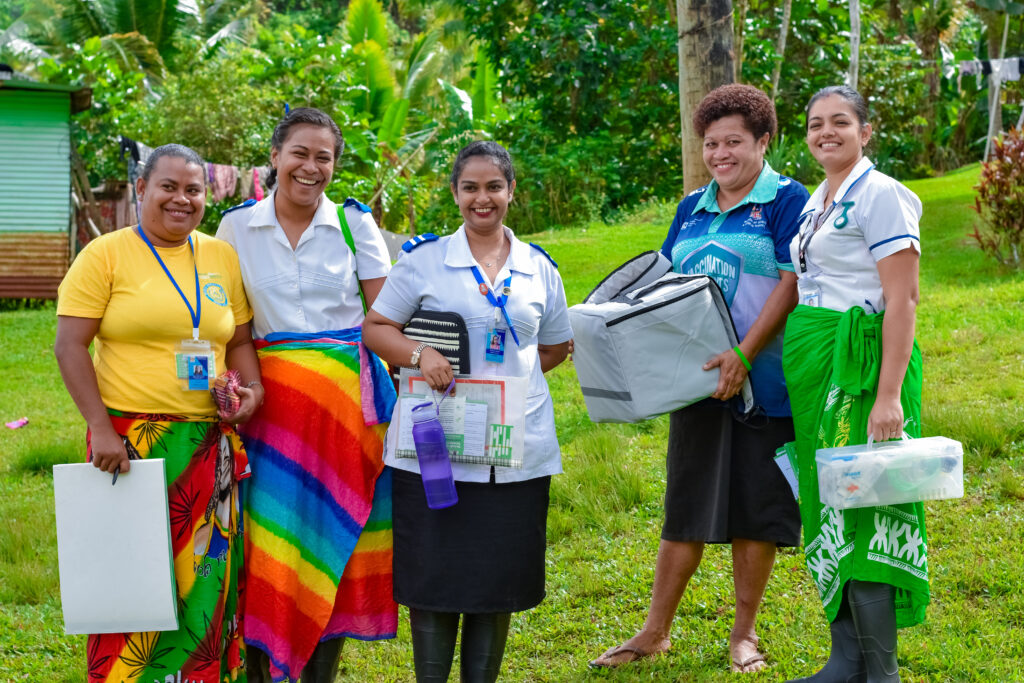 This type of regular face-to-face interaction is critical for relaying correct information, especially when it comes to vaccines. The MHMS experienced a large setback during the COVID-19 pandemic, when vaccine misinformation quickly swept through towns and villages.
Very little community awareness was done prior to COVID-19 vaccine roll-out, so "most people were against the vaccine," explains Suluia Naivu, a nurse at the Savusavu Health Centre. She's glad that the Ty-FIVE campaign made a point of engaging with communities in the lead-up to vaccination, giving her a chance to speak with people about typhoid and how it's spread as well as the vaccine itself and how it works.
Additionally, these conversations were opportunities for her to learn about—and correct— the circulating misinformation. Suluia has found that people responded well to the community awareness sessions and have been awaiting the start of this vaccination campaign.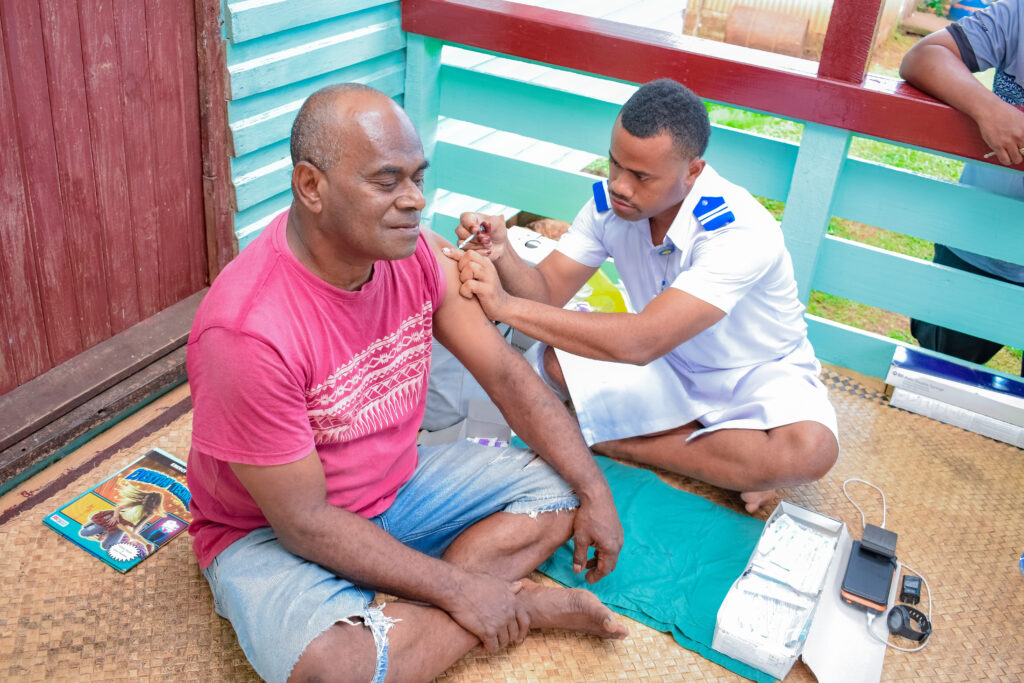 "There needs to be trust and mutual understanding between public health workers and community members," adds Matelita Buli, a nurse on the Ty-FIVE team. Prior to the vaccination campaign, Matelita led training sessions with village nurses to ensure they were particularly well informed about typhoid and TCV. The role of the village nurse is to liaise between their communities and MHMS health workers. "Our eyes and ears out in the communities are the community health workers and headmen," says Matelita.
For instance, Lusio Tanoa, the headman of Makolei Village, learned about the vaccination campaign from his village nurse. "I told everybody that the vaccines would be coming today and to prepare their IDs," he says.
From the highest ranks of government to community leaders and villagers, the people of the Northern Division are enthusiastic about the potential impact of the TCV campaign. "A vaccination campaign requires a lot of manpower and resources, not only from the health personnel but from the communities as well," says Dr. Alumita Vuakanisakea, Ty-FIVE's Project Lead. "I'm hopeful and excited that this effort will be an answer to typhoid endemicity in Fiji."
While the main goal of the Ty-FIVE project is to vaccinate everyone between 9 months and 65 years of age against typhoid, a secondary objective is strengthening the typhoid surveillance system. With more reporting, sampling, and contact tracing, Ty-FIVE aims to heighten vigilance for the possible re-emergence of the disease and stamp out typhoid for good.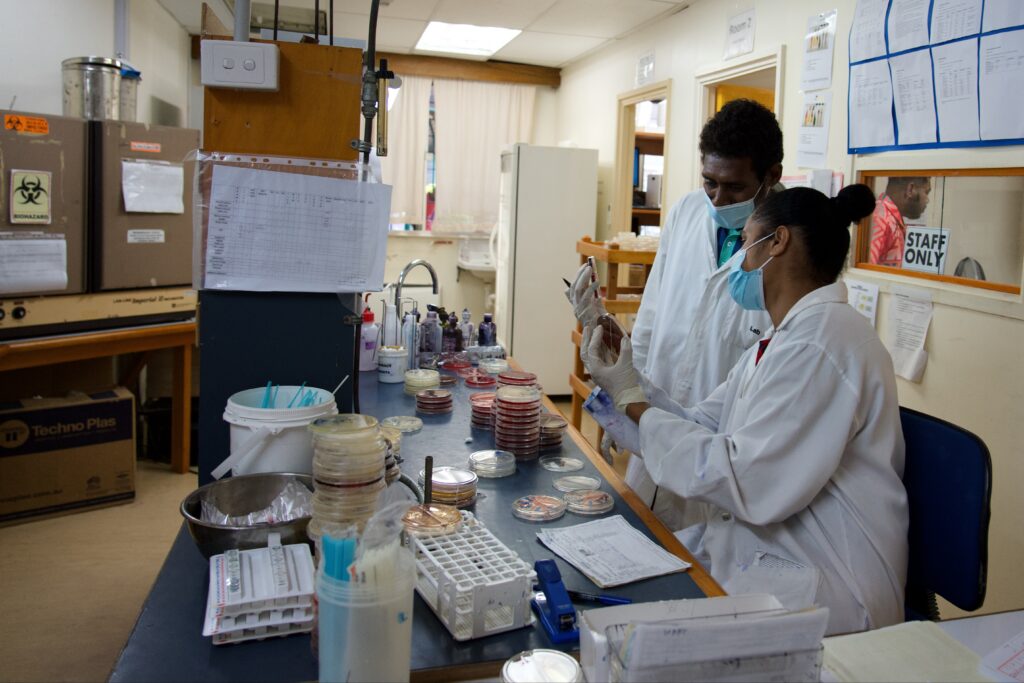 Although he is from Vanua Levu, Semisi Betevua says he has been able to visit places for the first time because of his position as one of the Ty-FIVE project's drivers. His daughter is a student at St. Mary's, and when he returned home yesterday, she eagerly called out to him: "Daddy, daddy, I got the injection at school today!"
Editor's note: Where their faces appear, all individuals provided their consent for the use of their image in this article. In the case of photos of children, their parent or teacher was consulted first.
Cover photo: A student receives the typhoid conjugate vaccine at St. Mary's Primary School during a mass vaccination campaign in the Northern Division of Fiji. Credit: IVI/Navneel Kumar