Typhoid conjugate vaccine (TCV) is highly immunogenic in Malawian children as young as 9 months of age! New data show TCV elicits a strong immune response among both young children and school-age children and does not interfere with measles-rubella (MR) vaccine when given at the same time. These findings support adding TCV to routine immunization schedules alongside MR vaccine and using TCV in school-based catch-up campaigns.
This immune response study was nested within a vaccine efficacy study, published in 2021, which demonstrated that TCV has 84% efficacy in reducing typhoid among Malawian children. The recent study results provide even more evidence that TCV offers lifesaving protection to African children.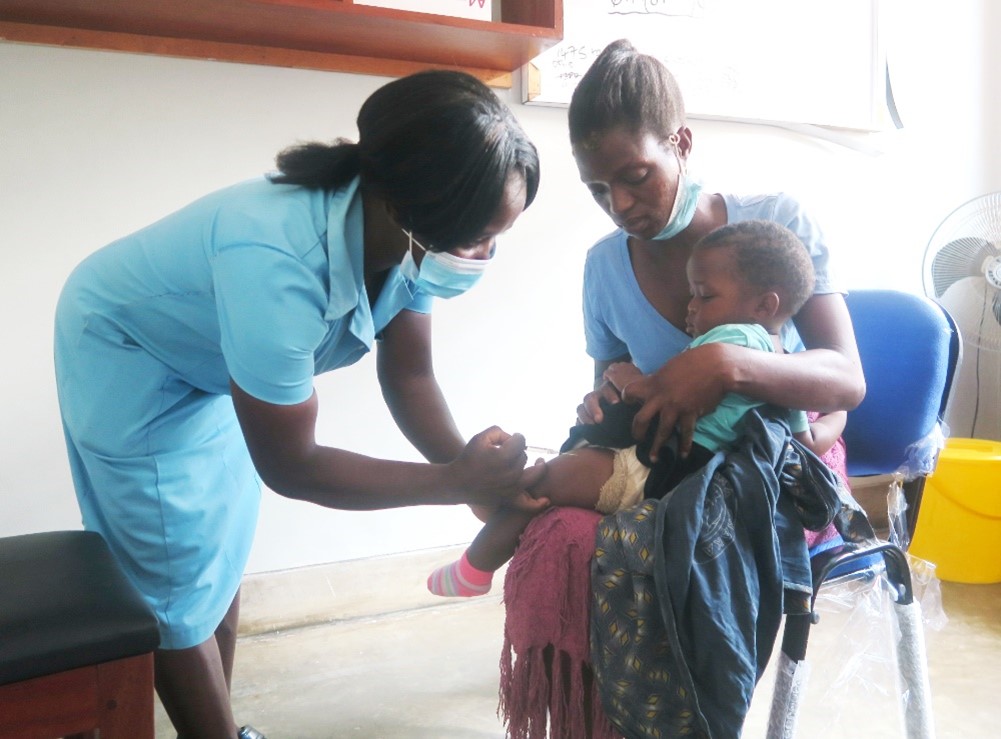 TCV highly immunogenic among Malawian children
The study enrolled 600 children from Blantyre, Malawi into three age groups (9-11 months, 1-5 years, and 6-12 years). All children aged 9-11 months old also received the MR vaccine—alongside TCV or MCV-A—per the routine immunization schedule. Researchers randomized these groups 1:1 to receive TCV or the control vaccine (meningococcal serogroup A conjugate vaccine, MCV-A). Researchers collected blood samples from children before vaccination, at 28 days, and 2-3 years after vaccination. They also followed up with the children periodically for up to three years after vaccination.
Among infants who received TCV with MR vaccine, 99% achieved protective levels of antibody in their blood 28 days post-vaccination, and 68% maintained this protection for 2-3 years. This shows that TCV and MR vaccine do not interfere with each other and can therefore be given at the same time. Additionally, it shows that the immune protection from TCV may last for at least 3 years.
Study supports TCV introduction in typhoid-endemic countries
The World Health Organization (WHO) recommends prioritization of routine TCV immunization among all children younger than 12 months of age in areas with a high burden of typhoid and/or drug-resistant typhoid.
WHO also notes that TCV can be safely given alongside MR vaccine. The data from this study further support co-administration with routine MR vaccine and introduction into routine childhood immunization at 9 months. The results from Malawi are compatible with those from other TCV immunogenicity studies in India, Nepal, Bangladesh, and Burkina Faso, which also found that TCV can be safely co-administered with other routine vaccines. This additional evidence is essential for decision-makers in Malawi or other African countries planning or considering TCV introduction.
TCV becoming routine for young children—as is happening in Pakistan, Liberia, Zimbabwe, Samoa, and Nepal—provides hope that one day all children can live a life protected against typhoid. Routine TCV vaccination will also help allay the threat of drug-resistant typhoid.
Additionally, cost-effectiveness analyses have shown that TCV catch-up campaigns among older children and adults alongside introduction into routine immunization are a cost-effective strategy. This study's findings of a strong immune response among school-age children support this strategy. School-based campaigns can be an effective way to reach children with TCV during a catch-up campaign.
The future of typhoid prevention in Malawi and beyond
Malawi is committed to protecting children from typhoid and plans to introduce TCV later this year. These promising results from Malawi—alongside other ongoing studies—offer hope that more decision-makers will prioritize TCV so that children will be protected from typhoid. As Malawi and other countries introduce TCV, that hope moves closer to reality.