In November 2019, Pakistan became the first country to introduce typhoid conjugate vaccines (TCV) into the routine immunization system, and the world watched. Nearly 10 million children were vaccinated in just three weeks in Sindh province, protecting them against a potentially deadly disease and sparing their families the economic hardship that so often comes with a case of typhoid.
Just a few months later, our world came to a standstill as coronavirus took over, infecting people worldwide and causing millions of cases of illness and death. For a brief time, lockdown was imposed in Pakistan. But the health needs in Pakistan are great, and the Expanded Program on Immunization (EPI) is too important to stay dormant for months on end.
As my colleagues and I reviewed COVID-19 burden data, we worried about children missing their routine immunizations. We knew that too many children were at risk for vaccine preventable diseases, including measles, polio, and typhoid. While COVID-19 continues to dominate the focus of many countries, Pakistan included, we must forge ahead with immunization campaigns, taking bold steps to protect children against vaccine preventable diseases.
Pakistan's battle with typhoid
Pakistan has long battled typhoid, a serious illness caused by Salmonella Typhi. Spread through contaminated food and water, it disproportionately impacts children and low-resource communities. Children are particularly affected by typhoid—in 2017, 63 percent of typhoid cases and 70 percent of typhoid deaths in Pakistan were among children younger than 15 years of age. We have also battled increasing cases of extensively drug resistant (XDR) typhoid. This strain of disease is resistant to all but one oral antibiotic, making it increasingly challenging and costly to treat. Data from five sentinel sites for XDR typhoid in Punjab, established in 2020 with support from the World Health Organization, show that around 12 percent of suspected typhoid cases are confirmed by blood sample testing, and of those, around 82 percent are XDR cases.
However, data from Sindh province, where TCV was introduced in November 2019, show that TCVs are an effective tool to reduce typhoid burden and slow the evolution of XDR typhoid. There has been a 66 percent reduction in typhoid cases following TCV introduction.
Punjab province introduces typhoid conjugate vaccine
For the next two weeks, vaccination teams will be in Islamabad and 12 districts of Punjab province to vaccinate nearly 12.7 million children between the ages of 9 months to 15 years against typhoid. By keeping children protected against diseases such as typhoid, we help keep children in school and we spare families the economic hardship that comes with a typhoid diagnosis and treatment. Reducing the typhoid burden will help the health system, too, allowing us to focus on patients suffering from other illnesses, including COVID-19. The remaining districts in Punjab will receive TCV this spring.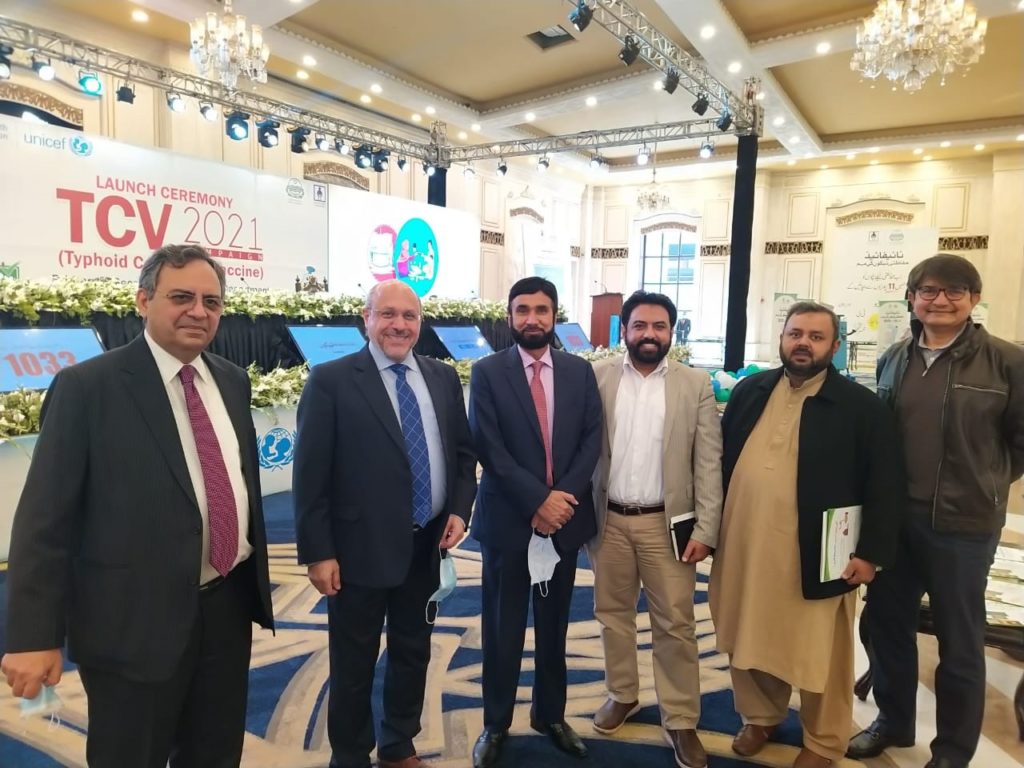 The launch of vaccination in Punjab province is no small feat. There has been a great deal of work, coordination, and determination to get this campaign underway. The global pandemic caused us to re-strategize and rethink how to carry out this phase of TCV introduction while keeping the vaccination teams, as well as children and their families, safe from COVID-19. For months, partners have been working at the federal and provincial levels, all the way down to districts and union councils, to ensure activities are planned and carried out safely. Reaching millions of children with vaccines takes collaboration and focus. Amid a global pandemic, the partners in Pakistan have come together to make this campaign a reality.
In Pakistan, vaccinators are relentless. Their passion to protect children against diseases such as typhoid is inspiring. We have a monumental amount of work ahead, and we are not finished. The next two weeks represent a major achievement in the vaccination program in Pakistan. In the weeks and months that follow, as we continue to battle COVID-19, we will continue to coordinate with the government of Pakistan and partners to ensure that the remaining districts of Punjab, as well as the remaining provinces, are reached with lifesaving TCV.  I am honored to be part of the team working diligently to protect the children of Pakistan.
Cover photo: A boy proudly shows the ink mark on the tip of his finger. He was vaccinated against typhoid during the campaign in Sindh province in November 2019. PATH/Asad Zaidi