Photo: Temporary workers living in informal settlements in Chardigarh, India, often face limited access to clean water and sanitation, putting them at high risk for typhoid.
Typhoid fever, which is caused by the bacteria Salmonella Typhi (S. Typhi), is a serious disease that can be fatal in the absence of effective treatment. Increasingly, drug resistance poses a major threat to typhoid control, particularly in South Asia. The ongoing outbreak of extensively drug-resistant (XDR) typhoid in Pakistan left azithromycin as the only effective oral antimicrobial treatment option for typhoid in the region. Alarmingly, azithromycin resistance has since emerged in Bangladesh, Pakistan, Nepal, and now—as found in our recent study—in India. This finding requires urgent action.
A concerning finding in Chandigarh: azithromycin-resistant typhoid
Our study, which provides the first report of azithromycin-resistant typhoid in India, was conducted at a hospital in Chandigarh in Northern India. This hospital serves more than 200,000 people, including a large number of seasonal workers. These workers often live in informal settings with poor sanitation and limited access to clean water. The typhoid data highlighted in our publication in Clinical Infectious Diseases were collected between September 2016 and December 2017.
The study team put all S. Typhi isolates through whole genome sequencing for a detailed look at the bacterial strains and any mutations. We then contextualized these genomes within a global collection of other S. Typhi organisms, including the other azithromycin-resistant Typhi. Each of these isolates exhibited reduced fluoroquinolone susceptibility, and ~41% were fully resistant to ciprofloxacin. Worryingly, seven of these organisms were also azithromycin-resistant.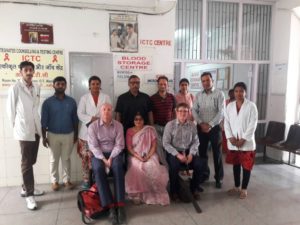 This azithromycin resistance emerged independently twice within our small catchment area (27 km2) over a short time. These azithromycin-resistant organisms also emerged independently of the other azithromycin-resistant typhoid reported elsewhere. These findings mean that the same mutation is likely occurring elsewhere in India and South Asia, where azithromycin use is common. Thus, one might predict that azithromycin-resistant typhoid will become an increasingly serious problem in the region.
An urgent threat requiring urgent action in India
Resistance to all oral antimicrobials used to treat typhoid fever has now been reported in South Asia. Last-line intravenous antimicrobial therapy is expensive and not widely available. The truth is, we may be running out of viable treatment options for typhoid. It is vital that policymakers turn their attention towards preventative interventions.
Improvements to water, sanitation, and hygiene (WASH) infrastructure would drastically reduce the burden of typhoid fever and other enteric diseases, but this will require time, significant investment, and governmental commitment. This is time that children living in typhoid-endemic areas simply do not have.
Typhoid conjugate vaccines (TCVs) are proven interventions that are available now to help limit the continued emergence and spread of drug-resistant typhoid infections. New vaccine efficacy data from Africa and Asia and forthcoming effectiveness data following a large-scale TCV campaign in Navi Mumbai, India, support the safety and effectiveness of these vaccines in diverse settings. A wealth of additional, nationally representative incidence and AMR data are forthcoming from the Surveillance of Enteric Fever in India (SEFI) study, which should bolster the already-strong case for national vaccine introduction.
Funding is available from Gavi, the Vaccine Alliance to support TCV introduction. WHO recently prequalified a second TCV made in India (TYPHIBEV, Biological E, India). And more and more typhoid burden and drug resistance data from India are being collected and published. It's clear: the time is now for policymakers in India to prioritize the introduction and scale-up of TCVs to save lives from typhoid.
NOTE: This blog is part of a broader series on typhoid drug resistance and its increasing threat to global health.