Angela Godfrey and her daughter Sara Kambua wait in the health clinic in Mukuru, Kenya. February 5, 2018.  
It was a Monday in February 2018 when three-year-old Sara had her first typhoid test. On the previous Friday, Sara came home from school with a high fever and a stomachache. During the weekend, Sara's mother Angela had taken her to a small pharmacy near their home where Sara had been diagnosed with and started treatment for malaria. But her fever persisted. By Monday, with no improvement in sight, Angela decided it was time to visit the clinic in Mukuru, Kenya.
"There are other clinics that are closer to my house," said Angela, "but here they give good services." The clinic was a thirty-minute bus ride, followed by an hour walk through the informal settlement of Mukuru, but Angela was determined that Sara receive good treatment. Sara had completed her childhood immunizations at the clinic, but the routine immunization schedule in Kenya does not include typhoid vaccines.
Angela knew the symptoms of typhoid could be similar to those of malaria: stomach problems, a fever, and maybe a headache. She had heard that it was possible to become infected with typhoid from untreated water. Angela always purchased drinking water and even took a second precaution by using liquid chlorine drops to treat it. "We buy the drinking water from a vendor, and that is the one that we treat. Everyone drinks the treated water," she said. "The water that comes from the tap is too salty," she added, "We use it for washing clothes and dishes, for bathing, and even cooking, but not drinking."
Once Angela and Sara arrived at the clinic, Sara was given a small cup of pink liquid from the pharmacy; it was paracetamol to reduce Sara's fever. Next, Angela and Sara walked to the lab so Sara could give blood and stool samples to be tested for typhoid and malaria. After an hour, the malaria test came back negative.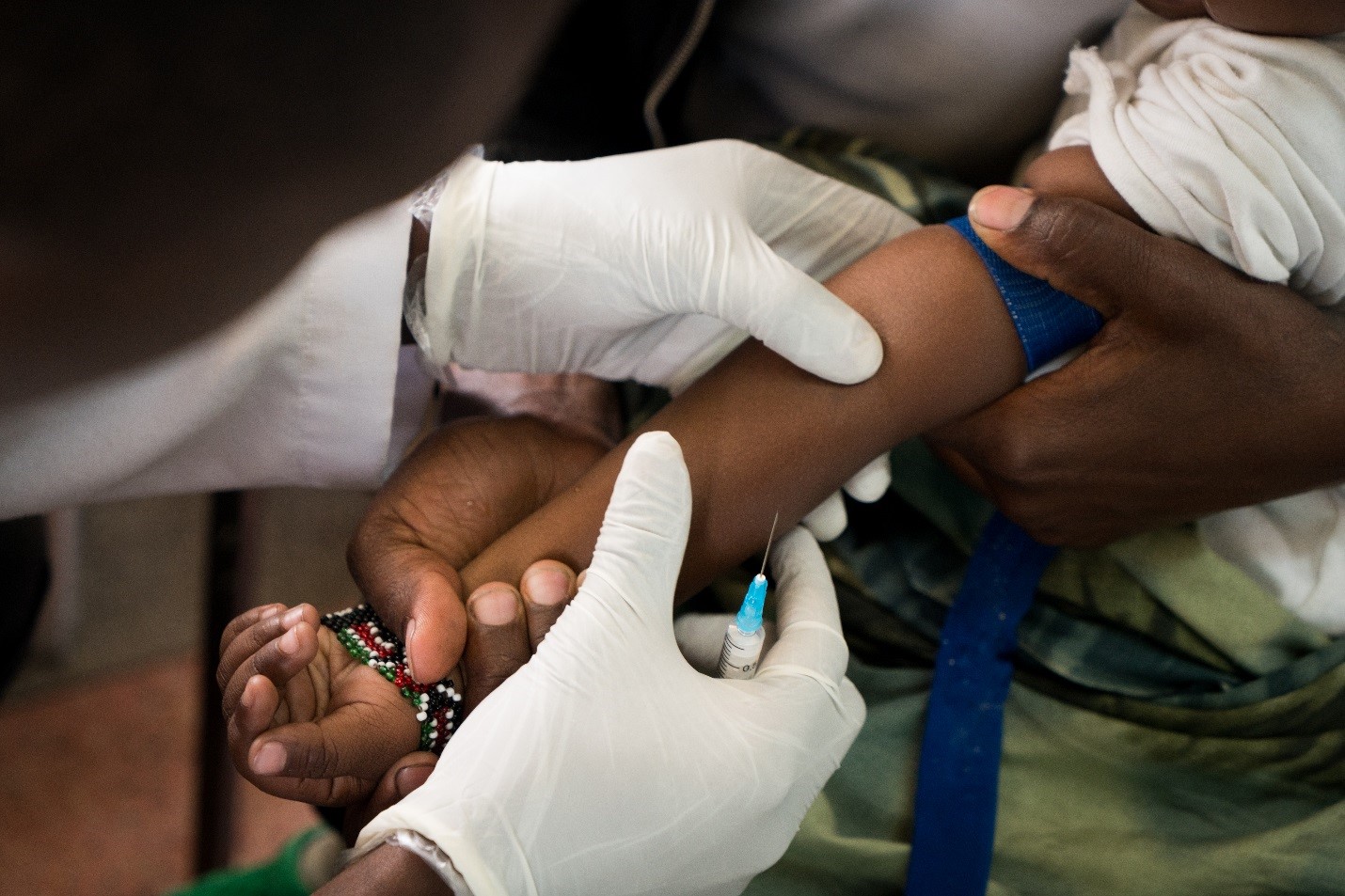 Since the typhoid blood test results take longer, Angela and Sara returned home, knowing they would receive a follow-up call from the clinic with Sara's test results. Traveling to and from the clinic and waiting for test results took a full day of Angela's and Sara's time. Angela, who usually sells secondhand shoes, had run out of stock during the weekend. Now she would have to wait until Sara was feeling better before she could replenish her supply and begin selling again. With test results not likely for another 5 days, Angela worried about missing additional days of work. All she could do in the meantime was take care of Sara and hope for accurate test results and eventually treatment to provide some relief. Angela's situation highlights the need for rapid, low-cost, and easily-scalable diagnostics so that families, like Sara's, can make informed, timely decisions for treatment.
Sara and Angela's story is too common for families when a child falls ill with typhoid. Typhoid is a serious and sometimes fatal disease that causes fever, fatigue, headache, abdominal pain, diarrhea, or constipation.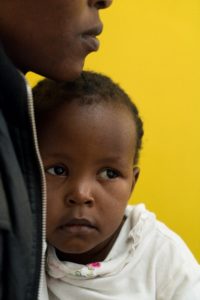 Because typhoid symptoms are common to many illnesses, misdiagnosis is common, and receiving an accurate typhoid test and appropriate antibiotics can be a prolonged process. Recent estimates suggest that there are nearly 9 million cases and more than 110,000 deaths due to typhoid worldwide each year. When a child falls sick with typhoid, caregivers often bear the burden of transport expenses, medical costs, and time away from work and caring for other children.
Just a few months before Sara contracted typhoid, in December 2017, the World Health Organization prequalified a new typhoid conjugate vaccine (TCV) which offers long-lasting protection and can be given to children as young as 6 months of age. In December 2020, a second TCV received WHO prequalification as well.  Introducing TCVs is a proven way to protect children and their families against typhoid, especially in a typhoid-endemic country such as Kenya, where more than 97,000 cases of typhoid are diagnosed every year. With the worrying rise in drug-resistant typhoid, plus the potential for more extreme weather events due to climate change, TCV introduction is a way to ensure that communities are protected from the health and economic impact of typhoid.