Drug-resistant typhoid is a growing concern as the number of cases resistant to one or more antibiotics is increasing globally. This suggests that existing antibiotics may not effectively treat typhoid. In addition, extensively drug-resistant (XDR) typhoid continues to spread with transmission to other countries a major public health threat and challenge to typhoid prevention and control.
In 2016, a large outbreak of XDR typhoid began in Pakistan, and the XDR strain continues to be the dominant cause of typhoid in the country. XDR typhoid is resistant to most of the common antibiotics used to treat typhoid and is most common among travelers returning from Pakistan. In addition to the oral antibiotic azithromycin, the only remaining effective treatment for XDR typhoid are carbapenems which are broad-spectrum antibiotics that must be administered intravenously, posing a significant burden on patients and health systems in low-resource settings.
Air travel and the spread of typhoid
In a recently published study, researchers from Yale University identified countries at greatest risk for importation and sustained spread of XDR typhoid.  They also analyzed the role of air travel in the global spread of novel typhoid lineages by conducting evolutionary modeling fitted to genomic sequences of the H58 typhoid haplotype. This means that researchers were able to use data from multiple strains (both XDR and H58) to show how air travel influences the risk of importing novel typhoid lineages.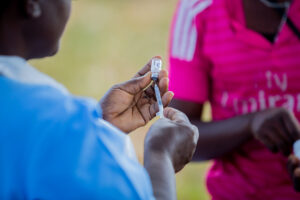 Findings show the volume of international air travel is strongly associated with XDR typhoid imports from Pakistan. Overall, 16 countries are known to have imported XDR S. Typhi since it emerged in Pakistan in 2016; seven of these were among the top 10 countries with the most air travelers from Pakistan in 2019. Overall, countries with imported case of XDR typhoid had significantly more air travelers from Pakistan than countries not known to have imported XDR typhoid. Air travel was also an important predictor of the global spread of the H58 haplotype between 1983 and 2013. Researchers conclude that as international air travel returns to pre-COVID levels, XDR typhoid will continue to spread globally.
The risk of XDR typhoid spread
Not all countries that import XDR typhoid cases will experience a significant outbreak: local conditions must also be suitable for onward transmission. Most of the countries that have reported XDR typhoid imported cases to date have very low endemic typhoid incidence. To quantify the risk of onward transmission, the researchers cross-referenced the volume of incoming air travel from Pakistan against the estimated burden of non-XDR typhoid fever, as a proxy for how easily XDR typhoid might spread if introduced.
This approach revealed that several countries have both a high risk of importation (based on a relatively high volume of travel from Pakistan) and a high risk for efficient local transmission, and therefore may be at highest risk for XDR typhoid outbreaks in the future. For example, Malaysia and Thailand received more travelers from Pakistan than any other typhoid-endemic country. Meanwhile, Bangladesh and Afghanistan also received a substantial number of air travelers from Pakistan and are two of the countries with the highest estimated typhoid incidence in the world.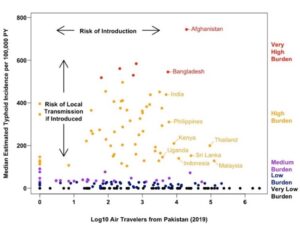 Typhoid conjugate vaccines protect against XDR typhoid

Typhoid conjugate vaccines (TCV) are safe and effective tools to prevent typhoid fever. Typhoid vaccination can reduce the need for antibiotics, slow expansion of drug-resistant strains, and save lives. These data on the spread of XDR typhoid provide a framework to inform targeting of surveillance activities and typhoid control measures. Global effort is necessary to combat drug resistance and prioritize TCVs in countries that need them most.
Cover photo credit: Asad Zaidi, PATH.