Typhoid intestinal perforations – or TIP – is a severe, life-threatening, late complication of typhoid, which can occur several weeks after initial symptoms. TIP is a surgical emergency with mortality rates reaching 30% in children in typhoid-endemic areas. TIP patients have non-specific symptoms that include fever and abdominal pain but are distinct in the operating room with longitudinal oval perforations – discrete holes – in the intestines. Due to the lack of blood culture capability in many low- and middle-income countries in sub-Saharan Africa and Southeast Asia, many cases of typhoid go undiagnosed until the operating room. In some countries, typhoid is described as a "surgical disease" because surgery is the only way to repair the perforations.
The local reality
Outlined in a recent publication and discussed during the first National Typhoid Conference in Niger, TIP is a leading cause of emergency abdominal surgery commonly seen by surgeons throughout Africa. As a surgeon, reading about TIP is very different from seeing it. During a recent visit to a local hospital in Niger, I had the opportunity to assist with TIP surgery. Notably, the sheer volume of TIP is staggering, and from a surgical perspective, the injury to the intestines is catastrophic. At the hospital I visited in Niger, an entire operating room is dedicated to TIP, and the room is rarely empty.
Many of the patients suffer great pain due to the extent of infection and number of perforations – which has been reported as high as 14. After surgery, patients return to the typhoid clinic, where I learned about the difficulties children and families face postoperatively – many of the children had not returned to school due to a new ileostomy (hole in the belly with a pouch to collect stool). The social, educational, and financial ramifications of TIP go far beyond surgery and hospitalization.
Spreading the word about TIP
It is essential for surgeons – who see TIP regularly in the operating room – to share their knowledge with global, regional, and country decision-makers. The surgical findings are distinct and not something I have ever seen as a general surgery resident at the University of Maryland, Baltimore.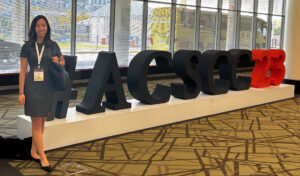 I am committed to supporting my colleagues across typhoid-endemic countries in their efforts to share the data highlighting the devasting impacts of TIP.  During a recent talk at the American College of Surgeons, I used the opportunity to highlight the high burden of typhoid and high mortality rate of TIP in Francophone African countries, as these countries are oftentimes overlooked in large systematic reviews. TIP can be used as an indicator of disease in areas without blood culture data and when making decisions about typhoid conjugate vaccines (TCVs), a safe and effective tool to prevent typhoid. TCVs, in coordination with improved water, sanitation, and hygiene are essential to preventing TIP. No child should need surgery for a complication of a vaccine preventable disease.
Cover photo credit: CVD.