It's that time of year again when scientists, researchers, clinicians, and students gather to discuss the latest scientific advances in tropical medicine, hygiene, and global health at the American Society of Tropical Medicine and Hygiene (ASTMH) annual meeting. Members of the global health community gathered in Chicago to share the latest data on typhoid and typhoid conjugate vaccines (TCV).
The Coalition against Typhoid hosted a symposium titled, "Strategies for Prevention and Control of Typhoid and Cholera Outbreaks." This symposium brought together infectious disease and global health experts to present the latest progress toward the development of diagnostics, specifically for outbreak settings. TCV has been previously used to respond to outbreaks in Pakistan and Zimbabwe and these discussions are especially timely amid climate and weather-related events that continue to increase the cases of cholera and typhoid. The symposium included four presenters who discussed diagnostic tools currently available, challenges in detecting and responding to typhoid outbreaks, disease surveillance, vaccine introduction, and effective vaccine use in outbreak settings.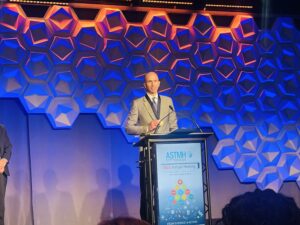 In addition, the Typhoid Vaccine Acceleration Consortium (TyVAC) hosted a symposium titled, "Generating data on typhoid conjugate vaccine to save lives – clinical studies to country introduction." The symposium provided updated data from on-going trials of TCV in Malawi and Nepal, shared lessons learned from country introductions in Malawi and Nepal and discussed how these data are important to regional and country policy makers considering TCV introduction. The data shared in this symposium add to what we already know – that a single dose of TCV is safe and effective in protection against typhoid fever.
While TCV is becoming part of routine immunization schedules in many countries, there remains no clear guidance on the optimal strategy for outbreak situations. Additionally, typhoid burden is vastly underestimated due to the current typhoid diagnostics methods, which are limited to laboratory settings or clinical diagnoses. This leads to outbreaks going undetected, leading to a more significant number of infections. However, there is a growing consensus that a timely response to outbreaks requires the creation, deployment, and utilization of high-quality rapid diagnostic tests (RDTs). RDTs are especially relevant amid increases in drug resistance. Advances in RDTs present an opportunity for more accurate treatment and quicker identification of typhoid cases, especially in rural settings where laboratories with blood culture capacity may not be readily accessible.
The annual ASTMH meeting serves as an opportunity for leaders in the typhoid field to present the latest data and evidence to continue to raise awareness and generate momentum for typhoid control and TCV I introduction. Typhoid prevention and control are not issues that can be resolved in isolation; we need diagnostic and drug manufacturers, donors, suppliers, and procurers to work together. The featured symposiums provided an opportunity for members of the typhoid community to speak in a united way about the importance of these tools and the prevention and control of outbreak situations. Data sharing and discussions during this annual meeting exemplify how we can forge partnerships to discover effective and deployable solutions in the battle to take on typhoid.
Cover photo credit: Sabin Vaccine Institute