Every year in November, the global health community observes World Antibiotic Awareness Week to raise awareness about the growing threat of antimicrobial resistance and to encourage best practices among the general public, health workers, and policymakers to stop the further emergence and spread of drug-resistant infections.
The World Health Organization declared drug-resistance as one of the top ten global public health threats facing humanity. Drug resistance is occurring everywhere in the world, and the problem is increasing. A growing list of infections—such as pneumonia, tuberculosis, and typhoid—are becoming harder, and sometimes impossible, to treat as available antibiotics become less effective. Without urgent, coordinated action, we are heading toward an era in which common infections that were once treatable will become increasingly deadly.
Drug-resistant typhoid poses a serious risk to health, with widespread prevalence of multidrug-resistant and increasing identification of extensively drug-resistant typhoid strains that are resistant to multiple classes of antibiotics. Tackling drug-resistant typhoid will require effective prevention through the use of typhoid conjugate vaccines (TCVs) alongside safe water and sanitation systems. Each prevented infection is a case that does not require antibiotic treatment. By protecting those most at risk from getting sick, we not only keep children healthy so that they can grow and thrive, we also limit the opportunities for typhoid to spread and develop resistance to remaining antibiotics, allowing treatment to remain effective for those who do get sick. Vaccines are powerful tools at our disposal. TCV introduction at any point can break the cycle of drug-resistant typhoid by preventing infections and stopping transmission.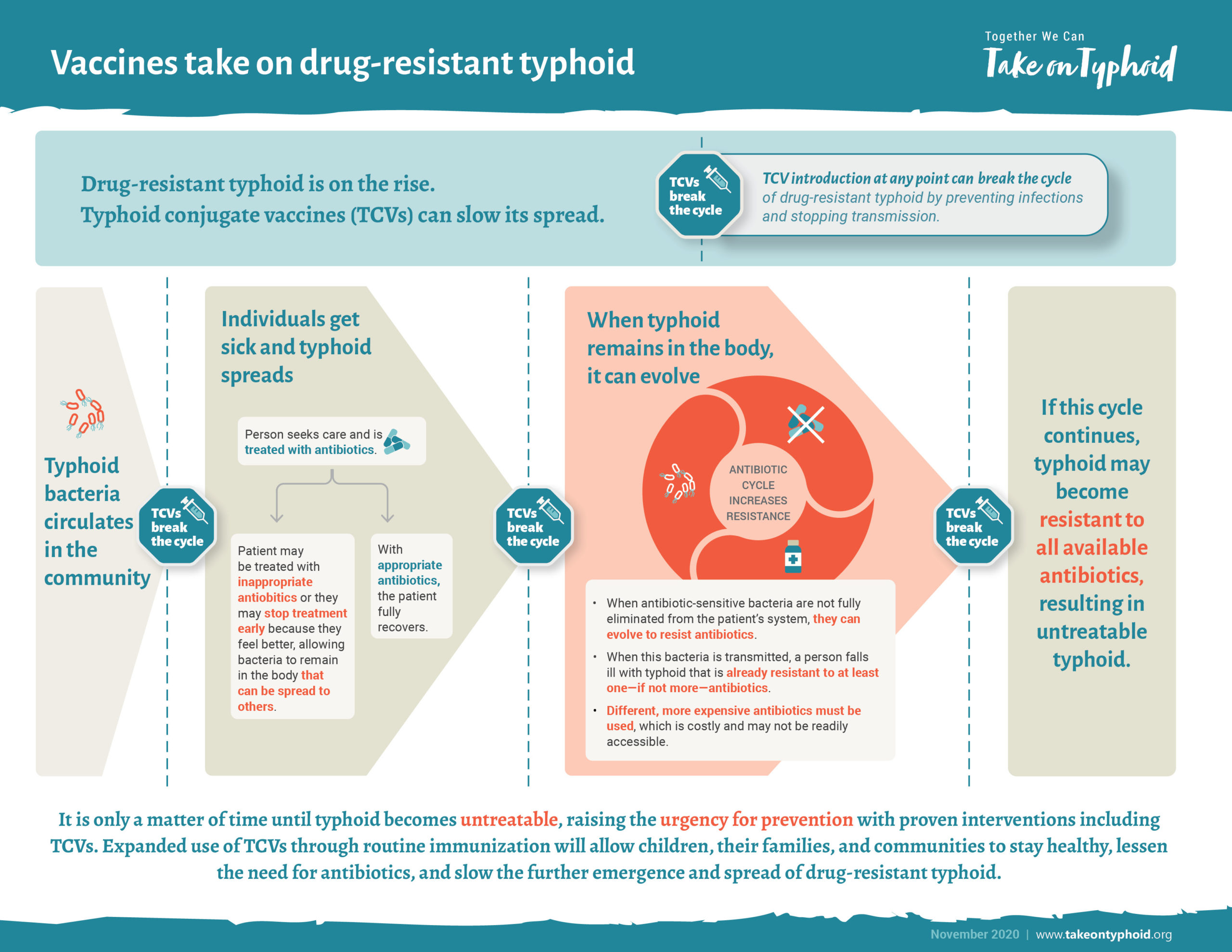 To learn more about drug-resistance and typhoid, check out our other resources:
Drug resistance blog series
Photo: PATH/Asim Hafeez