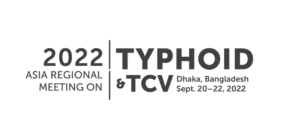 Last week stakeholders from 15 countries in the Asia and Western Pacific region gathered in a first of its kind meeting to discuss typhoid and typhoid conjugate vaccines (TCV). Decision-makers met in Dhaka, Bangladesh, to learn from each other's experiences, brainstorm solutions to shared challenges, and to learn about the global support available for TCV decision-making and introduction.
Meeting attendees included EPI managers, Ministry of Health representatives, NITAG members, and other local key influencers who will be – or have been – instrumental in their country's decision to introduce TCV. Early presentations set the tone by emphasizing the importance of shared experiences and knowledge. The learning exchange continued throughout the meeting, whether in panel sessions, group conversations, or side chats between representatives of different countries.
Leaders from Nepal, Samoa, and Pakistan spoke to their challenges and solutions along the pathway for TCV decision-making, and ultimately TCV introduction. As leaders in the region – and the world – we continue to learn from the work that these countries undertook to bring TCV to their routine immunization programs.
Perhaps unsurprisingly, many discussions focused on the difficulty of identifying reliable and accurate typhoid burden data. Shared experience tells us that when we look for typhoid data, we'll find it. Yet as the countries with the lowest resources often have the most difficult time looking for and collating data, we must remain equitable with our outreach to ensure countries have the support they specifically need to gather typhoid burden information. We want to ensure that no country misses the opportunity to introduce TCV due to imperfect data constraints.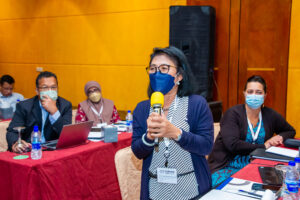 The urgency for TCV was clear throughout the meeting. From discussions on drug resistant typhoid, climate change, and increasing burden on failing urban WASH systems, we know that typhoid burden is likely to grow unless government decision-makers act now.
Too many communities continue to pay the price for inaction on typhoid. It comes with illness, days away from work and school, and at times, catastrophic costs to families and communities. As discussions wrapped on the final day of the meeting, the question was not "if" we act to take on typhoid, but when. Collectively, the Asia region does not have the luxury of time. Too many external factors risk increased typhoid morbidity and mortality if action is not taken soon.
Collaboration and consultation were recurring themes of the meeting. Whether learning from Nepal about the importance of consulting stakeholders during the decision-making process, or how partners in Pakistan collaborated to deliver TCV to near 30 million children, or how Samoa carried out a comprehensive campaign, no country or stakeholder can go it alone. The momentum of the discussions in Dhaka must continue during the next weeks and months as attendees take the topics and ideas back to their colleagues, now serving as the messengers of this urgent issue. Although the road ahead will not be easy, and new challenges will undoubtedly arise, the rapport and relationships between decision-makers, partners, and donors are strong, and we will continue to rely on each other to overcome challenges, prioritize TCV introduction, and take on typhoid together, regardless of where we live.