Today marks the first day of the 15th Asian Conference on Diarrhoeal Disease and Nutrition (ASCODD) taking place in Dhaka, Bangladesh. Ahead of the conference, I sat with Dr. Firdausi Qadri, President of ASCODD and Senior Scientist at icddr,b, to discuss the event.
Dr. Qadri has spent the past 30 years working on the prevention and control of enteric diseases, particularly cholera, typhoid, and enterotoxigenic Escherichia coli (ETEC). Her laboratory and field-based research focuses on gaining a better understanding of the pathogenesis (the way a disease develops) and immunological basis (how the immune system interacts with a disease) of these diseases, to ultimately lead to vaccine development.
Dr. Qadri notes: "This conference comes at such an important time, when we are all working to combat four important problems in the world: cholera, typhoid, drug resistance, and malnutrition."
Despite major strides in cholera and typhoid prevention, drug resistance remains a critical threat to the control of these diseases. There is still much work to be done in the area of drug resistance, as well as with malnutrition. New research at icddr,b has begun to focus on understanding the different foods that can modify gut microbiota and help children tolerate the toxic effects of harmful bacteria.
With the burden of these diseases falling mostly on Southeast Asia and sub-Saharan Africa, collaborations among countries of the South have become increasing priorities. icddr,b has been working to implement and transfer its knowledge to countries across the world. For example, the Cholkit, a rapid diagnostic tool for cholera produced locally by Incepta Pharmaceuticals in collaboration with Dr. Qadri's team at icddr,b, is now being tested in Haiti, Democratic Republic of Congo, Malawi, Cameroon, Ghana, and Mozambique.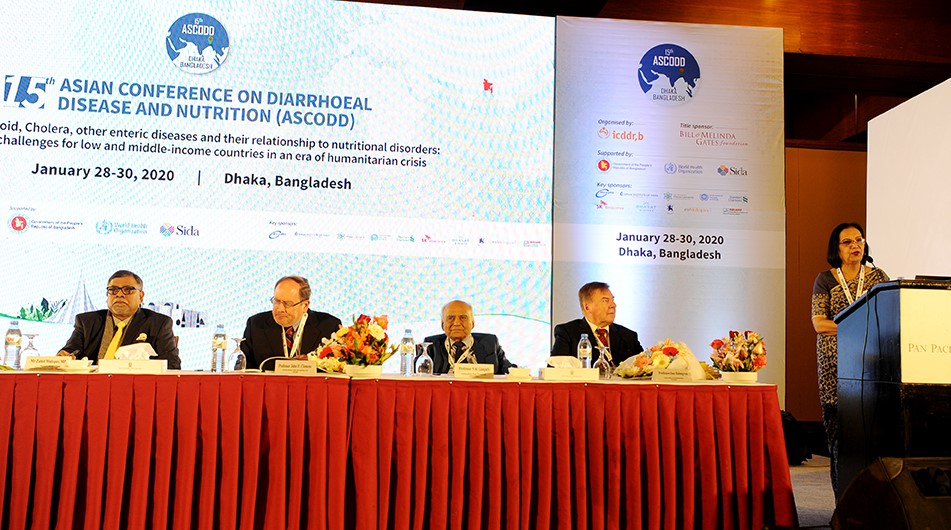 "If we do not transfer all the work and knowledge we have accumulated to the countries that need it the most, then it is of no use,"  notes Dr. Qadri.
Dr. Qadri is optimistic that this three-day conference will be a great opportunity for learning and action. It provides a timely and unique platform for world experts to come share their work. In attendance will be researchers, policy makers, government officials, and representatives from major institutions such as the World Health Organization (WHO), Gavi, the Vaccine Alliance, and UNICEF. The conference has intentionally been organized to accommodate and encourage a new generation of scientists through reduced fees, prizes for outstanding poster presentations, and a special session called Meet the Experts, where junior scientists will have the opportunity to engage with leading experts in the field.
Hopeful that Bangladesh will be successful in meeting the global goal of eliminating cholera and typhoid by 2030, Dr. Qadri stresses the need for a multi sectoral approach. Vaccines are essential, but so is simultaneously addressing issues of water, sanitation, hygiene, and infrastructure. Together, we can #EndCholera and #TakeOnTyphoid.
Find out more about the ASCODD conference at www.ascodd.net.
Photos courtesy of icddr,b.