In only a few short months, Liberia is set to become the first country in sub-Saharan Africa to introduce typhoid conjugate vaccine (TCV) into routine immunization. As we begin the new year facing increasing drug resistance, climate change, and ongoing difficulties with water and sanitation infrastructure, this is a major milestone in protecting the children of Liberia from typhoid. However, preparing for TCV introduction is a lengthy process, and the road from decision-making to introduction is anything but easy. In late 2018, stakeholders in Liberia, led by the Minister of Health, made the decision to prioritize the prevention of typhoid. After compiling data and holding meetings with local government and multilateral officials, Liberia submitted an application to Gavi, the Vaccine Alliance in January 2019. Now, as we begin 2020 with an approved application, financial support from Gavi, and technical assistance from PATH as part of the Typhoid Vaccine Acceleration Consortium (TyVAC), the Liberian government is just a few months away from making history.
Work in Liberia began with a series of meetings to establish a roadmap for TCV introduction. TyVAC agreed to support three areas of work—messaging and social mobilization, microplanning, and the post-vaccination coverage survey.
Messaging and social mobilization are important components of vaccine introduction to ensure that both health care workers and caregivers are aware of the vaccine and understand the benefits of vaccination. Messages are developed by the National Messaging and Materials Development Team (MMDT) in Liberia. To begin, the team met to discuss typhoid and TCV and then brainstormed a set of themes and key messages to include in materials. The team then developed creative briefs for each material so that everyone was coordinated on the vision for each piece. During these sessions, a local artist incorporated feedback into drawings that resulted in an illustrated poster that communicates the details of the upcoming vaccination campaign in Liberia.  At the end of the week, a draft fact sheet, two posters, four radio jingles, and a set of key messages were ready.
The next step was the microplanning training workshops. Health officers from each of the 15 counties in Liberia gathered for two days of training led by national Ministry of Health (MOH) officers. Microplanning is a time to consider in greater detail how vaccine introduction will take place in each county, such as what schools and sites need to be considered and prepared to host immunization activities, as well as an opportunity for participants to learn more about typhoid and TCV. While days spent microplanning can be intense learning, it is also a time to build camaraderie between the officials. After two days, national officers were assigned to counties for local-level microplanning workshops. In Liberia, traveling to the remote counties on difficult roads was no easy task and provided a preview of the challenges that teams will need to overcome during TCV introduction and delivery. These county-level workshops are similar to the national level meeting. However, conducted more locally, these workshops offer an opportunity to hone in on the local planning details, identifying the specific communities, clinics, and schools where children will be vaccinated, and are crucially important for a successful campaign.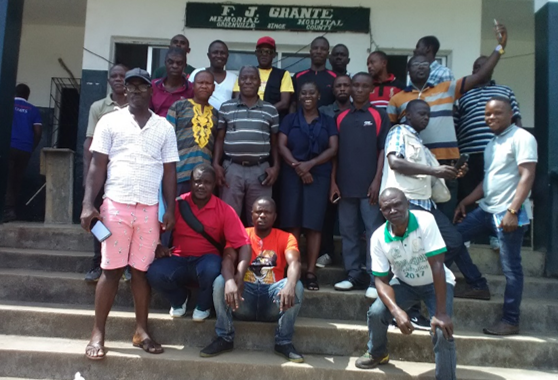 Now, as we near the March campaign launch, communication materials will be finalized, plans for final trainings will be put into place, and the final details and plans will be shared between national and county government officials. The difficult roads forged—and the difficult roads ahead—are part of a concerted effort to reach an estimated 2 million children aged 9 months to 15 years in Liberia. By planning early, and ensuring all the processes are in place, Liberia's children will be protected against typhoid. Vaccinators will drive through mud, cross rivers, and walk through forests for several hours each day to reach the most remote communities. The road may be long, but the dedication and determination to protect the children of Liberia is simply unmatched.
Photo credits: Patience (Patti) Dapaah