In December 2016, the Aga Khan University (AKU) clinical laboratory team started to notice something different and alarming in the results of blood cultures coming from Hyderabad, Pakistan. In a strain of Salmonella Typhi, which causes typhoid, the team noticed increasing resistance to ceftriaxone, an antibiotic commonly used to treat such infections.
Generally, typhoid cases resistant to ceftriaxone are uncommon and dangerous: in Pakistan, there were only six such cases resistant between 2009 and 2014. With resistance to ceftriaxone, only one oral antibiotic, azithromycin, works against this strain of extensively drug-resistant (XDR) typhoid.
With thousands of Hyderabad residents, mainly children under five years old, falling sick with XDR typhoid AKU and the Sindh provincial government acted quickly to respond. "This was difficult," said Dr. Mubeen Ahmed Memon, the Director General of Health Services in the Sindh Province. "But with timely identification and collaboration with AKU, we reached a solution."
The solution? The newly WHO recommended typhoid conjugate vaccine, Typbar TCV®. In February, AKU along with the Sindh Government launched an emergency vaccination campaign in Hyderabad. With the goal to vaccinate 250,000 children between six months and five years of age, a team of more than 60 community health workers and 30 vaccinators diligently went door-to-door in neighborhoods at-risk for typhoid. And at the end of September, they accomplished no easy feat – the 100,000th child was vaccinated.
"This vaccination campaign was a big undertaking. It would not have been possible without the support of the Sindh Government and the hard work of community health workers, vaccinators, social mobilizers and the team leaders who helped to implement this door-to-door vaccination campaign successfully. In addition, Tahir Yousafzai and Sultan Karim, the very strong project leads, helped to devise strategies to improve vaccination coverage and handle vaccine refusals," said Dr. Farah Qamar, an associate professor in pediatrics and child health at AKU who is leading the effort.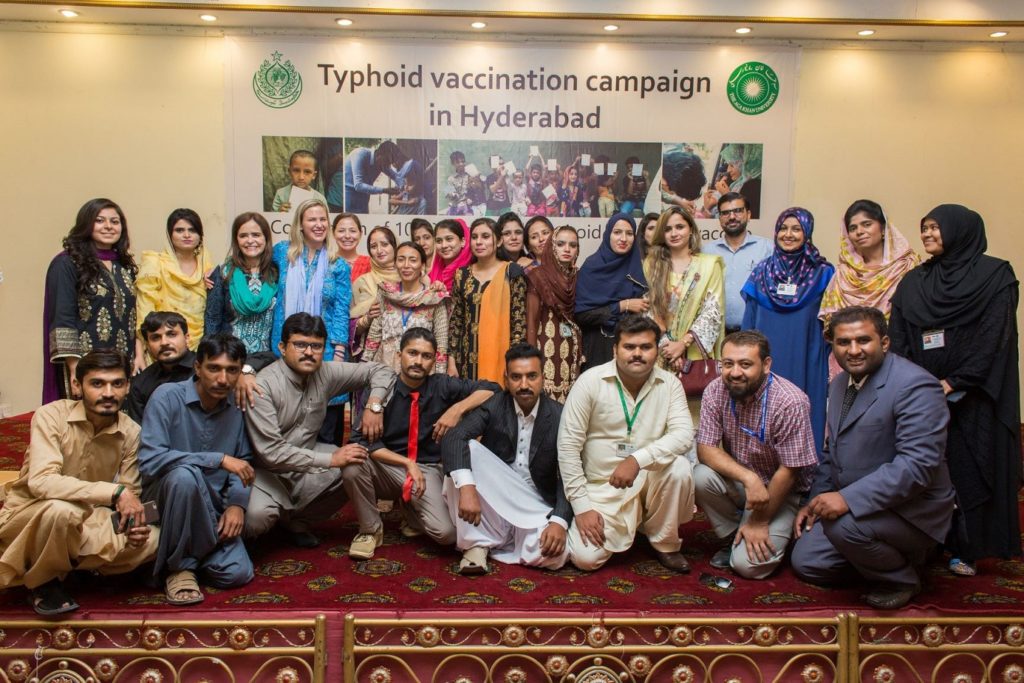 The vaccination campaign is not only keeping children healthy, but saving the health system valuable resources since vaccinated children will not need to be treated with costly antibiotic regimens or spend time in hospital. "Drug resistant typhoid costs 100,000 rupees to treat, but the vaccine is only 150 rupees," according to Dr. Memon. "Prevention is the better solution."
The large scale of the campaign will also allow Dr. Qamar and her team to compile a broad data set with which to evaluate the impact of the vaccine and inform future outbreak response strategies. This data will also help researchers better understand the effect that typhoid conjugate vaccines can have in the fight against drug resistant typhoid.
"This campaign is the first of its kind in the world. Since the Typbar TCV's pre-qualification by the World Health Organization in December 2017, no other country has used the vaccine at such a large scale," noted Dr. Qamar. "This campaign will provide the much needed data to help policy makers and stakeholders create a roadmap to accelerate the TCVs use not only within Pakistan, but also in other typhoid endemic countries in South Asia."
Expanding coverage of typhoid vaccines through routine immunization can reduce the need for antibiotics, slow further emergence of drug-resistant typhoid strains, and save lives. The remarkable efforts of AKU and the Sindh Government will continue throughout the year until the 250,000th child is vaccinated and protected from typhoid.
Photo Credit: PATH/Asim Hafeez