Dr. Raja Khalid Shabbir is a resident in surgery at Holy Family Hospital (HFH) in Rawalpindi, Pakistan, just outside of the capital city of Islamabad. HFH is a government-run teaching hospital where surgeries are performed daily. One of the most common surgeries in which Dr. Shabbir takes part is for typhoid-induced ileal perforation (IP), a life-threatening complication of typhoid where a hole forms in the small intestine. The hole results in the contents of the gut leaking into the abdominal cavity, leading to widespread infection and, often, death. If caught in time, surgery can close the tear and prevent additional serious complications.
A large population of typhoid-induced IP surgery patients comes to Dr. Shabbir's hospital. Coupled with the lack of public awareness about typhoid fever, these patients spurred Dr. Shabbir to write an op-ed in Pakistan's Express Tribune on the need to take on typhoid with typhoid conjugate vaccines and safe water, sanitation, and hygiene (WASH). We followed up with him to learn more.
Laura: What led you to get involved with the fight for typhoid prevention and control?
Dr. Shabbir: Recently, a little boy with typhoid-induced IP underwent surgery. The patient faced postoperative complications as he failed to respond to antibiotics. His laparotomy wound failed to heal and he developed blood clots. The misery of the little boy, as well as that of his parents, proved to be a wake-up call for us in the fight against typhoid.
Laura: What is it like to treat so many patients like that? How does it affect the overall hospital?
Dr. Shabbir: A large typhoid population compromises the overall functioning capacity of hospitals, as well as the doctors. Pakistan faces a markedly disproportionate doctor-patient ratio where one doctor has to cater to a large number of patients.
Laura: Why is typhoid so prevalent in your community?
Dr. Shabbir: Our community fulfills the deadly triad of poor sanitation, unclean drinking water and food, and lack of hygiene.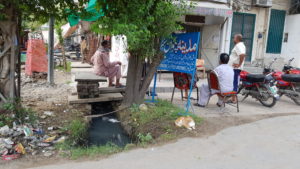 Laura: Are the communities you serve generally aware of typhoid and its transmission?
Dr. Shabbir: Regular seminars on infectious diseases, including typhoid, are conducted for the staff in our hospital. The Government of Pakistan has also initiated a public health response to the increasing number of extensively drug-resistant (XDR) typhoid cases in Sindh province. Despite these efforts, there is still widespread unawareness about typhoid and how to prevent it—especially in rural areas.
Laura: When did you first learn the positive impact that typhoid conjugate vaccines (TCVs) could have in your community?
Dr. Shabbir: Being an avid researcher, I came across many research articles that seemed to consider TCVs as golden bullets against typhoid.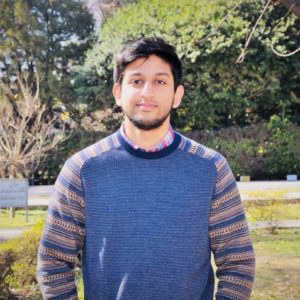 Laura: So, what inspired you to write an op-ed?
Dr. Shabbir: One of my professors, during the morning ward round, brought our attention towards the massive influx of typhoid-induced IP patients in our hospital. He suggested that we should gather data and send it to community health officials. This gave me the idea of writing an op-ed, which I sent directly to the newspaper editor.
Laura: Going forward, what message about typhoid control and prevention do you have for decision-makers and health care workers in Pakistan and around the world?
Dr. Shabbir: Prevention is better than cure. Availability of TCVs and the implementation of a WASH strategy is the only way forward.
Everyone can be an advocate — doctors, health care workers, parents, decision-makers, and community leaders — to protect children from typhoid and its hard-hitting complications, like IP surgery. Thankfully, typhoid conjugate vaccines (TCVs) are recommended by the World Health Organization and supported by Gavi, the Vaccine Alliance as the best available tool to prevent typhoid through routine immunization. By advocating for countries to introduce TCV programs alongside interventions to improve safe water, sanitation, and hygiene, we can all help ensure no child suffers from typhoid.
Learn more about advocacy for typhoid conjugate vaccines in our How to Take on Typhoid: Actions to Advocate tool.