VASE expands its scope
Hundreds of scientists, public health professionals, immunization leaders, vaccine industry representatives, international donors, and other global experts gathered in Washington D.C. for the 2022 Vaccines Against Shigella and ETEC (VASE) conference to discuss research and progress toward enteric vaccines.
The three-day conference, hosted by PATH, recently expanded its scope to include emerging pathogens such as non-typhoidal Salmonella and Campylobacter in addition to Shigella and Escherichia coli. As one of this year's keynote speakers, Dr. Kathleen Neuzil, Director of the Typhoid Vaccine Acceleration Consortium (TyVAC), gave a special address that focused on the urgency of vaccine development for enteric pathogens while drawing on lessons learned from typhoid.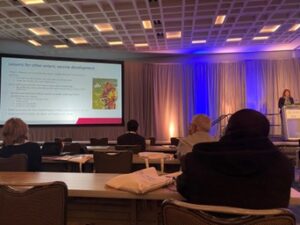 What we know
Competing health priorities, including COVID-19, polio, Ebola, monkeypox, dengue, and cholera outbreaks, serve as major challenges for enteric disease control;
Climate change and drug resistance create especially difficult environments for controlling disease;
Inappropriate use of antibiotics leads to drug resistance and lack of access to antibiotics makes typhoid increasingly difficult to treat;
Vaccines are a highly effective intervention that have the potential to reach every individual regardless of sociodemographic status, geography, age, or sex;
Typhoid conjugate vaccines (TCVs) are safe and effective in preventing typhoid in diverse settings. Nearly 50 million children have been safely vaccinated during TCV introduction campaigns in five countries; and
Political will is crucial to move vaccine introduction forward.
What worries us
Drug-resistant typhoid is on the rise globally and children in low resource settings often lack access to vaccines, diagnostics, and high-quality health care; and
Many typhoid endemic countries lack the resources to conduct blood cultures, which can lead to delayed care with appropriate treatment.
What we learned
During her speech, Dr. Neuzil shared several key reminders about vaccine introduction that we must consider during development of other enteric vaccines. These are considerations and aspects of a vaccine candidate that should be factored into the early stages of product development.
Each pathogen will have a unique set of challenges. It's important to be deliberate about identifying the challenges and incorporating solutions into the planning phase;
Vaccine development efforts should consider the continuum from development to introduction;
We must consider how a vaccine product will be made accessible to the children who are hardest to reach; and
Vaccines are one part of an integrated strategy to control infectious diseases. Improvements in water, sanitation and hygiene are also critical.
The decision to include typhoid in this year's scientific agenda highlights the fact that it continues to be an important contributor to the global enteric disease burden. Lessons learned from TCV introduction are critical to disseminate to a global audience that include researchers, scientists, and product developers. It is crucial that these partners understand how a vaccine is successfully introduced into a country's routine immunization system.
Dr. Neuzil's address highlighted the urgency in prioritizing vaccine development that help to overcome the many challenges faced by current vaccines. She also encouraged researchers to serve as advocates to spread key messages and hold decision-makers accountable. This conference provides a backdrop for continued conversation on TCVs and other enteric vaccines that require sustained global attention.