In this issue:
Single dose typhoid conjugate vaccine provides 84% efficacy in Malawi
The first typhoid conjugate vaccine (TCV) efficacy study in Africa, conducted by TyVAC in partnership with Malawi-Liverpool-Wellcome Trust Clinical Research Programme in Blantyre, Malawi, has been published in The New England Journal of Medicine. Results reveal a strong safety profile and an estimated 84% vaccine efficacy in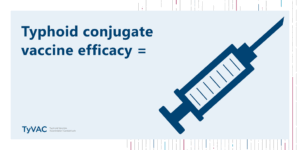 children 9 months to 12 years of age.
The study highlights the potential of TCV to save lives, prevent illness, control seasonal typhoid outbreaks, and slow the spread of drug-resistant typhoid in Malawi, which is planning for TCV introduction in 2022. Additionally, the findings are consistent with those from similar studies conducted in South Asian settings, underscoring the potential for TCV if introduced in routine childhood immunization programs in diverse typhoid-endemic settings in Africa and Asia. The study results add to the robust body of evidence on TCV efficacy.
TCV shows high efficacy in Bangladesh
TyVAC and icddr,b conducted a Phase 3 study in Mirpur, Dhaka, Bangladesh, to evaluate the efficacy of TCV in children 9 months to 15 years old. The results, recently published in The Lancet, found that a single dose of the vaccine prevents 85% of typhoid cases among vaccinated children.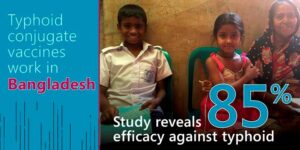 The study used a cluster-randomized design, which approximates a real-world setting where a typhoid vaccine is used within a community. These results are similar to the efficacy results observed in other trials in Malawi and Nepal. The study design provides additional confidence that real-world introduction of TCV would see similar reductions in disease, further highlighting the lifesaving potential of TCV for children in typhoid-endemic countries.
Samoa rolls out TCV
August 17, 2021 marked a monumental day in Samoa with the kickoff of a mass vaccination campaign against typhoid in schools on the island of Upolu. The campaign—spearheaded by the Samoan Ministry of Health—seeks to reach all Samoans aged 1-45 years with a single dose of TCV. Samoa is the first non-Gavi, the Vaccine Alliance-eligible country to introduce TCV. In addition to TCV, Samoa's Expanded Programme on Immunization worked closely with the World Health Organization and UNICEF to expand coverage of pentavalent vaccine (diphtheria, pertussis, tetanus, hepatitis B, and Hib); measles, mumps, rubella vaccine; and introduce two new vaccines, rotavirus and human papillomavirus. These important initiatives will provide lifesaving vaccines to Samoan children.
Ghana launches TCV cluster-randomized study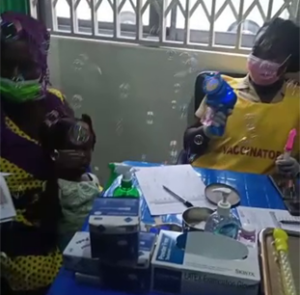 On July 12, 2021 amidst the COVID-19 pandemic, Ghana launched the Typhoid Conjugate Vaccine Effectiveness in Ghana (TyVEGHA) study, the first cluster-randomized controlled Phase 4 study of TCV in Africa. A similar study in Bangladesh, and others in India, Malawi, and Nepal found TCV safe and effective in preventing typhoid. TyVEGHAwill generate important population-level data on TCV in Africa that will inform future typhoid prevention and control policies.
Experts highlight links between climate change, sanitation, and enteric disease
On August 23rd, the Coalition against Typhoid and PATH's Defeat Diarrheal Disease Initiative co-hosted a session at World Water Week on building climate resilience with integrated solutions for water-linked disease control. The session featured four speakers who shared their research and experiences on how climate change will affect diseases such as diarrhea and typhoid, and how water, sanitation, and hygiene (WASH) experts and public health professionals can improve programming to adapt to climate change. Takeaways included the need to account for climate variables in predicting the burden of disease, the importance of improving WASH and investing in preventive measures such as vaccines now in order to mitigate future climate-induced outbreaks, and the need for increased coordination across disciplines such as public health and WASH. You can watch a recording of the session or read a recap.
SEQAFRICA – AMR surveillance in AfricaGenome-derived AMR data: Engage, aggregate, monitor
SEQAFRICA, a bacterial genomics consortium, is building capacity for whole genome sequencing and bioinformatics for antimicrobial resistance (AMR) surveillance in Africa. Sequencing efforts focus on key pathogens, including Salmonella Typhi and nontyphoidal Salmonella. With regional sequencing centers in Nigeria, Tanzania, and South Africa and a national center in Ghana, SEQAFRICA supports countries across Africa. This sustainable model expands access to existing sequencing capabilities and provides in-depth training on bioinformatic analysis. Services focus on the investigation of outbreaks, resistance phenotypes, and/or delineation of the flow of organisms/genes across human, animal, agricultural, and aquaculture sectors. For more information, contact SEQAFRICA.
Registration open for virtual 2021 typhoid conference

Over 80 sessions will be offered across multiple timezones. All sessions will be recorded and available same day in case you miss any. Register today.
| Scientific Publications | Blogs |
| --- | --- |
| | |