Photo: Panoramic view, Medellin, Antioquia, Colombia. The Antioquia Health Department has seen a high rate of typhoid cases, mainly in the geographic region of Uraba.
Drug-resistant typhoid is a rising threat in typhoid-endemic countries in Asia and Africa, but little is known about the potential spread or emergence of drug-resistant typhoid strains in Latin America. Typhoid remains endemic throughout Latin America. However, a lack of standardized blood culture-based surveillance and genetic sequencing across countries make it difficult to estimate the true disease burden in the region.
Using newly available genetic tools such as Whole Genome Sequencing (WGS), a study published in PLoS Neglected Tropical Diseases became the first to examine typhoid strain diversity and evidence of drug resistance in Colombia. The study was led by researcher Dr. Paula Diaz Guevara, professional of the Microbiology Group, Instituto Nacional de Salud (National Health Service, NHS). We connected with Dr. Diaz Guevara to learn more about her work.
Q: How does Colombia track typhoid?
Dr. Diaz Guevara: The Colombian Instituto Nacional de Salud (National Institute of Health, NIH) established an active surveillance system for tracking bacterial pathogens, including typhoid, in 2006. The system carries out continuous and systematic monitoring and analysis of typhoid and paratyphoid. Local hospitals, clinics, and health centers identify cases, and the local public health laboratories confirm them. Some samples are sent to a passive surveillance laboratory for further genetic analysis. Finally, all data is regularly reported to the public health surveillance system. The system performs regular data analysis to characterize the behavior of typhoid and paratyphoid in the country, define areas of risk, and estimate trends.
Recently we've estimated that in Colombia, from 2008-2018, the incidence varied between 0.16 to 0.6 cases per 100,000 habitants. In 2020 during the COVID-19 pandemic, we saw 0.14 cases per 100,000 population.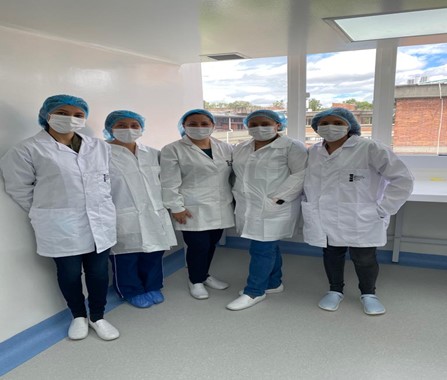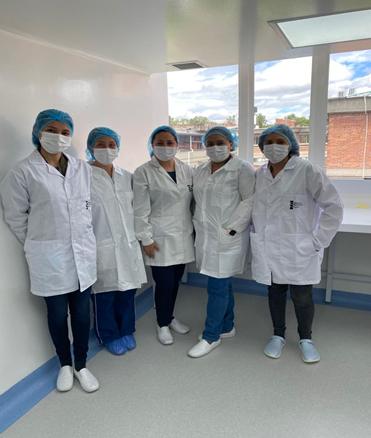 Q: How did you conduct this study?
Dr. Diaz Guevara: The study corresponds to an initiative to enhance the genetic analysis of S. Typhi isolates in Colombia. Pulsed field gel electrophoresis (PFGE) has been the gold standard molecular genotyping and monitoring technique since 2004. However, it has some limitations. Starting in 2020, WGS began to be used as a complementary strategy to PFGE. WGS improves surveillance and allows integration with global data collection.
We used WGS to sequence the genomes of typhoid isolates collected in Colombia between 1997 and 2018. We analyzed which strains have been circulating and how they have changed over time. Specifically, we wanted to see if there has been any emergence of drug-resistant strains in Colombia as we've seen in South Asia and East Africa.
Q: What did the genetic sequencing tell you about typhoid in Colombia?
Dr. Diaz Guevara:  All Colombian isolates we tested related closely to each other, suggesting an endemic clade (or family of strains) specific to Latin America. This group is distinct from the typhoid strains found in Asia and Africa. This is an important difference given the rise in drug-resistance appearing in those regions. Fortunately, we found that drug resistance in S. Typhi isolates from Colombia was uncommon. However, a small subset of samples exhibited some mutations associated with reduced susceptibility to fluoroquinolones.
Therefore our data suggest that, although Colombia shares the population density, socioeconomic disparities, and lack of safe water and sanitation observed in many parts of Southeast Asia, drug-resistant typhoid is not yet a pervasive problem in the country or region.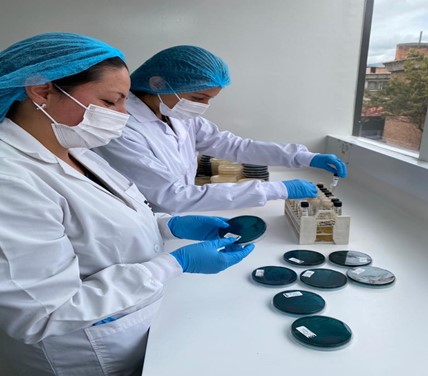 Q: What are your recommendations for typhoid surveillance, research, and prevention in Colombia and in Latin America?
Dr. Diaz Guevara:  We need to continue strengthening surveillance and diagnostic capacity to promote early detection of typhoid cases, provide appropriate treatment, and identify the sources of infection. In 2018, PAHO issued an epidemiological alert on the appearance of multidrug-resistant typhoid in Africa and South Asia. In response to that, and to the fact that Colombia has reported isolates with decreased susceptibility to fluoroquinolones, WGS surveillance is increasingly important in Latin America.
Additionally, the NIH needs to continue to support local health departments with information and education strategies around typhoid. This helps ensure communities are aware of and understand the risks of typhoid and how to prevent the disease.
To prevent waterborne disease such as typhoid, Colombia promotes safe water, sanitation, and hygiene (WASH). Frustratingly, only 5% of Colombians wash their hands with soap and water as an established routine. By promoting hygiene and improving access to safe water and improved sanitation, we can help protect communities from typhoid as well as other diseases such as diarrhea and cholera.
Finally, WHO recommends introduction of typhoid conjugate vaccines (TCVs) to reduce the incidence of typhoid in countries with a high burden of typhoid. By reducing spread, TCVs in turn allows control of the emergence and spread of drug resistance. Even though drug-resistant typhoid has not yet taken hold in Latin America, we know the threat exists. TCVs are a sure way to help prevent its emergence now.
NOTE: Surveillance activities have been framework of the National Institute of Health, Colombia, led by: the Direction of Public Health Networks and Direction of Public Health Research; Public Health Laboratories in Colombia; PulseNet Latin America and Caribbean Network (PNLAC); the Pan American Health Organization (PAHO) / World Health Organization; and collaborative research groups: Cambridge Institute of Therapeutic Immunology & Infectious Disease (CITIID), The University of Cambridge, Cambridge, United Kingdom; The Hospital for Tropical Diseases, Wellcome Trust Major Overseas Programme, Oxford University Clinical Research Unit, Ho Chi Minh City, Vietnam.