In this issue:
Liberia and Zimbabwe introduce TCV
On April 5, Liberia beca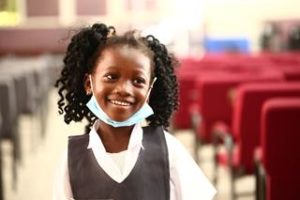 me the first country in Africa to introduce typhoid conjugate vaccine (TCV) into routine immunization when they launched a vaccination campaign for children aged 9 months to 15 years of age. Preliminary data indicate that more than 1.5 million Liberian children were reached during the five-day campaign. On May 24, Zimbabwe followed and launched a large national integrated TCV campaign with human papillomavirus vaccine and inactivated polio vaccine. The two-week campaign aimed to reach more than 6 million children aged 9 months to 15 years old. Following the campaigns, Liberia and Zimbabwe will integrate TCV into their routine immunization programs for all children at 9 months old.
The Governments of Liberia and Zimbabwe have prioritized child health and taken action to prevent and control typhoid by introducing TCV. Childhood diseases including typhoid have not disappeared during the COVID-19 pandemic. These vaccine introductions are the result of the strong leadership and commitment of these countries, in addition to robust, coordinated support from global and local partners, to protect children from vaccine-preventable diseases so that they can remain healthy and thrive.
Confirmed! TCV can be co-administered with routine measles-rubella AND yellow fever vaccines at 9 months
Newly published data from Groupe de Recherche Action en Santé (GRAS), Burkina Faso found TCV is safe and generates a strong protective immune response when co-administered with yellow fever and measles-rubella vaccines at 9 months of age. These data–in concert with data on co-administration of measles-rubella and group A meningococcal conjugate vaccine at 15 months of age–provide essential information to decision-makers supporting the addition of TCV to a country's vaccination schedule. Co-administration of TCV alongside other routine vaccines utilizes the existing vaccination schedule without taxing health care resources and can help facilitate vaccine coverage with fewer vaccine appointments. Routine use of TCV will help prevent and control typhoid in countries that lack improved water, sanitation, and hygiene. Read more in English and French.
Confirmation! Le TCV peut être coadministré avec les vaccins de routine contre la rougeole, la rubéole et le vaccin contre la fièvre jaune à 9 mois
Des données récemment publiées par le Groupe de Recherche Action en Santé (GRAS), au Burkina Faso, ont révélé que TCV est sûr et génère une forte réponse immunitaire protectrice lorsqu'il est administré avec le vaccin contre la fièvre jaune et le vaccin contre la rougeole et la rubéole à l'âge de 9 mois. Ces données–de concert avec les données de la coadministration des vaccins contre la rougeole, la rubéole et le vaccin conjugué contre le méningocoque du groupe A–fournissent des informations essentielles aux décideurs soutenant l'ajout du TCV au calendrier de vaccination d'un pays. L'administration concomitante du TCV avec d'autres vaccinations de routine utilise le calendrier de vaccination existant sans susciter des ressources supplémentaires de soins de santé et peut aider à faciliter la couverture vaccinale avec moins de visites. L'utilisation systématique du TCV aidera à prévenir et à contrôler la typhoïde dans les pays qui manquent d'eau, d'assainissement et d'hygiène améliorés. Lire la suite en anglais et en français.
Call for submissions now open!
The Coalition against Typhoid is pleased to open the call for abstract, symposium, and workshop submissions for the 2021 International Conference on Typhoid and Other Invasive Salmonelloses, scheduled for December 6 – 8, 2021. On the heels of new successes for TCV introduction and global challenges that disrupted the pace of daily life, the 2021 International Conference, currently designed to accommodate virtual and in-person participation, will occur at an important time for global typhoid prevention and control, with the theme "Beyond Impact: Charting the Course to Meet the Challenges Ahead." Presentations and panels will focus on how to best carry forward the momentum of recent progress while also developing and driving new solutions and strategies that help us to address the key challenges ahead.
To that end, we need your research and ideas! Public health researchers, water, health and sanitation experts, policymakers, and advocates from all backgrounds are encouraged to submit their work.
Submit today before the submission deadline on July 11, 2021. For more information and submission guidelines, please visit the Take on Typhoid website.
Malawi's rising star–Dr. Nginache Nampota
Dr. Nginache Nampota, a research physician and vaccine advocate in Malawi, is the Sabin Vaccine Institute's 2021 Rising Star recipient. Dr. Nampota is collaborative, innovative, and driven by a strong desire to improve public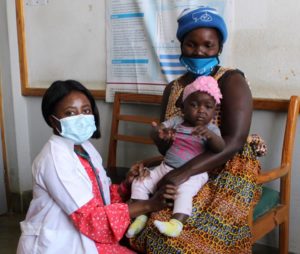 health in her home country of Malawi and similar resource-limited settings. Dr. Nampota has demonstrated a keen ability to employ creative solutions to the endless—and often unexpected—challenges that inevitably surface in research settings.
Dr. Nampota leads the Ndirande clinic in Blantyre, Malawi where she has been an integral part of the TyVAC team since inception. In Malawi, more than 28,000 children were enrolled in the first typhoid conjugate vaccine (TCV) study on the African continent. Dr. Nampota led sub-studies on immunogenicity and reactogenicity of TCV in all pediatric age groups, and on TCV in HIV-exposed infants, both of which will generate essential new data. Her dedication, coupled with a unique ability to mentor and lead, are evident in all of her encounters. She is insightful and nuanced, inspired and devoted, and bound to improve many, many lives.
Genome-derived AMR data: Engage, aggregate, monitor
Antimicrobial resistance (AMR) surveillance is growing globally, yet much of the genomics data are not accessible to decision-makers. As a result, countries often have limited data on typhoid burden and drug resistance. Recent webinars by the Global Typhoid Genomics Consortium demonstrated tools—Pathogenwatch for data analysis and TyphiNET for data visualization—to share, report, and disseminate genome-derived AMR data. The webinars drew hundreds of participants from 36 countries. With a multidisciplinary steering committee of international experts and an advisory board to engage stakeholders, the Global Typhoid Genomics Consortium is perfectly poised to fill the data gap. The Consortium is engaged with the global typhoid community to aggregate genomics data and monitor the emergence and spread of drug resistance—and genetic drivers—to inform targeted public health action. For queries, please email info@typhi.net. If you are interested in joining the Consortium, you can register for membership.
Opportunity to deepen knowledge of public health modeling
The Yale School of Public Health's Summer Course in Public Health Modeling is taking place virtually June 21-25, 2021. The course is designed to provide researchers, clinicians, industry professionals, and policymakers with the systems-based perspective and analytic tools they need to better understand and manage the complex forces that drive the health of populations. Course topics include prediction and control of infectious disease outbreaks such as COVID-19 and optimal decision-making in health care delivery. The course includes online instruction and case studies completed in small groups. It offers a unique opportunity for those working in the field of typhoid and other invasive Salmonelloses to connect with colleagues working in global public health.
For more information, visit the course website.
Click here to register.