Typhoid, a fecal-orally transmitted bacterial illness that's often found in communities where people lack access to clean water and improved sanitation, has plagued Pakistan for centuries.1 It's an illness that many of my colleagues and I at Aga Khan University Hospital (AKUH) are closely familiar with, having either contracted the infection ourselves or caring for a family member who falls ill. We are often able to identify the common symptoms, and know that appropriate antibiotics can be an effective treatment option. At least it used to be.
While drug-resistant typhoid strains have circulated in the country since the 1980s,2 in November 2016 the clinical laboratory at AKUH reported the world's first outbreak of extensively drug-resistant (XDR) typhoid—or typhoid resistant to first-line antibiotics, fluoroquinolones, and ceftriaxone—in Hyderabad, Sindh Province.3 The drug-resistant outbreak quickly spread to the neighboring city of Karachi, resulting in more than 6,000 cases of lab-confirmed XDR typhoid fever to date.
With our standard treatment options now ineffective, the outbreak control response has largely focused on preventive interventions, including health education, community awareness, and vaccination with the new typhoid conjugate vaccine (TCV). Prequalified by the World Health Organization in January 2018,4 TCV offers longer-lasting protection, requires fewer doses than previous vaccines, and is suitable for children as young as six months of age—making it an optimal intervention in Lyari Town, one of Karachi's most densely populated urban settlements that has been hardest hit by the ongoing outbreak.
Beginning in April 2019, AKUH initiated a mass immunization campaign with TCV in Lyari, targeting children through school- and hospital-based vaccination. However, school absenteeism and other barriers to access resulted in a slow start to the campaign with low vaccination rates among school-age children. To overcome this, we knew we needed to increase community buy-in and awareness of the ongoing campaign. But how?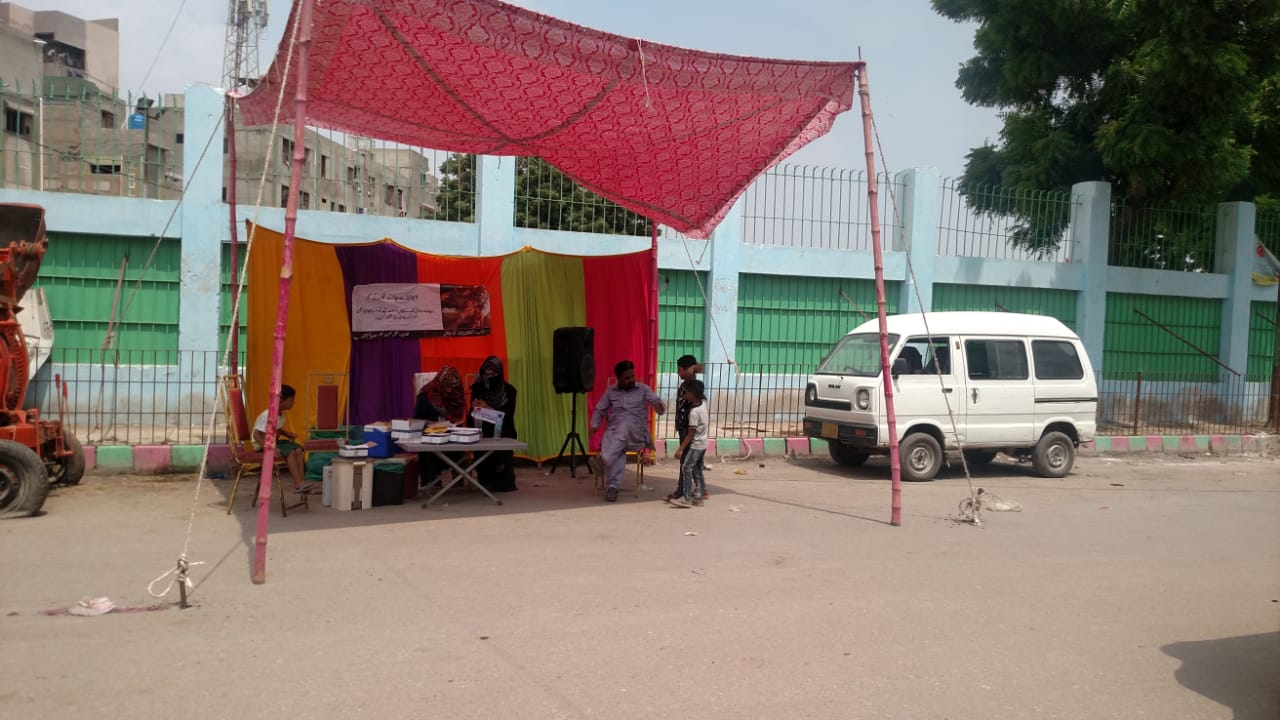 To start, we instituted a community engagement campaign, which included house-to-house canvassing; displaying information, education and communication materials in local shops and clinics; advertising the campaign with banners at community places and on rickshaws; holding information sessions with parents at schools; and making campaign announcements at mosques and on the streets. We then opened a mobile-based vaccination camp, which is deployed to both high-traffic and underserved areas in the community outside of school and work hours, operating even on Sundays to ensure that no one is missed. At the start of each day of the mobile-based campaign, our staff drives through the community playing a typhoid jingle, a catchy tune that highlights the importance of TCV vaccination.
While this robust community engagement strategy might seem overwhelming, it is both effective and essential to ensuring that this life-saving vaccine reaches those who need it most. For example, on a recent Sunday our team vaccinated 13-year-old Rani, her four younger siblings, and her cousins. Despite our team previously visiting her house, her father's shop, and her younger brother Tallah's school, Rani's parents were hesitant to vaccinate their children due to previously shared misinformation about the vaccine.
However, Rani's story is not uncommon. Before being vaccinated, Rani fell ill with fever and abdominal pains. After three days of sustained fever, her father took her to their local clinic. Doctors suspected typhoid, ordered a blood test, and administered intravenous antibiotics—at a considerable cost for the family of seven. As Rani's father waited for her to receive her treatment, he noticed AKUH's TCV campaign posters advertising free vaccination. He asked the doctor about the campaign, who discussed the ongoing outbreak with him and advised that he get all of his children vaccinated.
A few weeks later, after Rani had recovered, Tallah came home from buying eggs and told his family that the AKUH team was offering typhoid vaccination right around the corner. As they ate their breakfasts, the AKUH van drove by playing the typhoid jingle; soon after, the nearby mosque announced the start of the day's campaign. Rani's father gathered his children, as well as his nieces and nephews from three doors down, and walked them to the mobile TCV campaign camp to receive their vaccinations. Before leaving to return home, he promised our staff that he would tell everyone to bring their children to be vaccinated.
Stories such as these demonstrate the importance of community engagement during a vaccination campaign. By employing these tactics, we have vaccinated approximately 80,000 children against typhoid in Lyari in six months. We hope that the momentum from this campaign, will carry over to the national introduction of TCV in Pakistan later this year. Pakistan needs TCV to end this three-years long outbreak, and finally make typhoid a disease of the past.
Photos courtesy of Rabab Batool