TyVAC has partnered with Groupe de Recherche Action en Santé (GRAS) in Burkina Faso for the first West African and the first francophone study of Bharat Biotech's typhoid conjugate vaccine (Typbar TCV®, a Vi-tetanus toxoid conjugate vaccine). GRAS will conduct a safety and immunogenicity study of Typbar TCV among children less than two years of age in Ouagadougou, Burkina Faso.
Burkina Faso has a well-established research infrastructure, an ongoing typhoid surveillance program, and a history of early introduction of World Health Organization pre-qualified vaccines. From 2011 to 2014, Burkina Faso was part of the International Vaccine Institute Typhoid Surveillance in Africa Program (TSAP), which showed a significant burden of typhoid in the country. Typhoid surveillance under TSAP will continue with the Severe Typhoid in Africa Program (SETA) and collect additional information on long-term effects and socio-economic burden. The data from TSAP and SETA reinforce the need for prevention and control measures, including vaccines.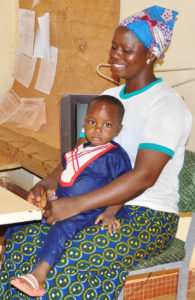 While there is extensive research on TCVs in Asia, data in Africa are limited to the TyVAC clinical trial of Typbar TCV in Malawi, the first trial of a TCV in Africa. The Burkina Faso study will provide additional, and complementary, data to the safety, immunogenicity, and efficacy ongoing studies in Malawi. As the only West African site, the study in Burkinabe children will investigate vaccine safety and immunogenicity when given with other Expanded Programme on Immunization (EPI) vaccines such as yellow fever vaccine (YFV) and meningococcal A conjugate vaccine (MenAfriVac). These safety and immunogenicity data are essential to inform policy- and decision-makers. A West African site is important for generalizability given differences in population characteristics (malnutrition and HIV prevalence), typhoid epidemiology (H58 strain, attack rates by age, severe sequelae), and vaccination schedules.
Available data from Asia on Typbar TCV co-administration with measles-containing vaccines show no evidence of a decreased immune response to either Typbar TCV or the measles vaccine. Another co-administration study with measles-rubella vaccine is underway in Malawi. There are currently no co-administration data for YFV or MenAfriVac with Typbar TCV.
Did you know that in 2010 Burkina Faso was the very first country to conduct a successful mass vaccination campaign against meningitis A? The robust EPI has high vaccination coverage, including more than 90% with three doses of diphtheria, pertussis, and tetanus vaccine (DPT3). We are highly enthusiastic about this opportunity to study Typbar TCV and hope the data from this study will help inform decision-makers in the region.