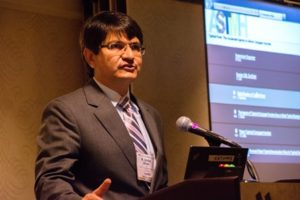 Last week, members from the Coalition against Typhoid gathered at the American Society for Tropical Medicine and Hygiene's (ASTMH) Annual Conference to discuss the next steps in securing a revised immunization and financing strategy regarding the use of typhoid conjugate vaccines.
Despite the fact that a third of the world's population is at risk for developing typhoid, vaccines are not available to those who need them most – children and impoverished communities. To address this issue, the Coalition against Typhoid (CaT) is increasing awareness and making the case for new typhoid conjugate vaccines, while simultaneously ensuring the appropriate policies are in place to deliver a conjugate vaccine that can effectively reach vulnerable populations.
CaT's symposium, titled "The Accelerated Agenda to Deliver Typhoid Conjugate Vaccines," was organized by Imran Khan, Director of the CaT Secretariat at the Sabin Vaccine Institute. Anita Zaidi of the Bill and Melinda Gates Foundation served as co-chair.
The panel began with a presentation on the global burden of typhoid fever from Jeff Stanaway of the Institute of Health Metrics and Evaluation (IHME). Jeff emphasized the importance of accurate global disease burden estimates for typhoid so policy makers and relevant stakeholders such as the World Health Organization (WHO) and Gavi fully understand the importance of the disease. Disease estimates are also essential for showing trends in typhoid infections, understanding the benefit of a potential conjugate vaccine and for ensuring an effective rollout of a conjugate vaccine.
While the numbers are not yet finalized, IHME estimates 16.5 million cases and 200,000 typhoid deaths in 2013. Jeff also noted that typhoid incidence rose quickly in early childhood and peaked in the one-to-five-year-old range.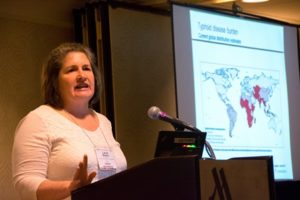 Next, Laura Martin of Novartis Vaccines Institute for Global Health discussed the potential impact of a conjugate vaccine on the global disease burden. Laura mentioned that while simple water systems and latrine use would markedly decrease the typhoid burden over time, a conjugate vaccine would significantly accelerate efforts to end typhoid. To determine the impact of a typhoid conjugate vaccine, Laura compared two statistical models. She found that when given as part of countries' routine vaccination, a typhoid conjugate vaccine reduces the incidence of typhoid. However, when administered as part of a campaign, a much bigger reduction in typhoid occurs. In addition, she found that a single vaccination will have an impact for just nine months, but by adding a booster the impact will be sustained for a much longer period.
In summation, Laura noted the modeling outcomes demonstrate that a conjugate vaccine has a greater impact than the Vi polysaccharide vaccines currently available. Finally, Laura stated that a WHO prequalified conjugate vaccine, which the typhoid community hopes will be introduced in 2018, should result in a 20 to 40 percent reduction in typhoid disease burden.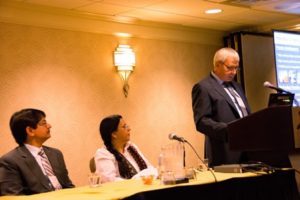 Rodney Carbis of the International Vaccine Institute (IVI) then presented on the future of typhoid conjugate vaccines, emphasizing that limited funding poses a key constraint to the development of a conjugate vaccine. IVI has transferred its typhoid conjugate vaccine technology to four pharmaceutical companies thus far. Rodney stated that clinical trials with three of these manufacturers (SK Chemicals, Biofarma, Incepta) are set to begin next year.
The panel's last presenter, Joachim Hombach of the WHO, discussed the need for a revised global typhoid immunization policy. He noted the WHO has seen low implementation of existing Vi polysaccharide vaccines due to low levels of awareness, low local burden data and poor data showing the impact of vaccination. However, his expectations for a new conjugate vaccine are high. An improved level and duration of protection and broader coverage – especially of children under two – is expected. Moving forward, Joachim stressed the importance of quality data in order to inform a new WHO policy recommendation on the use of typhoid vaccines. Local policies and guidance for implementation must also be developed along with delivery strategies.
The CaT panel provided a unique forum for typhoid experts to discuss the key barriers to the adoption of typhoid vaccines and the key activities that are needed to overcome them. The panelists emphasized the need for a conjugate vaccine that can effectively reach young children and the world's poor. Thankfully, the work being done by the Coalition and serves to accelerating these efforts.
Symposium presentations:
Global Burden of Typhoid: Estimates, Methods & Challenges
Impact of Typhoid Conjugate Vaccine Use on Global Disease Burden
Future typhoid conjugate vaccines