This week, Take on Typhoid is celebrating World Antibiotic Awareness Week. We are joining partners around the world to raise awareness about the growing threat of drug resistance and our responsibility to safeguard the effectiveness of antibiotics through appropriate use.
Most typhoid cases can be successfully treated with antibiotics, but increasing resistance to available antibiotics is leaving patients with fewer accessible and affordable treatment options and placing pressure on health systems in low- and middle-income countries. Multidrug-resistant typhoid—specifically defined as resistance to chloramphenicol, ampicillin, and cotrimoxazole—has spread globally since first appearing in the 1970s. In 2016, a new strain of extensively drug-resistant typhoid emerged in Pakistan that only responds to one type of antibiotic: azithromycin. A recent typhoid outbreak in Zimbabwe also shows increasing levels of drug-resistant cases. When antibiotics are no longer effective, multidrug-resistant and extensively drug-resistant typhoid become untreatable.
We can prevent further development of drug-resistant typhoid strains by preventing typhoid infections and, consequently, the need for treatment with antibiotics. Alongside improvements in safe water, sanitation, and hygiene, typhoid conjugate vaccine is an important new tool in the fight against typhoid, providing longer-lasting protection than earlier vaccines and suitability for use in children under two years of age.
Take on Typhoid has information, tools and resources to share how we can prevent typhoid, slow the spread of drug-resistance, and save lives.
Blogs:
Scientific Publications:
Tools and other resources:
Join the conversation by posting one of the following messages on social media, or share your own!
#AntibioticResistance is a growing & urgent problem in the fight against #typhoid. Prevention through #WASH and #vaccines is the best way to #TakeonTyphoid, slow resistance, & save lives! #VaccinesWork #WAAW2018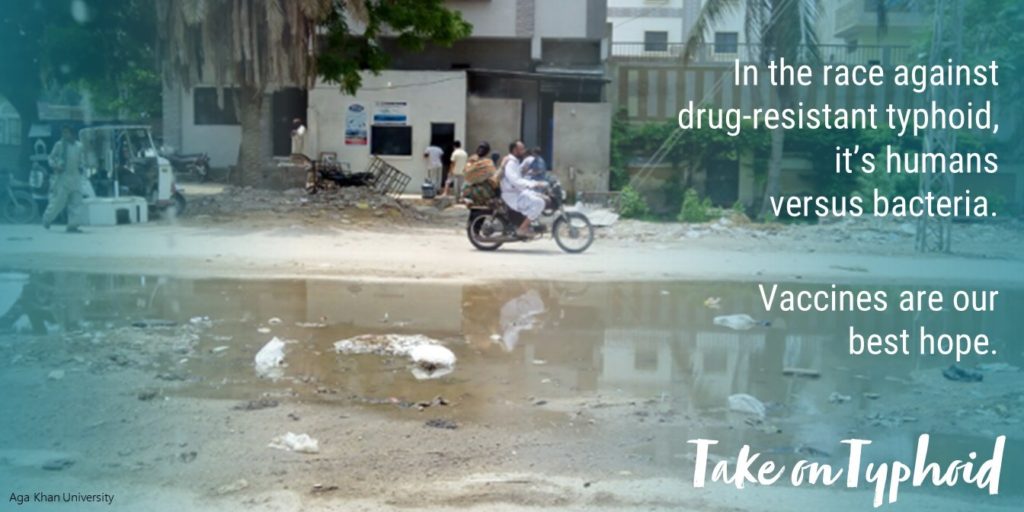 New outbreaks of MDR and XDR #typhoid are threatening endemic countries around the world. We need to #TakeonTyphoid with #vaccines and #WASH to prevent the spread of #AntibioticResistance. #WAAW2018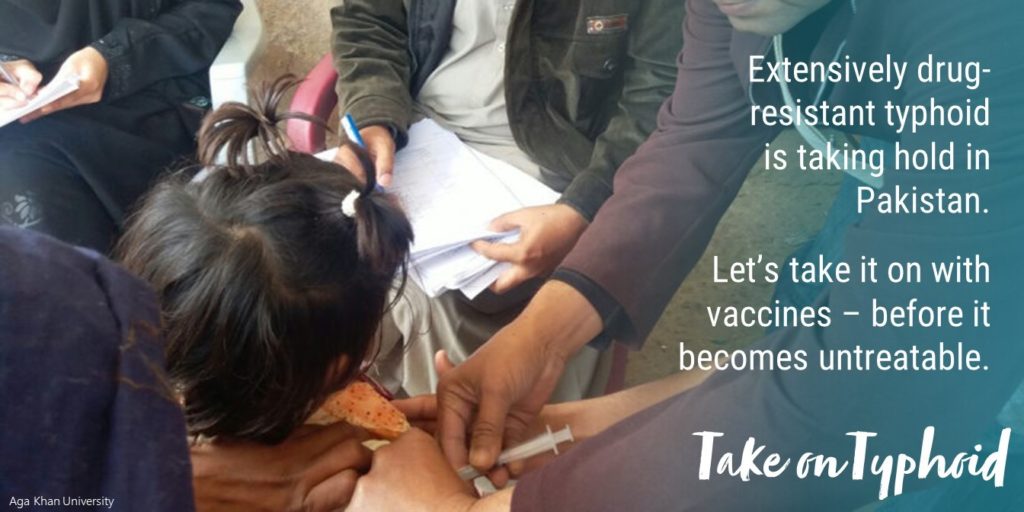 Photo Credit: Sabin Vaccine Institute/Adriane Ohanesian