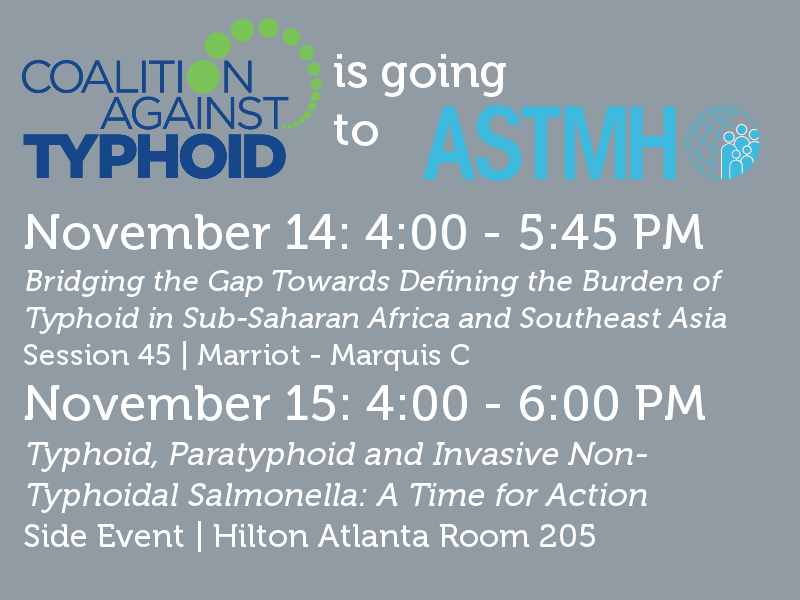 About the American Society for Tropical Medicine and Hygiene (ASTMH) Annual Meeting
The ASTMH Annual Meeting is a five-day educational conference that draws tropical medicine and global health professionals representing academia, government, non-profits, philanthropy, NGOs, industry, military and private practice. The meeting is designed for researchers, professors, government, public health officials, physicians, students and all health care providers working in the fields of tropical medicine, hygiene and global health.
This year's ASTMH will take place November 13-17, 2016 in Atlanta, Georgia and the Coalition against Typhoid will be part of two events.
Bridging the Gap Towards Defining the Burden of Typhoid in Sub-Saharan Africa and Southeast Asia 
November 14 from 4:00 PM – 5:45 PM
Symposium Organizer: Robert F. Breiman, Emory Global Health Institute
Co-Chair: Anita Zaidi, Enteric and Diarrheal Diseases, Bill & Melinda Gates Foundation
Presentations
"The highs and lows of typhoid disease burden: A story of inequities and moving targets," John A. Crump, Centre for International Health, University of Otago
"The burden of typhoid in sub-Saharan Africa: Lessons learned from the Typhoid Surveillance in Africa Program (TSAP), and steps forward with the SETA program," Florian Marks, International Vaccine Institute
"Characterizing the current burden of typhoid in south Asia: Building on existing evidence through the Surveillance for Enteric Fever in Asia Project (SEAP)," Denise Garrett, Coalition against Typhoid (CaT),  Sabin Vaccine Institute
"Considerations for extrapolating site-specific data (SETA|SEAP) to broader regional and global contexts," Jeff Stanaway, Institute for Health Metrics and Evaluation, University of Washington
"Opportunities for bridging data to policy and strategies for typhoid control," Adwoa Bentsi-Enchill, World Health Organization
Typhoid, Paratyphoid and Invasive Nontyphoidal Salmonella: A Time for Action
November 15 from 4:00 PM – 6:00 PM
Room 205 at the Hilton Atlanta
Reception with Remarks from:
Denise Garrett, Coalition against Typhoid (CaT),  Sabin Vaccine Institute
Rob Breiman, Emory Global Health Institute
Steve Luby, Stanford University
Samir Saha, Child Health Research Foundation
Contact us for more information.
We hope you will join us for the meetings.